If you are a gamer, then your search for a new gaming desktop is a never-ending one.
There are always better desktops on the market and it's hard to finalize on one. In this Acer Predator AG6-710-70001 review, we are going to talk about this new gaming machine and tell you why this could be your next desktop Gamestation.
This Predator model comes with solid specs. The hardware inside is high-end, and there is no doubt that it will push towards a superior gaming experience.
The problem here is that it makes this rig an expensive one as well. If you are a hardcore gamer looking for an upgrade, then we suggest you read this full review to see if this one's good enough for you.
Acer Predator AG6-710-70001 Review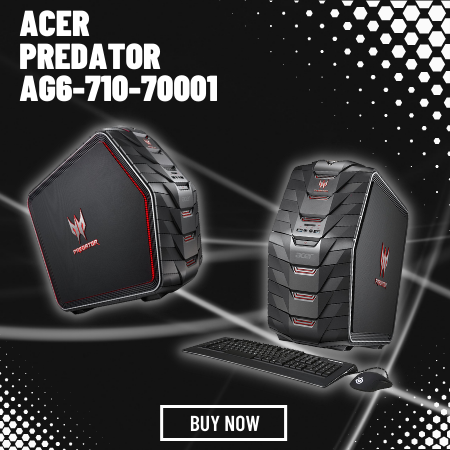 This is very different from what we've seen from Acer in the past. The desktop has a rugged look and will go well with gamers.
It is gorgeous in terms of looks and is quite premium as well. It can attract some dust in the corners as there are many. On the front side, you can see a couple of USB ports, a couple of jacks, and also a media card reader.
The power button can be found below them. The remaining ports are located on the backside of the desktop. You get Steel series APEX gaming keyboard and Steel series SENSEI gaming mouse along with this desktop.
These are different from the regular ones and should add up for a good experience.
Specs
The processor here is an Intel Core i7 chip. This i7 6700k processor is one of the best chips in the Skylake generation and clocks at 4GHz.
It also has a cache memory of 8MB, which can be handy when you are dealing with large office files or something of that sort. With this powerful processor, you can run pretty much anything on this desktop computer.
Be it any high-end game or application, this Intel chip will handle it like a boss.
Acer Predator AG6-710-70001 Motherboard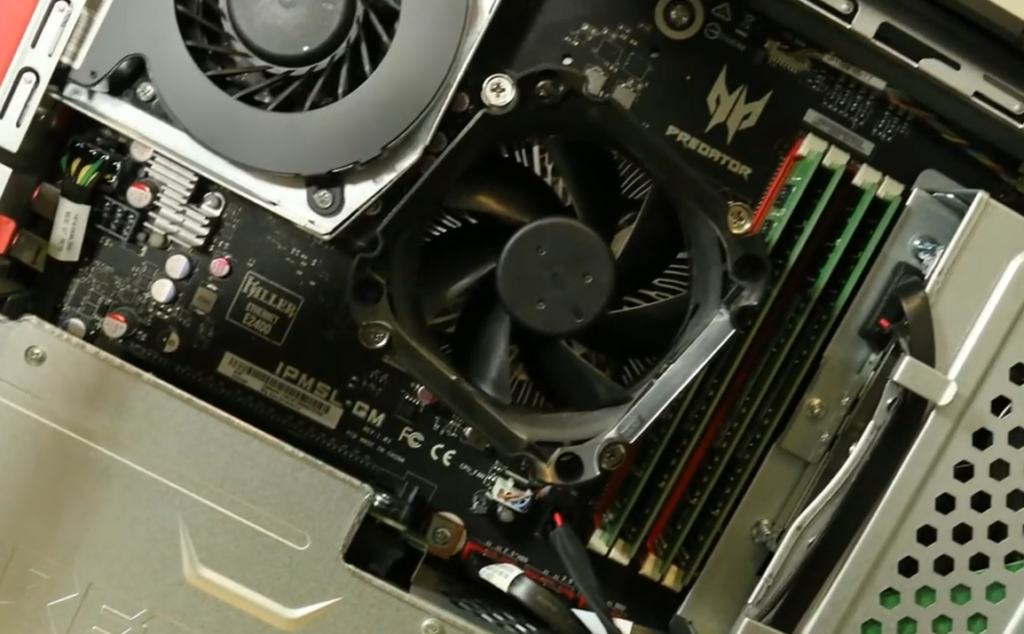 The memory here is made up of a 16GB DDR4 dual-channel RAM at 2133GHz. There are a lot of benefits in having a DDR4 RAM. This amount of memory is more than enough for most of the games out there.
You can also upgrade this to 32 gigs if you think you are lagging behind, which isn't the case. Apart from gaming, this memory is a gem when it comes to multitasking.
You can now many apps simultaneously without losing performance. Imagine having tens of tabs open in your browser and still surfing the web smoothly. That's very much possible with this memory setup.
Power Supply
There is no monitor here in this Acer Predator AG6-710-70001 model, so we can't talk about the visual experience. But with the hardware we have here, you should be able to run games on a quad-HD or even a 4K screen without any problems.
But the Creative Sound Blaster X-Fi MB5 with EAX 5.0 paves the way for an excellent audio experience. You can customize the settings to suit your style with an interface inside.
GPU & RAM Memory
What's an Acer Predator AG6-710-70001 review, if we don't talk about the graphics card. The graphics card we have here is a Nvidia GeForce GTX 970.
There is a dedicated video memory of 4GB, which is of GDDR5 type. This is a high-end graphics card and is perfect for a top-notch gaming desktop like this.
You can play games like GTA V, Far Cry 4, Just Cause 3, and similar games without any issues. The best part here is that you can play the games with good frame rate even at high settings. So as far as gaming is concerned, this desktop is fine tuned.
Ports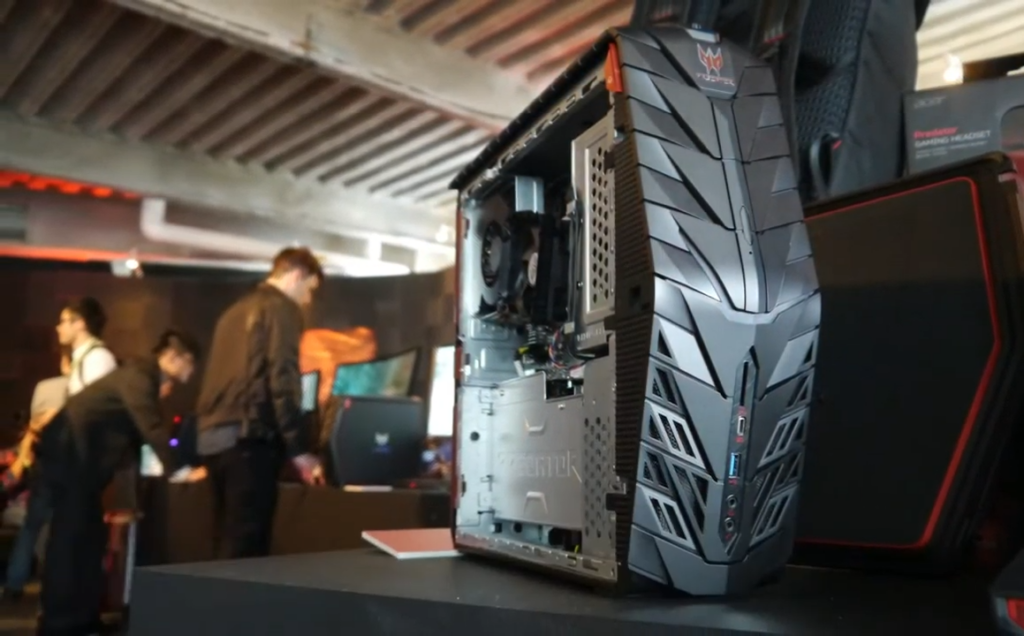 There are extensive connectivity options in the Acer Predator AG6-710-70001 gaming desktop. The desktop supports both 802.11a/c and Bluetooth 4.0 wireless connectivities. You will also find essential stuff like USB 2.0, USB 3.0, mini display port, HDMI port, and also a DVI port. The list also includes a DVD drive and a media card reader as well.
Memory
For storage, Acer had provided with a 1TB 7200RPM hard drive along with a 128GB solid state drive. This is a very good combination as there both enough space and speed.
The SSD part will be useful in loading the operating system and other frequently accessed files quickly. This can save a lot of time and improve your productivity too.
Windows 10, Home Edition is the operating system, and it comes pre-loaded in the SSD. This is the latest one out there, and it has some neat features that are worth trying out. You'll like it.
Design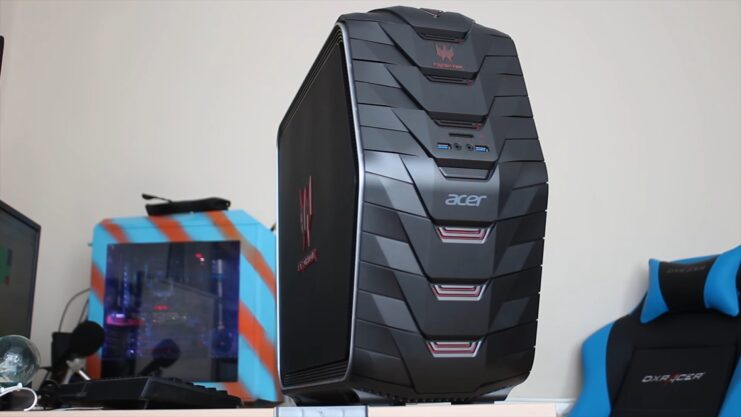 The design is sleek and modern. It has a black and silver color scheme with aggressive lines and angles that give it a fierce appearance.
The front of the desktop has a brushed metal finish, with the Predator logo prominently displayed in the center. The front also features a convenient handle that makes it easy to move the desktop around.
One thing that stands out about the design of the Acer Predator AG6-710-70001 is its size. It is a fairly large desktop, measuring 20.9 x 9.8 x 23.2 inches.
While it may not be the most compact desktop out there, its size allows for plenty of room for upgrades and expansion.
Build quality is another area where it excels. The desktop is built like a tank, with a sturdy metal chassis that feels like it can withstand a lot of wear and tear.
The desktop also features a transparent side panel that allows you to see the internal components.
This is a nice touch, as it adds a bit of flair to the design and allows you to show off your hardware.
Gaming Experience
Playing games on the Acer Predator AG6-710-70001 is a truly immersive experience.
This gaming desktop is designed to handle even the most demanding games with ease, providing a smooth and seamless gaming experience.
Whether you're playing a fast-paced first-person shooter, a graphically intense open-world game, or a massive multiplayer online game, the Acer Predator AG6-710-70001 can handle it all.
The desktop's powerful hardware ensures that games run smoothly and look stunning, with vibrant colors, crisp details, and smooth frame rates.
This PC also comes with PredatorSense software, which allows you to customize your gaming experience.
You can adjust fan speeds, monitor system performance, and control lighting effects, among other things.
This software makes it easy to fine-tune your desktop to your preferences and optimize your gaming experience.
Software and Bloatware: What Comes Pre-Installed?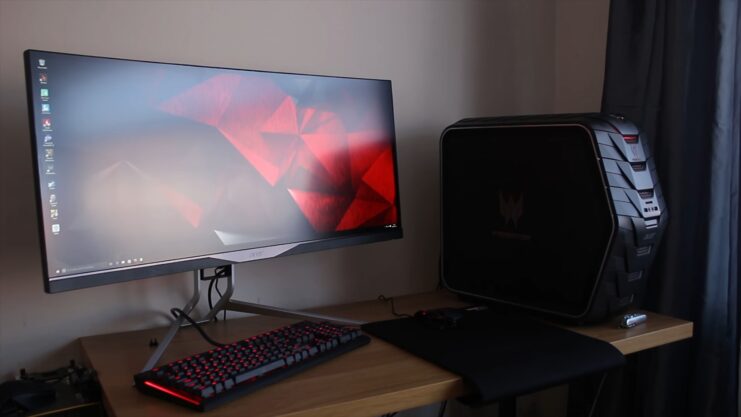 Like many new computers, the Acer Predator AG6-710-70001 comes with pre-installed software and bloatware. While some of this software can be useful, others may slow down your system or take up unnecessary space.
The good news is that it doesn't come with too much bloatware. The desktop comes with a few pre-installed programs, including Acer Care Center, Acer Collection, and Acer Quick Access.
These programs are designed to help you manage your system and improve your experience with the desktop.
Acer Care Center, for example, provides system diagnostics and updates, while Acer Collection gives you access to a library of games and apps.
Acer Quick Access, on the other hand, allows you to quickly access frequently used settings and features.
While these programs can be useful, you may find that some of the pre-installed bloatware is unnecessary.
It's always a good idea to review the programs that come with your desktop and uninstall any that you don't need or use.
Cooling System
The fans are designed to run quietly, so you can enjoy your games without any distracting background noise. Additionally, the desktop has a liquid cooling system that helps dissipate heat quickly and efficiently.
This liquid cooling system works by circulating coolant through tubes that run over the CPU and GPU, removing heat and transferring it away from the components.
It helps to maintain optimal temperatures, even during long gaming sessions.
Furthermore, the desktop has a built-in dust filter that prevents dust and debris from clogging the cooling system and affecting its performance.
This filter can easily be removed for cleaning, ensuring that your desktop remains clean and free of dust.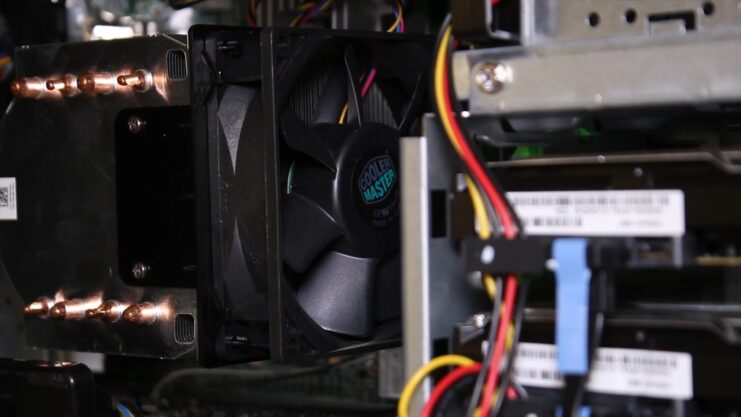 Verdict
This gaming desktop from Acer's Predator series is an excellent machine. It has all the hardware a gaming desktop needs and makes good use of them.
If you are a hardcore gamer looking for a serious gaming machine, this desktop is an easy recommendation.
"For those seeking a more budget-friendly option without compromising on performance, consider the power-packed alternative that has garnered rave reviews
FAQs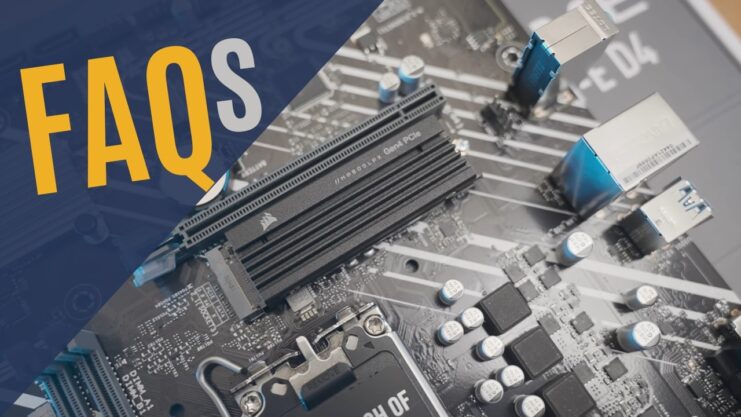 1. Is the Acer Predator AG6-710-70001 VR-ready?
Yes, this desktop is VR-ready. Its high-end hardware specs, including the Nvidia GeForce GTX 970 graphics card, make it capable of running VR games and applications smoothly.
2. Can it be upgraded?
Yes, this desktop can be upgraded. It has plenty of room for expansion, with multiple expansion slots for additional hardware components like graphics cards, storage drives, and memory.
However, be sure to check the compatibility of any components you plan to add before purchasing them.
3. Does it come with a warranty?
Yes, Acer provides a limited warranty for this gaming desktop. The exact terms and duration of the warranty may vary depending on your location and other factors, so be sure to check with Acer for more information.
4. What is the price?
As with any technology product, the price of the Acer Predator AG6-710-70001 may vary depending on the retailer and the current market conditions. However, at the time of this review, the price of this desktop was around $1,500 USD.
5. What kind of cooling system does have?
It1 has a liquid cooling system that helps to keep its high-end hardware components cool during intensive gaming sessions. This cooling system is designed to be efficient and quiet, allowing you to focus on your games without distraction.
6. What kind of keyboard and mouse come with the Acer Predator AG6-710-70001?
Acer Predator comes with a SteelSeries APEX gaming keyboard and a SteelSeries SENSEI gaming mouse. These peripherals are designed to enhance your gaming experience with features like customizable lighting and programmable buttons.
7. What kind of ports does it have?
The Acer Predator AG6-710-70001 has a variety of ports for connecting peripherals and other devices.
These include USB 2.0, USB 3.0, mini display port, HDMI port, DVI port, and a media card reader. Additionally, the desktop supports both 802.11a/c and Bluetooth 4.0 wireless connectivities.
8. Can the Acer Predator AG6-710-70001 run games at 4K resolution?
Yes, this PC is capable of running games at 4K resolution. Its high-end hardware components, including the Nvidia GeForce GTX 970 graphics card, make it well-suited for running games at this resolution.
9. What operating system does it use?
The Acer Predator AG6-710-70001 comes with Windows 10 Home Edition pre-installed on a solid state drive. This is the latest version of Windows and includes a range of features and improvements over previous versions.
10. How much storage does the Acer Predator AG6-710-70001 have?
This PC comes with a 1TB 7200RPM hard drive and a 128GB solid state drive. This combination of storage provides both ample space and fast access to frequently used files and applications.
Additionally, the desktop has multiple expansion slots for adding additional storage drives if needed.