Like every other laptop in ROG series, this ASUS ROG Strix GL553VE Review laptop also comes with an excellent design. It comes in a nice black color that looks neat.
They have gone with a black and orange color theme and it has come out well. The metallic finish is a nice touch. One of the best features, if not the best, is the Aura RGB keyboard. The keyboard comes with 4-zone customizable lighting which gives scope to personalize your keyboard.
The keys have a travel of around 2.5mm and this is pretty rare in modern-day gaming laptops. The keyboard in this laptop is a clear winner and you'll love it too. When you look from the outside, the laptop has a pretty sleek profile.
But in reality, it weighs around 5.5 pounds. This is not that much but you still might not want to carry it with you all day. The cooling system is also redone from the previous models.
You can adjust the fan speeds which is a fair bit of control. If you don't like to hear a lot of noise then this is something you'll want to control. However, it is recommended that you allow maximum cooling for better performance.
ASUS ROG Strix GL553VE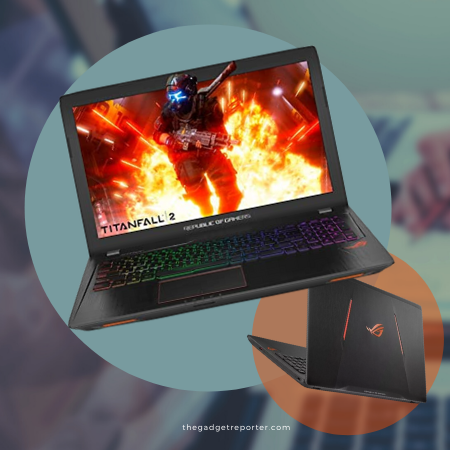 | Specs | Details |
| --- | --- |
| Processor | 7th gen Intel Core i7 7700HQ |
| RAM | 16GB DDR4 |
| Storage | 1TB HDD + 256GB SSD |
| Graphics Card | Nvidia GeForce GTX 1050Ti |
| Display | 15.6-inch Full HD (1920 x 1080) |
| Keyboard | Aura RGB 4-zone customizable keypad |
| Operating System | Windows 10 Home |
| Battery | 48 Whrs, 4-cell Li-ion Battery |
| Dimensions (W x D x H) | 383 x 255 x 30 mm |
| Weight | 2.5 kg (with battery) |
| Wi-Fi Connectivity | 802.11ac Wi-Fi |
| Bluetooth | Bluetooth 4.0 |
| Ports | 1 x USB Type-C, 2 x USB 3.0, 1 x USB 2.0, HDMI, Ethernet, SD Card Reader |
| Webcam | HD Webcam with microphone |
| Audio | Stereo Speakers with SonicMaster Technology |
RAM
What does this mean for an average gamer? It means that your laptop will sail through anything without any problem. This i7 7700HQ processor has a CPUMark score of around 8900 which is very impressive. It can handle pretty much anything you throw at it. So even if you are a heavy user, you will find it hard to break this piece of silicon.
One of the most important things in a gaming laptop is speed. Here, it is taken care of by the processor along with the 256GB solid-state drive. As a result, the bootup times and app opening times are super fast. Copying and moving files will also be faster.
There is also a 1TB mechanical hard drive which can be good for storing all the stuff you have. The memory is made up of a 16GB DDR4 RAM that clocks at 2400MHz.
This memory is fast and sure is helpful when it comes to handling many things at the same time.
With improved multitasking, you will face hardly any lag or other performance issues.
Graphics Cards & FPS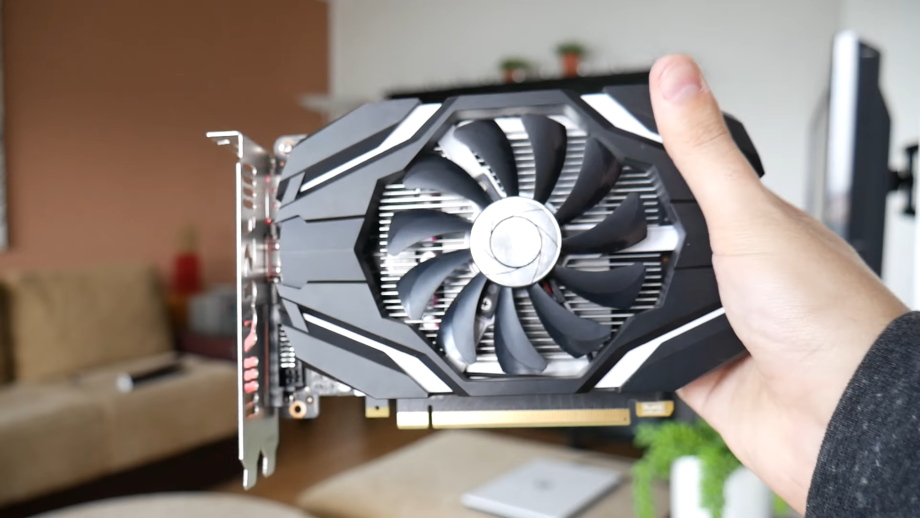 The graphics card in the Asus ROG STRIX gl553ve 15.6 gaming laptop is an Nvidia GeForce GTX 1050Ti.
This chip comes with a dedicated video memory of 4 gigs which is decent.
This graphics card is not there with the 1070 and 1080 but still is good enough to be called as a mid-range dedicated GPU.
You can still play all the games with high settings and achieve some good frame rates. Below is a list of games and their frame rates when played with high settings.
Watch dogs 2 – 46 FPS
Call of Duty Infinite Warfare – 61 FPS
Titanfall 2 – 62 FPS
Civilization VI – 58 FPS
FIFA 17 – 197 FPS
Overwatch – 117 FPS
Doom – 69 FPS
For honor – 68 FPS
The above games are pretty intensive in terms of graphics.
If this graphics card can give you those frame rates, then you probably shouldn't worry about anything. Overall, it is a pretty sweet GPU.
Display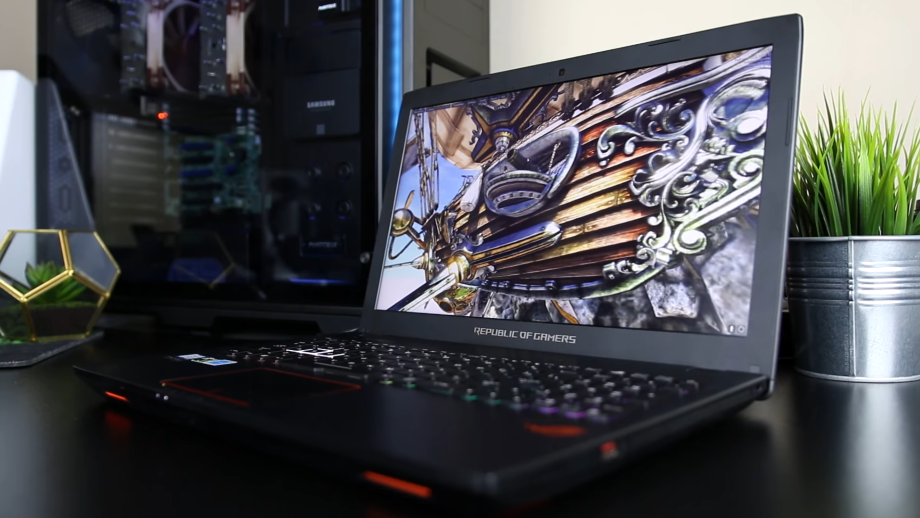 The display we have here is a 15.6-inch Full HD wideview display. It is similar to an IPS display and comes with a viewing angle of 178 degrees. Because of this viewing angle, you can view the contents on the screen from any angle and there won't be any color shift or degradation.
The screen has good contrast and color accuracy in the display and you'll love playing games on it. The display is also a good choice for consuming media like movies, TV shows, and other stuff you like. As far as audio is concerned, it is good. We have seen better audio in other gaming machines But this one still passes, thanks to the optimization ASUS have done.
Design and Build Quality
The ASUS ROG Strix GL553VE gaming laptop boasts a sleek and stylish design that will surely catch your eye. It has a black and orange color theme, which is a classic design choice for the ROG series.
The metallic finish gives it a premium look and feel, making it a great choice for gamers who want a laptop that looks and feels good. In terms of build quality, the laptop is solidly built and feels sturdy. The chassis is made of high-quality plastic and aluminum, which provides durability while keeping the weight down.
The laptop has a weight of 2.5 kg, which is relatively light for a gaming laptop of this caliber. The keyboard is backlit and features the Aura RGB lighting, which provides a stunning visual experience.
Aura RGB Keyboard
The ASUS ROG Strix GL553VE gaming laptop features a unique Aura RGB keyboard, which is one of its standout features. The keyboard offers a 4-zone customizable lighting system that allows users to personalize their keyboard to their liking. The lighting system is bright and vibrant, and it offers a wide range of colors and lighting effects. The keyboard itself is well-designed and offers a comfortable typing experience. The keys have a travel distance of around 2.5mm, which is rare in modern gaming laptops.
This feature makes the keyboard tactile and responsive, which is ideal for gaming and typing. Overall, the Aura RGB keyboard is a great addition to the ASUS ROG Strix GL553VE gaming laptop, and it adds a unique touch of style and functionality.
Audio Quality
The ASUS ROG Strix GL553VE gaming laptop offers decent audio quality. The laptop comes equipped with stereo speakers that feature SonicMaster technology, which provides an immersive audio experience. The speakers deliver clear and crisp sound, and they are loud enough for gaming, movies, and music.
However, the audio quality is not the best in the market, and it lacks the bass and depth that some high-end gaming laptops offer. But for a budget-friendly gaming laptop, the audio quality is good enough to enjoy most multimedia content without any issues.
Connectivity Options
The ASUS ROG Strix GL553VE gaming laptop offers a wide range of connectivity options. The laptop comes with one USB Type-C port, two USB 3.0 ports, one USB 2.0 port, HDMI, Ethernet, and an SD Card reader. The USB Type-C port allows for fast data transfer and charging, and it is becoming more common in modern gaming laptops. The Ethernet port provides a stable and reliable wired internet connection, which is ideal for online gaming and streaming.
The HDMI port allows users to connect their laptop to a larger display for a better viewing experience. The SD Card reader is useful for transferring data from cameras and other devices. Overall, the ASUS ROG Strix GL553VE gaming laptop offers a good selection of connectivity options, which is great for users who need to connect to different devices and networks.
Backup Before Installing SSD
Before installing an SSD on your ASUS ROG Strix GL553VE gaming laptop, it is important to backup your data. This is because installing an SSD requires you to reinstall the operating system, which means that all your data and files will be erased. You can backup your data by copying it to an external hard drive or cloud storage service.
This ensures that you do not lose any important information or documents stored on your laptop. Once you have backed up your data, you can proceed with installing the SSD. The SSD will significantly improve the performance and speed of your laptop, making it ideal for gaming and other high-performance tasks.
Slots & Battery Life
There are plenty of connectivity options in the ASUS ROG Strix GL553VE gaming laptop. It comes with USB 3.0 ports, USB 3.1 ports, an SD card slot, an HDMI port, a headphone jack, an ethernet port, and also an optical drive. They have a mix of both old school and modern I/O connectivity options which is what makes it pretty great.
The battery life on this laptop is average. You might get around 4 to 4.5 hours on light usage. This gets worse when you are gaming. In that case,  you might only get around 2 hours at best. But who wants a gaming laptop for its battery life, right? Anyway, if you are planning to enjoy a gaming marathon, be sure to plug your laptop in.
Our Verdict
That's it. We've reached the end of this ASUS ROG Strix GL553VE review.
We know we sounded a lot biased at certain points but the fact is this machine deserved it. It comes at a budget price and lets you play pretty much any game that is on the market right now. With the specs, you are safe for at least a couple more years. If you are looking for a neat gaming laptop without breaking your bank, this is a solid choice!
Before installing the SSD on your Asus PC you backup your data so that you do not lose any information and documents stored in the memory The life of a Li-ion battery is approximately between 300-500 cycles. Under normal usage conditions and in ambient temperatures