With our lifestyle becoming less physically active, and more junk food-centric, the heart is at risk. With people getting more and more health-conscious the need for tracking certain elements that determine health has grown.
Therefore, running watches are the need of the hour. We take a look at the 7 best running watches to monitor your heart and let you choose among them.
Top Picks Health Smart Devices
1. Fitbit Surge Fitness Super Watch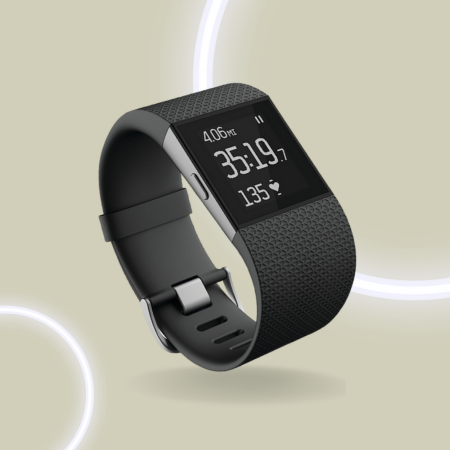 The Surge Fitness Super watch from Fitbit is a smartwatch that uses GPS tracking to record pace, distance traveled, review routes, and elevation climbed. It also records calories lost, steps are taken and active minutes. This watch can be used to analyze and improve your workout/exercise. PurePulse technology enables the Surge fitness Super to watch to capture your heart rate by monitoring your capillaries.
This aids you to peak your performance by avoiding the uncomfortable chest strap. SmartTrack technology recognizes the activity that you are doing and records the stats accordingly. You can activate the Multi-Sport mode for precise tracking and display stats in real-time. The Surge Fitness Super watch from Fitbit observes you in your sleep and wakes you up silently with a vibration alarm.
The facility to set goals and see the progress to analyze how well you are performing among your friends and family circles motivates you to perform better and earn achievement badges through mobile and online leaderboards. The Fitbit Surge also has an additional feature for a stopwatch, using which you can set a timer while working out.
The touchscreen displays the call and message notifications from your mobile phone so that you will not miss important calls or messages. The stats are synchronized with your smartphone (compatible with more than 150 leading smartphones) and the computer automatically. The battery has a life up to 7 days.  When you purchase this product you get the option to select the size that is suitable for you.
2. Garmin vívoactive HR GPS Smart Watch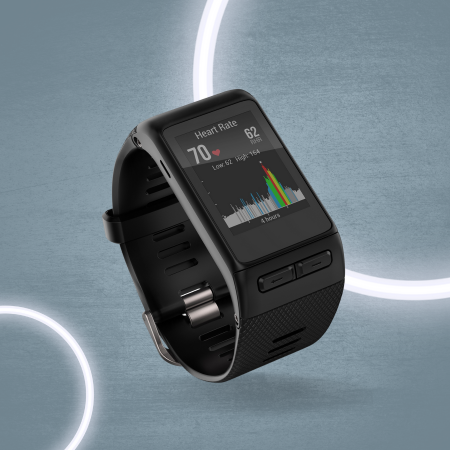 The Gamin vívoactive HR GPS smartwatch monitors your heart 24/7. The GPS Smart Watch has a high-resolution touchscreen that is visible even in sunlight. Once you pair the device with your smartphone you will receive notifications and coaching from the mobile App Garmin Connect. Elevate, the wrist heart rate technology measures it from the wrist capillaries. Using this data the vívoactive HR provides information about the calories burned and the intensity of activities.
Your sleep is also recorded. Information like how long and how well you sleep is captured and according to that the stats are recorded. The mobile App 'Garmin Connect' and 'vívoactive HR' syncs automatically to let you know how you are performing.
The smartwatch has the sports apps for GPS–enabled biking, swimming, walking, and running integrated in it. For each activity the stats and measurements are different. Garmin vívoactive HR GPS has standalone Apps for each activity. If you are running or biking the built-in accelerometer tracks your activity and measures the distance traveled, the lost calories, overall time, pace, cadence and heart rate.
The swimming App determines the efficiency of the activity in swolf ('Swim Golf': score obtained by adding together your strokes per length, and the time for the length). It also displays the stroke count, pace, total distance, stroke type and interval distance in the summary at the end of the workout.
The vívoactive HR GPS Smart Watch alerts you through vibration whenever you get a call, notification or social media update. You will also get the weather conditions like temperature. In addition to that this smartwatch lets you control your action camera, music on the phone and even helps you to locate your phone. The LiveTrack feature enables your friends and family to track your activities. The 'Connect IQ' App allows you to customize your smartwatch with data fields, app, widgets and watch faces.
The battery will last for 8 days if you are using the Garmin vívoactive HR GPS smartwatch as a tracking device and up to 13 hours with GPS. The watch measures 30.2 x 57 x 11.4 mm and the display size is 20.7 x 28.6 mm. The wrist strap comes in two different fits; regular (137 – 195 mm) and X-large (162 – 225mm).
The resolution of the touch screen display is 205 x 148 pixels. The X-large band weighs 48.2 grams and the regular band weighs 4.6 grams. The Garmin vívoactive HR GPS smartwatch is compatible with smartphones supporting Bluetooth Smart (Android/iOS/Windows 10).
3. Garmin Forerunner 235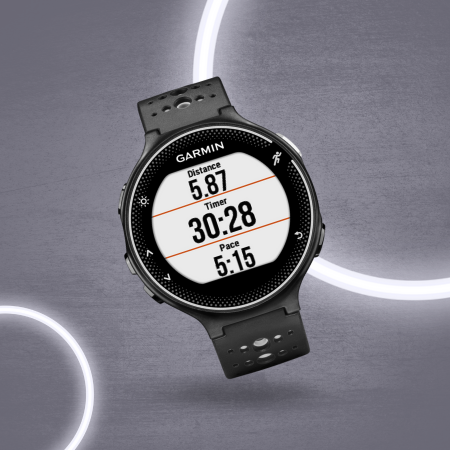 This is a premium product marketed by Garmin for activity tracking to peak your performance. The Forerunner 235 uses Garmin's Elevate heart rate technology to aid you in working out without an uncomfortable chest strap 24/7. Like any activity tracker Forerunner 235 also tracks pace, time, distance covered, calories burned, daily steps and monitors sleep.
Each user will have his/her own goals and you can download different and advanced workout and training plans to Forerunner 235 from Garmin Connect (The mobiles App developed by Garmin). The stats are automatically uploaded to Garmin Connect and you can see the summary and analysis after each workout.
The Connect IQ store comes with personalized watch faces, data fields, widgets and applications for free. The smartwatch informs you about all the notifications, calls and messages you receive in your phone. Social media sharing is also possible from Garmin Forerunner 235 smartwatch. The details captured with the help of a built-in accelerometer are analyzed and displayed in an activity tracker. If you are idle for more than an hour Garmin Forerunner 235 alerts you to move.
This device comes equipped with GPS and GLONASS satellite compatibility to recognize the activity and monitor accordingly. Crisp easy-to-understand graphs, charts and maps let you monitor your progress. You can share your activity progress towards the goal through the Garmin Connect network and compete with your family and friends.
The dimensions of the Garmin Forerunner 235 are 45 x 45 x 11.7 mm. The diameter of the circle-shaped display is 31.3 meters with a resolution of 215 x 180 pixels. This lightweight (42 grams) GPS running watch comes equipped with a rechargeable battery that has a life of 9 days. The device can keep a history of 200 hours of activity. This is a simple and compact smartwatch furnished with everything (Even more) we can expect from an activity tracker.
4. Fitbit Blaze Smart Fitness Watch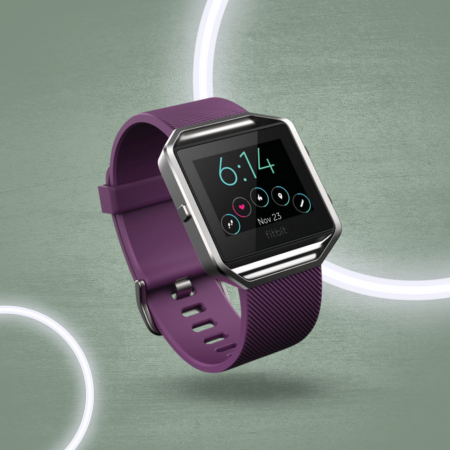 This is a stylish yet feature-packed smartwatch keeping your fitness a priority. As in every activity tracker, Fitbit's Blaze also records floors climbed, steps taken, distance travelled, heart rate and active minutes. The PurePulse technology by Fitbit checks the intensity of the workout by gauging your heart rate.
 The Multi-Sport facility of Fitbit Blaze allows you to select the sport if you want so that the recording will be according to that. It also has a SmartTrack feature, so that the watch itself will recognize the sport and tracks for you so that you won't miss out any credit for the exercises you did. Once the workout is over you will get the summary of that on the screen so that you can plan ahead.
This fitness watch is GPS enabled and you can connect it with your phone so that you can save all the routes you run and the stats for that. This has the advantage that you can select the same route which gives the most effective result for your exercise. Fitbit Blaze has another feature called FitStar workout.
This is the on-screen workout guide that gives you step-by-step instructions. Fitbit Blaze automatically monitors when you are sound asleep and when you are restless to aid you in tailoring the habits to get better sleep. The wristwatch will give you silent alarm with vibration when it is time.
The battery lasts up to 5 days and nights. The interface of the smartwatch is a high-resolution color touchscreen and has range of themes to choose from. The device dimensions are 254 x 43.18 x 10.16 mm (strap x length x width) and weight is 40 grams.
5. Motorola Moto 360 Sport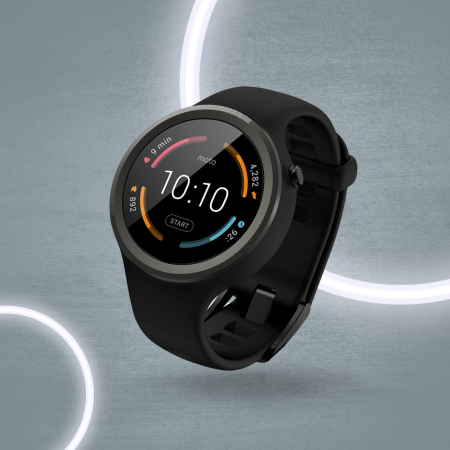 The Moto 360 Sport, as the name indicates is designed for sports taking fitness aspects into consideration. The Moto 360 Sport is GPS enabled and works with Moto Body to analyze your performance. This activity tracker documents and displays the pace, heart rate, distance covered and lap times on the screen.
The Moto Body is the software that supports Moto 360 to sync the data seamlessly to Android fitness apps like MapMyRun, Fitbit 3 and Under Armour Record. Not only this, you can get connected to the social community network for athletes.
The Android Wear feature of Moto 360 Sport lets you check your Gmail, chat in Whatsapp, send calendar invites, get weather and traffic updates, and check Facebook. You can train your Moto 360 Sport to obey your commands, hence controlling your phone hands-free. You can enjoy music by syncing the playlists with Moto 360 Sport through a Bluetooth headset. The company claims that their Motorola AnyLight (using the ambient light sensor) is the first hybrid display to adjust the screen brightness automatically according to the surroundings.
This workout partner is water-resistant and wireless charging is availed through a dock. The Moto 360 is compatible with iPhones and Android phones. The Motorola Moto 360 Sport comes in 3 colors (Black, White, Flame Orange). The 300 mAh battery keeps the workout partner up a full day. The circles-shaped touchscreen display has 45mm diameter and 1.37-inch screen (360 x 325 pixel).
6. Microsoft Band 2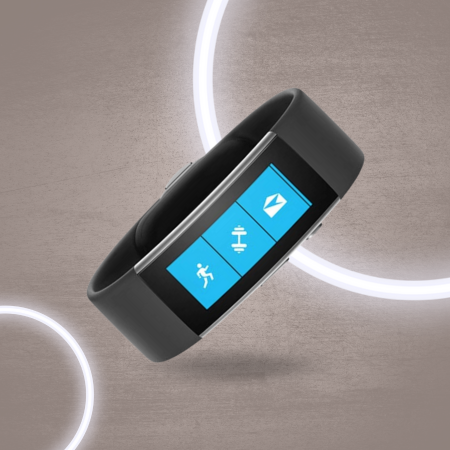 This activity tracker manufactured by Microsoft is a premium fitness product in the market. This fitness gadget tracks your heart rate, calories lost, stairs climbed, steps, exercise, and sleep quality to help you improve your health. The 24/7 optical heart rate monitor lets you know the heart rate zone:- from maximum heart rate to resting heart rate. The software used for analyzing and displaying the results in charts and graphs is Microsoft Health. The same results will be shown on the web dashboard too.
The exercise tracker is available for sports like biking, cycling, walking and running. The Cortana personal digital assistant let you talk or type to have set reminders, sending emails or text messages. This works with Windows 10 based systems or phones. However other features are compatible with iOs, Android or Windows phones.
The Microsoft Health App works well with Android phones, iOS and Windows. Microsoft band lets you play music from your phone via Bluetooth. This smart activity tracker observes how long and how well you sleep; then records it for further analysis.
Microsoft band 2 is water-resistant but make sure that you don't immerse it in the water. Microsoft Band 2 has a comfortable fit with the curved Amoled display screen. The resolution of the display is 320 x 128 pixels.
This device comes with 11 sensors which include UV monitor, GPS, barometer and more. Microsoft Band 2 lets you choose from three size options; small (144.78mm – 165.1mm), medium (160.02mm – 190.5mm) and large (185.42 mm – 215.9 mm). The size of the display is 32 x 12.8 mm. The rechargeable battery in the device takes less than 1.5 hours to fully charge and lasts for 48 hours.
7. Wahoo TICKR Heart Rate Monitor for iPhone & Android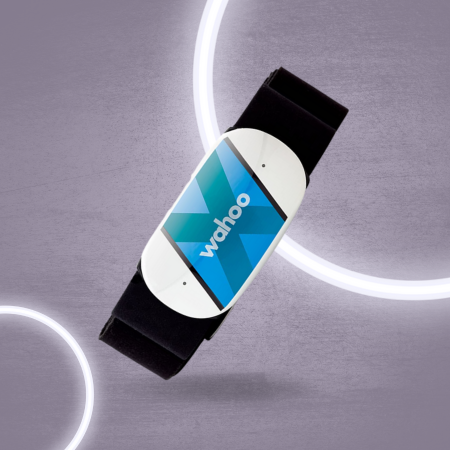 This is a Heart Rate monitor manufactured by Wahoo Fitness only for iPhones and Android phones. This heart rate monitor gives you personalized training to work out efficiently by monitoring heart rate. The TICKR works with Bluetooth 4.0 and ANT features to sync wirelessly with your phone. The device works seamlessly with over 50 third-party apps along with Wahoo Apps. The RunFit app acts as a virtual trainer for you to guide you progress towards the set goal.
You can mix up your cardio with different workout poses while tracking heart rate, cadence, distance and calorie burned. Once you start your workout you can count the number of times you did that particular workout. You can even backup your workouts to the cloud storage (Free Wahoo Cloud) and share them later. So with RunFit and TICKR working together, you can achieve your goals.
The heart rate monitor has 2 LED lights; blue to show device connection and red to show heart rate detection. The device is powered by a replaceable battery that lasts up to 12 months. The TICKR heart rate monitor is sweat and waterproof. You can pair your TICKR to an Apple watch and other GPS watches like Garmin. TICKR works with iPhone 4s or later and Android 4.3. The TICKR display weighs just 8.5 grams and measures 23.11 x 170 x 120 mm.
FAQs
Can I use a running watch for other sports or activities besides running?
Yes, many running watches can be used for other sports or activities besides running. Most running watches include a variety of features that can be useful for other activities, such as:
GPS tracking: GPS tracking can be used for a variety of outdoor activities, such as hiking, cycling, and swimming.
Heart rate monitoring: Heart rate monitoring can be useful for a variety of activities, including cycling, swimming, and weightlifting.
Activity tracking: Many running watches include activity tracking features that can track steps, distance, and calories burned, making them useful for a wide range of activities.
Multi-sport modes: Some running watches include multi-sport modes that allow you to track multiple activities, such as triathlons or duathlons.
Water resistance: Running watches are often water-resistant, making them suitable for swimming and other water-based activities.
How long does the battery life typically last on a running watch?
Battery life varies depending on the specific watch model and usage. Some running watches can last up to a week or more on a single charge, while others may require charging every couple of days.
Be sure to consider your usage habits and preferences when selecting a watch with the appropriate battery life for your needs.
Are there running watches available for those on a budget?
Yes, there are running watches available for those on a budget. While some running watches can be quite expensive, there are also many affordable options available that still offer useful features for runners. Here are a few budget-friendly running watches to consider:
Garmin Forerunner 35: This entry-level GPS running watch is priced around $100 and includes features such as GPS tracking, heart rate monitoring, and activity tracking. It also includes smartwatch features such as notifications from your phone.
Fitbit Charge 4: While not specifically a running watch, the Fitbit Charge 4 is a fitness tracker that includes GPS tracking, heart rate monitoring, and activity tracking. It is priced around $150 and includes features such as sleep tracking and swim tracking.
Polar M200: This affordable GPS running watch is priced around $130 and includes features such as GPS tracking, heart rate monitoring, and activity tracking. It also includes personalized running programs to help improve your running performance.
Timex Ironman Classic 30: This budget-friendly running watch is priced around $50 and includes features such as a 30-lap memory, countdown timer, and stopwatch. It is water-resistant and includes Indiglo night-light for easy visibility in low-light conditions.
Are there running watches that offer advanced training features, such as VO2 max estimation and recovery recommendations?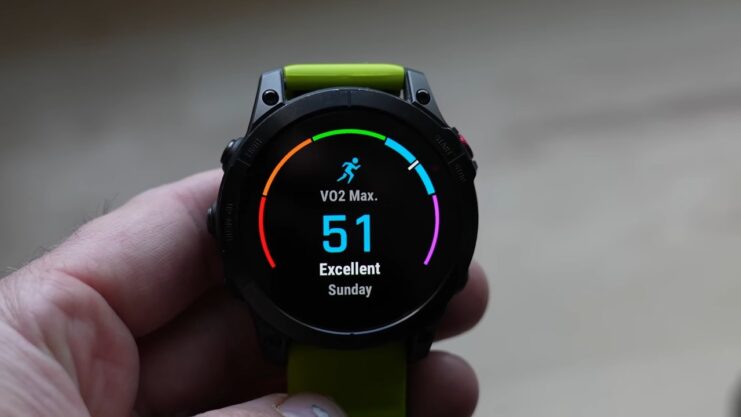 Yes, some high-end running watches offer advanced training features that can help you optimize your workouts and monitor your progress.
These features may include VO2 max estimation, which gives an indication of your aerobic fitness level; recovery recommendations, which advise how much rest you should take between workouts; and training effect feedback, which helps you understand the impact of your workouts on your overall fitness.
Keep in mind that these advanced features are typically found in more expensive running watches, and their accuracy may vary depending on the specific watch model and the quality of the data it collects.
How important is water resistance for a running watch, and what should I look for in terms of water resistance ratings?
Water resistance can be an important factor to consider when choosing a running watch, especially if you plan to use it for swimming, triathlons, or in wet weather conditions.
Running watches usually have a water resistance rating, which indicates the depth and pressure at which the watch can be submerged without damage.
Common ratings include 3 ATM (30 meters), 5 ATM (50 meters), and 10 ATM (100 meters).
A higher rating generally means better water resistance, but it's important to note that these ratings are based on static pressure tests and may not reflect the watch's performance during dynamic activities like swimming.
Always check the manufacturer's guidelines and user reviews to ensure the watch meets your water resistance needs.
Can I integrate my running watch data with third-party fitness apps or online platforms?
Yes, many running watches allow you to integrate your data with third-party fitness apps or online platforms. This can be useful for tracking your progress, setting goals, and sharing your workouts with others. Here are some examples of running watches and the apps or platforms they can be integrated with:
Garmin Forerunner: Garmin Forerunner watches can be integrated with a variety of third-party apps, including Strava, MyFitnessPal, and TrainingPeaks. This allows you to automatically sync your workout data and track your progress over time.
Fitbit: Fitbit watches can be integrated with a variety of apps, including Strava, MyFitnessPal, and Runkeeper. This allows you to track your workouts and share your progress with friends and family.
Polar: Polar watches can be integrated with apps such as Strava, MyFitnessPal, and TrainingPeaks. You can also sync your data with the Polar Flow online platform, which allows you to track your progress and set goals.
Apple Watch: Apple Watch can be integrated with a variety of third-party apps, including Strava, Nike Run Club, and MyFitnessPal. This allows you to track your workouts and sync your data with other apps or platforms.