Not always do you have the time to go for a recreational massage treatment right? Moreover, those are quite expensive and time-consuming. But, are you suffering from occasional bouts of muscle aches and lethargy. Maybe it's time you consider buying yourself a cordless massager. What's more, if you're looking for a massaging device that will give you value for your money, here is an option, the Pure-Wave CM-07 by Pado.
This massager may seem a little overpriced, but after checking these pure wave reviews, you won't want to look for any other massagers! So, without further ado, let's begin with the introduction:
Experience the Ultimate Massage with Pure-Wave CM07
The Pure-Wave CM7 falls within a range of premium full-body massages which fit in the palm of your hand. So forget a therapist, this device will not only save you time, but it'll make you self-sufficient too. It comes with a speed controller and six different massage heads to deliver the most powerful and soothing massages.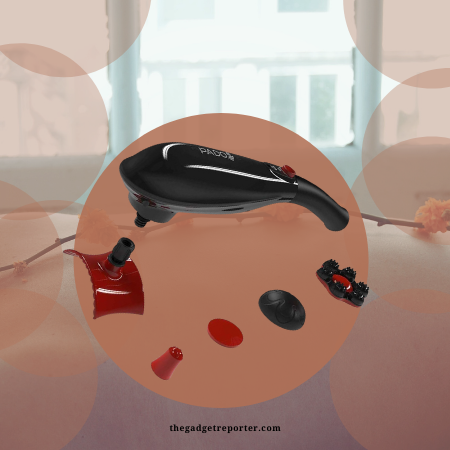 According to pure wave reviews by customers, this device has helped them ease muscle spasms, tight joints, and stiff backs. Especially, convenient for athletes and workers who sit in the office for long hours, this item is a winner when it comes to the scalp and back massages. Now, let's quickly do an appraisal of the product-
Features of the Pure-Wave CM7
The Pure-Wave CM7 comes with a powerful motor that enables it to operate cordlessly for a long period. Moreover, it comes with a fast charger and long battery life.
You can put it to charge while you're about to go to bed and use it magnanimously the next day.
The minimum charging hour is however 60 minutes, and it is best advised to charge the device for a minimum time span of 180 minutes in a week.
Additionally, the massager comes with pads which help in reducing the tension in facial muscles. Also, the device has different modes which aid in keeping the face free from bloating. This, in turn, reduces the chance of wrinkle and promotes anti-aging.
Another point in favor of the CM7 model according to pure wave reviews is its lightweight. Most of the times, these massagers weigh quite a lot, and hence carrying them in purses or bags can be taxing. However, due to the device's supple and light feel, the CM7 is ideal for long-distance travel.
You can simply charge it once and use it throughout the day while traveling, at work or even on vacation.
Moreover, this pure wave massager, in fact, is used by doctors, podiatrists, fitness trainers, massage and physical therapists. So, why go to them when you can simply use this product and satisfy yourself the same?
Moving on, here are the product details and tips to use the device-
The Pure-Wave CM7 by Pado comes with:
Point Stick
6-Head Stick
Scalp Stick
Pure Wave massager (full body)
Charge cord
Air Cushion Stick
Facial Stick
Massage Oil Stick
Additionally, the device has the following specifications:
A percussion of Motor 7.2v, dc 3700 RPM, with speed ranging from 1500-3700 RPM.
The battery is 7.2V lithium-ion 2200MA 18650 *2 Cell 7.2
The facial motor is &.2 V, DC and has a speed that goes up to 11,000 RPM.
How to use the pure wave massager correctly!
After delivery, firstly charge your device for two hours. In this time, study the motors and the nubs available.
After that, turn on the Pure Wave CM7, and you'll find the vibrating mode is denoted by the green light, adjust the speed and use for your requirement.
Further, you will also find the percussion side which is again denoted by a stronger green light. According to the pure wave massager review, the percussion massages specially offer rapid and fast massages which help in increasing blood flow and stimulation.
Now, here are some additional insights about this feature and the vibration nubs:
The percussion massages are ideal for areas with thick muscle mass. According to customer pure wave reviews, the percussion mode works best in easing tension in necks, arms, shoulders, and back.
On the other hand, the vibration mode uses jostling and shaking, which provides a soothing sensation.
Moreover, for people suffering from water retention, this pure wave massager can instantly ease their discomfort and provide relief.
Percussion attachments (Massage sticks)
Now, here are the 6 sticks that work wonders-
1. 6- head stick
The 6 nodules offer a deep tissue massage. The customer, pure wave reviews, state that motion works best in areas like hamstrings, hips, and lower back. Also, one suffering from cramped legs can find relief using the 6 nodules.
2. Massage oil stick
You can use massage oil and use this unique feature for relieving pain and helping yourself relax. In fact, many satisfied pure wave reviews by customers state that this model has given them a real spa experience.
3. Scalp massage stick
This feature will make you feel like you're having your hair oiled and massaged by a salon expert. Additionally, the variable pressure makes it ideal for reducing anxiety and stress. Plus, if you use this device with effective hair oil, you will, in the end, get lustrous and shiny hair too.
4. Air Cushion stick
This pure wave massager singularly has the innovative design of the air cushion stick. This feature allows a softer massage but will provide patrons with rub which will penetrate deeper tissues.
Areas like the soles of your feet, below your elbow, knees, or calves are perfect for this feature.
5. Point stick
This feature allows deep tissue massage for removing chronic muscle tension. According to numerous pure wave reviews by athletes, the point stick feature offers a tissue massage which is exactly like a Swedish massage.
It penetrates muscle in lengthy gliding strokes which increases blood flow. Therefore, it removes toxins and improves overall flexibility of the body.
6. Facial massage stick
The last feature of this device is the Facial massage stick. This stick can be attached to the percussion side or the vibration side and will offer a soothing rub. Perfect for customers with sinus and migraine issues, this feature also keeps the face moisturized.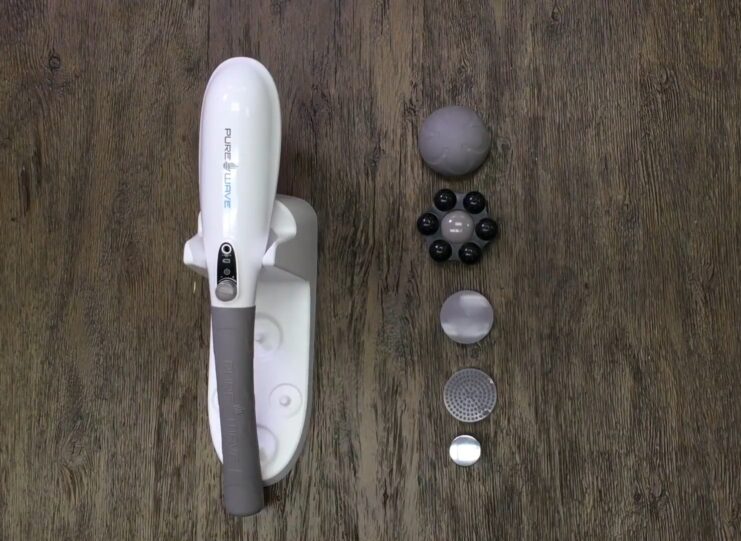 On this note, here are the pros and cons of this device as coined by customers in their pure wave reviews:
Pros
6 different heads that provide all kinds of massages
Lightweight and easy to use with the innovative slim design.
Helps fight signs of aging and wrinkles.
Salon style massages are less time-consuming.
Cons
Not feasible for people suffering from physical injuries.
A little pricey
Not suitable for pregnant women.
In conclusion, till date customers have only given positive pure wave reviews. So, if you're looking for a compact massager which can give you a feeling of jubilation and reinvigorate your senses, buy the Pure-Wave CM7 model.
Even if the charge is a bit higher, this model will last longer and save you money, which would otherwise be used for your spa treatments. You will additionally feel relief from headaches and unnecessary joint pains.
FAQ
Is the Pure-Wave CM7 massager safe to use?
Yes, the Pure-Wave CM7 massager is safe to use. It is designed with safety features such as automatic shut-off after 20 minutes of continuous use to prevent overuse and overheating. Additionally, the device is equipped with a protective mesh cover to prevent hair from getting tangled in the massager.
However, it is important to use the massager according to the manufacturer's instructions and to avoid using it on sensitive areas or on areas with broken skin or wounds. If you have any concerns about using the massager, it is recommended to consult with a healthcare professional before use.
How long does the battery last on the Pure-Wave CM7?
The battery life of the Pure-Wave CM7 varies depending on usage. With regular use, the battery can last up to 180 minutes or 3 hours on a single charge. However, if you use the device at a higher intensity, the battery may not last as long. It is recommended to fully charge the device before each use to ensure maximum battery life. The device also features a low battery indicator that alerts you when the battery is running low, so you can charge it in a timely manner.
What is the difference between the percussion and vibration modes?
The Pure-Wave CM7 massager offers both percussion and vibration modes. The percussion mode provides a deep tissue massage by using rapid, targeted pulses to penetrate deeply into the muscle tissue. This mode is ideal for working out knots and tight muscles, and it can be used to effectively relieve muscle soreness and tension.
The vibration mode, on the other hand, provides a gentler massage by using a continuous vibration to stimulate the muscles. This mode is ideal for general relaxation and for use on more sensitive areas like the face and neck. The vibration mode can also be used to improve circulation and reduce stress and anxiety.
The difference between these two modes is the intensity and depth of the massage. Percussion mode is more intense and penetrates deeper into the muscle tissue, while vibration mode is gentler and more surface-level. Both modes have their own unique benefits and can be used separately or in combination for a customized massage experience.
Can the Pure-Wave CM7 be used for facial massages?
The Pure-Wave CM7 is not specifically designed for facial massages and we do not recommend using it on the face. It is designed for use on the body to relieve muscle tension, knots, and soreness. Using the device on the face can cause discomfort and may not be safe. We recommend using a device specifically designed for facial massages if that is what you are looking for.
What is the warranty period?
The Pure-Wave CM7 comes with a one-year warranty period from the date of purchase. If you encounter any issues with the device during this period, you can contact the manufacturer for assistance.
Conclusion
In conclusion, the Pure-Wave CM7 by Pado is an excellent choice for those looking for a compact and powerful massager that can provide a variety of massages.
With its six different massage heads and various modes, this device can help ease muscle tension, reduce stress, and fight signs of aging. Its lightweight and slim design makes it easy to use and carry around, and its long battery life and fast charging time ensure that it can be used for extended periods.
While it may be a bit pricey, the quality of the product and the numerous benefits it provides make it a worthwhile investment. Based on positive customer reviews, the Pure-Wave CM7 is definitely worth