U.S. Army Human Resources Command PAO
The 66th Adjutant General of the U.S. Army was installed in an investiture ceremony at Waybur Theater at Fort Knox.
Inclement weather forced a change in location from the grounds of the U.S. Army Human Resources Command to the recently renovated historic theater. Maj. Gen. Richard Mustion, HRC's commanding general, presided over the ceremony.
The leadership role of the incoming TAG, Brig. Gen. David "Mac" MacEwen, is an old and venerable one, first established by the Continental Congress June 16, 1775. MacEwen, who comes to HRC from commanding the U.S. Army Soldier Support Institute at Fort Jackson, S.C., now serves as TAG in the dual roles of director of The Adjutant General Directorate under HRC and 17th executive director of the Military Postal Service Agency, which serves all of the armed services.
The Adjutant General Directorate provides human resources support to Soldiers, veterans and their Families, including Traumatic Servicemembers Group Life Insurance and Combat-Related Special Compensation.
MacEwen follows Brig. Gen. Jason Evans, who leaves HRC to become the deputy commanding officer for operations at the U.S. Army Installation Management Command at Joint Base San Antonio in Texas.
"His balanced, calm, positive, innovative, agile and resilient leadership—matched with his strong presence, strength of character, his intellect and vision—have enabled the organizations to provide phenomenal support as well as solving very complex and ambiguous situations," Mustion said, adding that Evans's leadership resulted in both organizations moving to a higher level of performance in all areas.
Evans and the TAGD team have done tremendous things—including implementing what is now called the Veterans Opportunity to Work, or VOW, Act, which directed the re-engineering of the armed services' Transition Programs, Mustion said.
Evans's vision and foresight led to the establishment of the Army's Transition Strategic Outreach Office—a central Army entity that enables private industry to connect with Soldiers as they transition from the Army, Mustion said. In a few short months, the Transition Strategic Outreach Office has become nationally recognized and has established positive relationships with more than 900 members of industry.
"Our Soldiers are better prepared to leave the Army—and leave as ambassadors for the Army—than they were just a year ago," the HRC commanding general said.
Evans was critical in the Army's redesign of the Officer and Enlisted Evaluation Reports, Mustion said. Evans has coalesced ideas into "a revised evaluation system … that's gained the consensus and the support of over 100,000 officers and 250,000 noncommissioned officers—and has done so with great precision, great passion and great professionalism. We're on a path to implement those beginning in December. That would not have happened if it weren't for Jason Evans's leadership."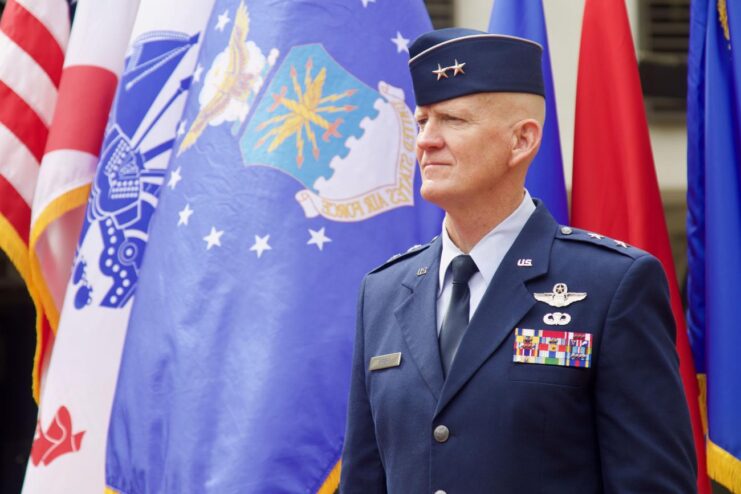 When Evans took his turn at the podium, he praised his TAGD staff of "1,200 dedicated professionals … at the forefront of supporting how the Army manages its most important resource—its people. As the Army transitions, our focus is meeting the CSA's (chief of staff of the Army's) intent of sustaining a high-quality, all-volunteer Army that remains most decisive in the world by providing solutions to personnel challenges that span the military life cycle."
Evans said that, during his leadership, TAGD processed over 4 million documents in fiscal year 2012 to ensure the accurate and timely update of hundreds of thousands of Soldiers' official records and oversaw thousands of fallen and wounded in action notifications to family members, and processing their personal effects with precision, dignity and reverence. TAGD also worked numerous past-conflict personnel recovery and identification-of-remains missions.
MacEwen gave the audience his perspective on the future.
"We're facing some difficult times with budgetary uncertainty," said MacEwen, who was once the HRC chief of staff. "I am convinced that we'll be able to build upon the work done in the past, and we'll do our part to be innovative, adaptable, accountable and value-added to our Army and the nation."