With the number of valuable gadgets and ones that contain sensitive information on the rise, the need to track and prevent them from falling into unsafe hands is imperative. In comes another gadget to take care of this need – the smart tracking devices.
These are tracking devices that can smartly notify you when a connected device is getting farther, outside the set boundary so that you can take corrective actions.
We review the 8 best smart tracking devices for you so that you take an informed decision to buy the one that suits you the best.
Track Your Progress with These Must-Have Smart Devices
1. Tile TLE-02001 Gen 2 Bluetooth Tracker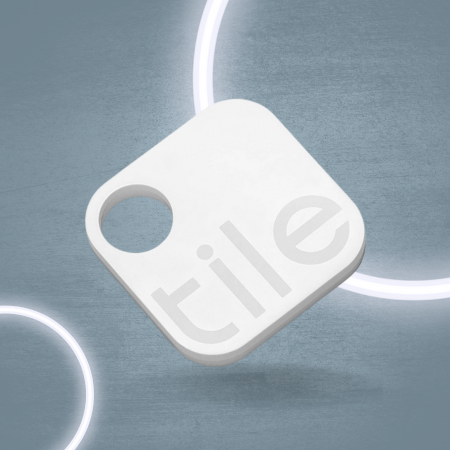 The Tile TLE -02001 Bluetooth Tracker is an easy-to-use device that can be used to find out anything you lost or misplaced. This can be used with keys, bags, phones, cameras, or anything that you do not want to lose. You can attach, place or stick the Tile to the items that you want to keep safe and you can track the item in the App provided by Tile. You can locate the lost item even by sound or by tracking its last position on the map.
If you have lost your phone you have to just press the tile and the phone will start ringing (Even when in silent mode) if it is within the 100-meter range. The tiny speakers in the Tile let out 90 decibel sound which is audible even from under a stack of dresses.
If your phone is not within the 100-meter range still Tile makes it easy to track your lost phone. You have to log into Tile's web App to see the phone in the map where it was found last or to ring it or you can send messages which appear on the lock screen who might find it.
You can download the App provided by Tile on all your devices and your devices turn into a virtual tile which means you can use the App to find the other lost devices on which the App was installed. The Tile is compatible with almost all Operating Systems and it is cross-platform operational.
2. Tile Generation 2 Phone Finder, Key Finder, Item Finder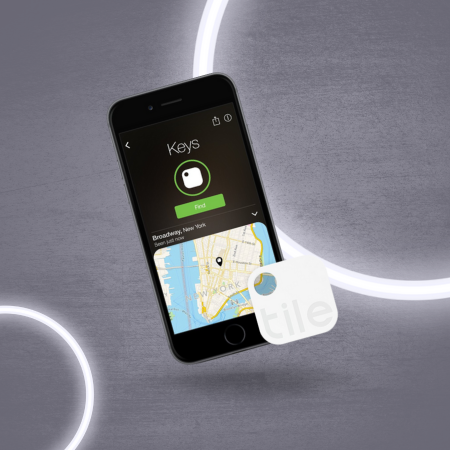 The generation 2 Tile Item finder is a premium product of Tile. This is specially designed for those who tend to misplace their items frequently. You can make the Tile ring and if you still can't locate the item open Tile App and locate the item in the map.
You also have the option to ask for help from the Tile community to find your item. If you misplace your phone; you just press the Tile and the phone will start ringing even in the silent mode. You even can send a lock screen message to your phone so that the person near the phone can help you to get your phone back. This is made possible by logging into Tile's website.
The Tile technology is compatible with iPhones (Released in 2011 or later), iPad (Released in 2012 or later), iPad mini, iPod Touch, Apple Watch, Samsung Galaxy S5, S6, Note 4, HTC One and One M8, LG Nexus 4,5 and 6, and Motorola Moto X. Tile uses BLE (Bluetooth Low Energy) technology and has a range of 100ft, however, it works effectively at 30ft range.
The weight of this Tile is just 37 grams and its size is 37 x 37 x 5.3 mm. The Tile comes with a battery life of one year and once the battery is exhausted you can contact the manufacturer, and they will replace the device with one of the latest technology. This comes in a 4-pack so that you can pair up to 4 items.
3. LOK8U Freedom Wandering Prevention and Emergency Alert Watch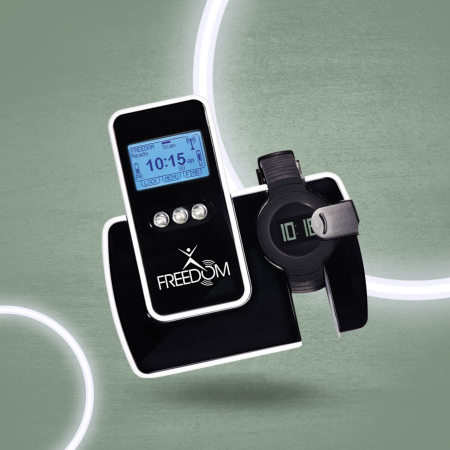 LOK8U Freedom wristwatch incorporates a GPS and GSM Locator, lockable strap, a charging base and a portable receiver. Freedom is a detector that finds out wandering objects. You can locate your loved ones by sending a signal using a portable receiver and the wristwatch in their hand transmits the signal.
You have to have a 1-year contract with LOK8U for email, text messages and portal tracking. There is another interesting feature called Panic Button which allows you to send an SMS alert with the location of the emergency and when it happened.
The case of this watch is made of High-impact polycarbonate material and the wristband is made of non-hypoallergenic rubber. The Radiofrequency range inside the house is a maximum of 35 feet and outdoors it is 10 feet.
For the one who wears the wristband, it is just a watch but for us who has the remote or the portable receiver, it is the smartwatch that helps us be connected to our loved ones all the time and they can also enjoy their time in our absence. The band can be affixed as a normal wristwatch but you also get a locking feature that can be unlocked only using a specialized release tool.
4. PROTAG Duet Bluetooth Tracker
The PROTAG Duet Bluetooth Tracker is a small tracking device that works using the latest Bluetooth v4.0 technology. You can pair your PROTAG Duet Bluetooth Tracker with your phone. So if you leave behind your valuables the Duet buzzer alerts you immediately.
The Smart Radar in the Duet scans a range of 30 meters for valuables or phones and maps it on the Radar Screen. This is a two-way tracker which means that the Duet buzzer starts to ring if the phone goes out of 30 meters range. If you leave the phone and take the Duet with you the phone starts ringing.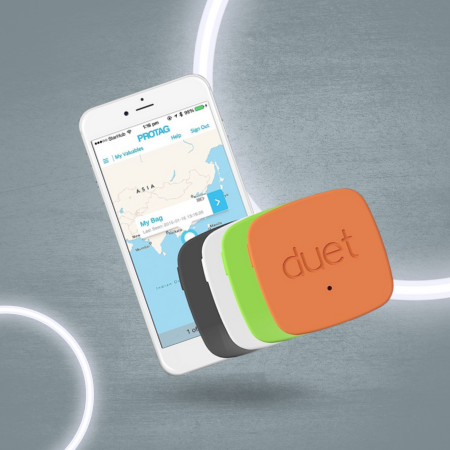 The PROTAG App that you installed on the phone helps you to track your items. When an item (Duet should be attached to the item) paired with your phone goes out of the range of your phone the PROTAG App records the location in addition to the alert.
Once you get the location you can use Duet to ring your phone. Installing the App is pretty simple. Just download the App from the respective stores. Put the battery in the Duet and turn it on. Open the App and PROTAG App will guide you in pairing the Duet with the phone. Once the pairing is successful the blinking red light on the Duet will turn to blinking blue light.
The Duet needs BLE (Bluetooth Low Energy) enabled phones with Operating Systems Android 4.3 or higher and iOS 7 or higher. The CR2016 (Replaceable) battery in the Duet can give you a life of up to 6 months. You can pair up to 10 Duets with one phone. The Duet weighs just 6 grams with a battery and measures 28 x 28 x 6 mm. To give a stylish look the Duet comes in 5 different colors.
5. PocketFinder Outdoor Personal GPS Locator
This GPS Locator manufactured by PocketFinder can be used to keep track of your loved ones, pets and vehicle. Now you can have peace of mind by seeing where your children or parents are. You can use this device to track even your pets.  You can also monitor the place, time of arrival and departure from that place, and even the complete travel route. The PocketFinder online portal or the mobile App (Compatible with Android or iOS operating systems) helps you monitor and track your loved ones.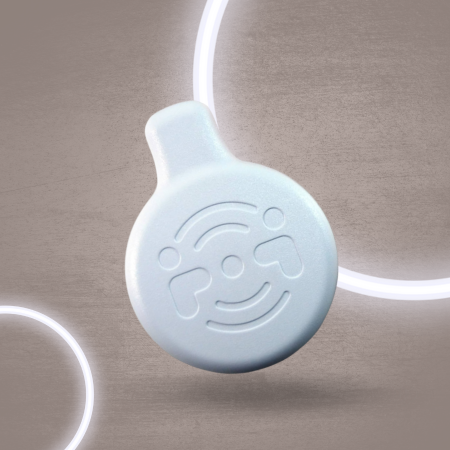 The GPS Locator is ideal for families having school kids, seniors who may lose their way, pets that wander a lot or even a teenager who got a driving license recently. You will get alerts when they enter the geo zone or go out of the zones you have created with the help of Google Maps.
The alert may be in the form of a push notification, email or SMS text. The PocketFinder server stores the travel history for up to 60 days. The GPS pet tracker with the nylon case can be attached to your pet's collar easily and will enable you to track your pets.
The PocketFinder 3G GPS Vehicle Tracker records the speed, heading, nearby address and altitude of your vehicle's location. If the vehicle is moving, the location is updated every 60 seconds and will be alerted if the PocketFinder is moving faster than the set speed limit. Adding to all these facilities, PocketFinder GPS Trackers come with the most important feature of all – the SOS signal. If your loved ones are in any kind of danger, they can send you the SOS signal by tapping the GPS Locator 3 times against any solid surface.
The location is updated on the map every 2 minutes. You will need to enroll to the service plan (Monthly) like all GPS trackers. The battery capacities are 700 mAh for Vehicle Tracker and 800 mAh for the other three (Child, Senior and Pet Tracker) GPS Locators.
How to Choose the best one
Purpose: The first thing to consider when purchasing a smart tracking device is its purpose. Do you need it to keep track of your keys, your pet, your vehicle, or your loved ones? Some devices are designed specifically for certain purposes, so it's important to choose one that fits your needs.
Range: The range of a smart tracking device is also important to consider. Some devices have a range of only a few feet, while others can track items or people from several miles away. Consider how far you need to track the item or person and choose a device with an appropriate range.
Battery life: The battery life of a smart tracking device is another important consideration. Some devices have a battery life of only a few days, while others can last for several months. Consider how often you will need to recharge or replace the battery and choose a device with a battery life that suits your needs.
Compatibility: Make sure the smart tracking device you choose is compatible with your smartphone or other devices. Most devices are compatible with both Android and iOS devices, but it's always best to double-check before making a purchase.
App features: The features of the app that comes with the smart tracking device can vary greatly. Some apps are very basic and only allow you to track the device's location, while others have additional features such as geofencing, panic buttons, and location history. Consider which features are important to you and choose a device with an app that meets your needs.
Durability: If you're planning to use your smart tracking device in rugged environments or for outdoor activities, you'll want to choose a device that is durable and can withstand the elements.
Cost: Smart tracking devices can range in price from just a few dollars to several hundred dollars. Consider how much you're willing to spend and choose a device that fits within your budget.
Customer reviews: Before making a purchase, it's always a good idea to read customer reviews of the device you're considering. Look for reviews that specifically address the device's performance, battery life, range, and app features to get a better idea of how well the device will work for you.
FAQ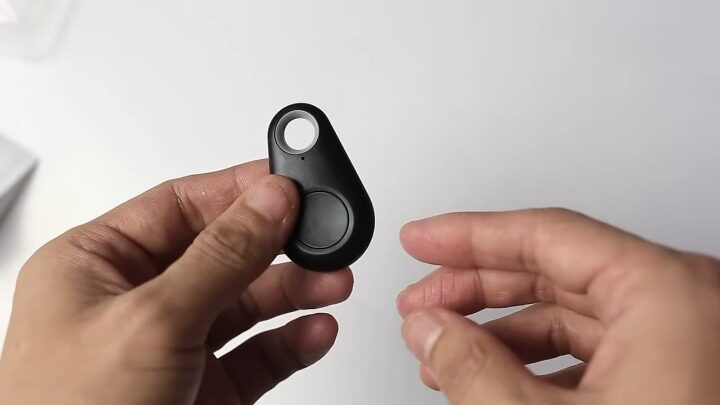 What are smart tracking devices?
Smart tracking devices are gadgets designed to help locate and prevent the loss of valuable items such as phones, keys, bags, cameras, and more. They use Bluetooth, GPS, and GSM technology to help you find your lost items, send alerts when your items are out of range, and even monitor the location of your loved ones or pets.
How do they work?
Smart tracking devices work by using wireless technology to connect to your smartphone, tablet, or computer. You attach or place the tracking device on the item you want to track, and then use an app to monitor the device's location. Some smart tracking devices use GPS, which allows for more precise tracking, while others use Bluetooth or GSM technology, which have shorter ranges but are more energy-efficient.
Can smart tracking devices track multiple items at once?
Yes, many smart tracking devices allow you to track multiple items at once, often through the use of a companion app. Some devices may require you to purchase additional tracking tags, while others come with multiple tags included in the package.
How far can track items?
The range of a smart tracking device varies depending on the technology used. Bluetooth tracking devices typically have a range of 30-100 feet, while GPS trackers can have a range of up to several miles. Some devices also use cellular networks to provide location information, which can have a range of several miles or even worldwide.
Do smart tracking devices have a subscription fee?
Many smart tracking devices do require a subscription fee to use their services beyond the initial purchase. This fee typically covers the cost of using cellular networks or other data services required for the device to work. However, there are also some devices that do not require a subscription fee and rely solely on Bluetooth or Wi-Fi connectivity.
Can smart tracking devices be used for personal safety?
Yes, some smart tracking devices are designed for personal safety and can be used to alert family members or emergency services in case of danger. These devices often come with a panic button or emergency alert feature that sends an SOS signal to designated contacts or authorities. Some devices may also include other safety features, such as fall detection or medical alert capabilities.
Can they be used for tracking pets?
Yes, there are many smart tracking devices designed specifically for tracking pets. These devices typically come in the form of a collar or tag that attaches to your pet and allows you to monitor their location through an app. Some devices may also include additional features such as activity tracking or a virtual fence that alerts you when your pet leaves a designated area.
Are smart tracking devices waterproof?
Not all smart tracking devices are waterproof, so it's important to check the specifications of the device before purchasing. Some devices may be water-resistant or splash-proof, while others may be fully waterproof and suitable for use in swimming or other water activities.
Can they be used to track vehicles?
Yes, there are many smart tracking devices designed specifically for tracking vehicles. These devices typically use GPS technology to provide real-time location information and can be used to monitor the speed, direction, and location of your vehicle. Some devices may also include additional features such as geofencing, which allows you to set up virtual boundaries and receive alerts when your vehicle leaves or enters a designated area.
Can smart tracking devices be used to track children?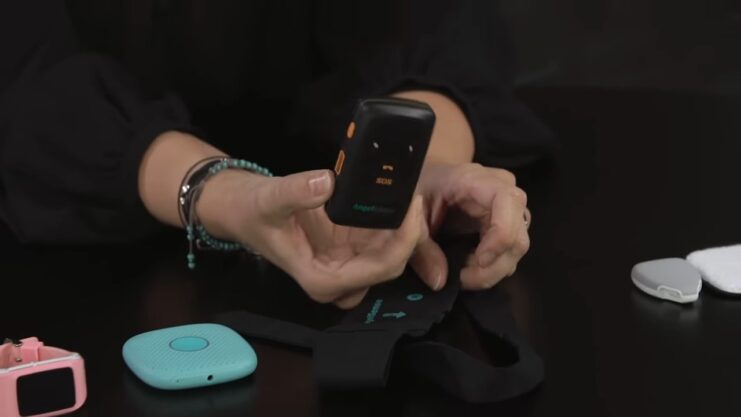 Yes, many smart tracking devices can be used to track children, and some are specifically designed for this purpose. These devices typically come in the form of a wristband or watch and allow you to monitor your child's location through an app.
In conclusion, smart tracking devices provide an easy solution to the problem of losing or misplacing valuable items, as well as ensuring the safety and security of loved ones. The eight devices we reviewed are all excellent options, each with its own unique features and capabilities. From the Tile Bluetooth trackers that can be attached to any item to the PocketFinder GPS locators for children, seniors, pets, and vehicles, there is a device for everyone's needs.
When considering purchasing a smart tracking device, it is essential to think about the range, battery life, compatibility, and other factors mentioned in the buying guide. It is also important to choose a device with a reputable brand and good customer support.
Overall, smart tracking devices are a worthwhile investment for anyone who wants to keep their belongings safe and secure, and always be able to locate their loved ones in case of an emergency.