Apple watches are probably the most popular brand among other smartwatches available on the nowadays market. They come in various shapes and sizes and are typically equipped with silicone bands in different colors. These bands, comfortable as they are, can cause rashes and irritations on some skin types.
Apple uses silicone bands that differ from latex rubber and can often cause allergic reactions. If you wear the watch all day long, friction can cause many problems on your skin, especially if you have a sensitive type.
Sweating and nickel allergies are also common causes of irritations, and since silicone Apple watch bands are made of synthetic polymers, they can trigger negative effects on tender skin.
Luckily there are many alternatives in today's market. In this article, we will list some of the best Apple Watch bands that are suitable for sensitive and delicate skin.
9 Must-Have Products of 2023: Our Top Picks
1. Sunnywoo Metal Stainless Steel Band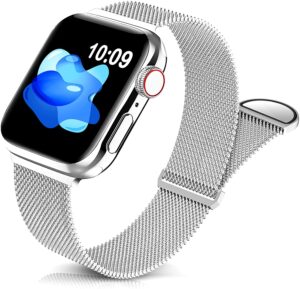 This stainless steel band is a perfect choice for people who exercise often. It is made of high-quality metal and gives you a fresh and luxurious look. Its magnetic connector provides you with more flexibility and freedom to move your wrist.
This particular band is compatible with 38, 40, 41, 42, 44, and 45mm Apple watches of 1, 2, 3, 4, 5, 6, and 7 series.  It is lightweight, breathable, and durable, making it comfortable to wear on any occasion.
This band is made of top-notch woven stainless steel that has natural hypoallergenic properties. You can easily put it on and off with its magnetic clasp, but it will not slip from your wrist easily during exercise.
It is excellent for sensitive types of skin and does not cause irritations and inflammations. The band is adjustable and can be shortened; however, it is vital to measure your wrist since it cannot be extended.
2. Lopnord Watch Bands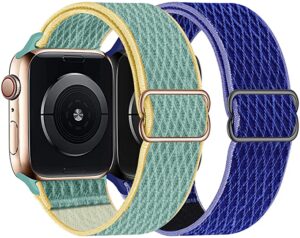 Coming from the Lopnord store, these bands are made of stretchy nylon and are compatible with SE, 1, 2, 3, 4, 5, 6, and 7 series of apple watches of 38, 40, and 41 mm sizes. You can choose multiple colors, and you get two colors for a single purchase.
The band is made of high-quality stretchy nylon that is breathable, durable, and great for sensitive skin. Whether you are using it during your daily exercise or special events, its compact design is suitable for all occasions.
It is elastic and quite is to clean and wash. You can easily put it on and off, while its adjustable buckle makes setting up the length of the band easy for any type of wrist.
There are two sizes of bands you can go for, so make sure to check which length will suit you best.
3. Haveda Soft Woven Canvas Nylon Wristband for Apple Watch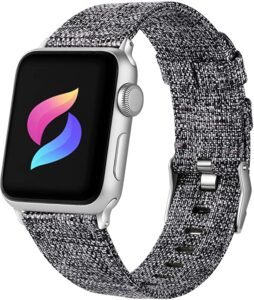 If you are looking to replace your basic silicone band for Apple Watch, the Haveda store offers you alternatives in 16 different colors. It is compatible with 38, 40, 41, 42, 44, and 45-millimeter sizes and offers you soft cushioning and comfort.
There is a variety of colors you can choose from, and it is made of sturdy yet lightweight and comfy materials. They are especially suitable for warmer wheater days and great for exercise since the cushioning allows sweat and any type of moisture to escape.
It is quite easy to maintain and wash with soap, detergent, or toothpaste. The Haveda band is perfect for people that have allergy problems and sensitive skin.
It is so comfortable that you will not even notice that you are wearing it in some situations. Great for everyday use and cost-efficient.
4. Fullmosa Leather Apple Watch Band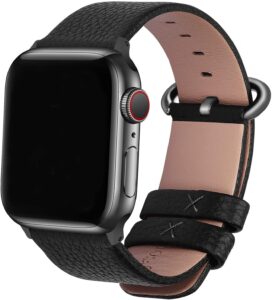 These watch bands are coming from the Fullmosa store and are made of top-notch cowhide leather, which provides you with a comfortable and soft feel inside, while the outer layer is sturdy, firm, and durable.
There is a total of six colors you can opt for, and it is compatible with 38, 40, 41, 42, 44, and 45 mm watch sizes.
Fullmosa designed these bands especially for people with sensitive skin. Its fashionable and timeless leathery design is perfect for all outfits and can be worn on different occasions.
The buckle is made of stainless steel that has natural hypoallergenic properties and is rust and corrosion-resistant. The size options are between 5.4 and 7.5 inches, and bands come with nine holes that can adjust the size precisely for your wrist. It is easy to replace and comes on and off quite easily.
The product arrives with a tool that will help you remove the old band fast and without any problems.
5. Adepoy Fabric Cloth Bands for Apple Watches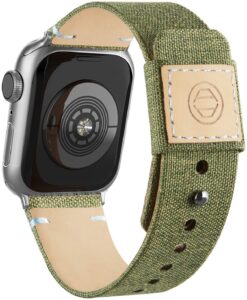 The cloth texture on this watch band offers you a comfy feel every time you put it on, and it is especially well-suited for warm months of the year.
There is a total of ten colors you can choose from the Adepoy Store, and all of them can be combined with various clothing outfits for different occasions.
It is made of genuine suede leather, and it is comfortable for different types of sensitive skin. This band is compatible with SE, 1, 2, 3, 4, 5, 6, and 7 Apple watches, and you have size options available between 6.2 to 8.9 inches.
The fabric is quite durable and comfortable to wear and offers you breathability, which is great for all skin types. Although durable, it is recommended to avoid putting this band in water or washing it.
If the band gets wet by any chance, you can use coconut oil to clean it effectively without damaging the materials.
The look of it is slick, and the colors are deep and rich. It is a casual watch band and comes at more than a fair price for the quality and comfort you are getting for it.
6. Velcro Sport Loop Apple Watch Band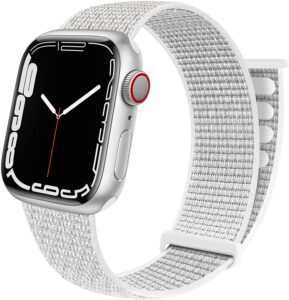 Coming from the JuQBanke store, this watch band is a great choice for exercise and everyday use. There is a total of 23 color options you can go for, and it is compatible with 38, 40, 41, 42, 44, and 45 mm sizes for SE, 1, 2, 3, 4, 5, 6, and 7 Apple Watches.
Once you put it on, it will stay firmly attached since it can adjust tightness way more securely than with the official band. The material is double-woven and will let sweat escape effectively.
It is also breathable, does not itch, and is comfortable for all types of sensitive skin. The diverse set of rich colors make the band fit with any clothing combination.
Apart from being stylish, it is also quite easy to clean. The nylon is lightweight, and most of the time, you will not even feel like you are wearing it. The pattern is attractive during daylight but also has reflective properties during the night.
7. Arae Stretchy Apple Watch Band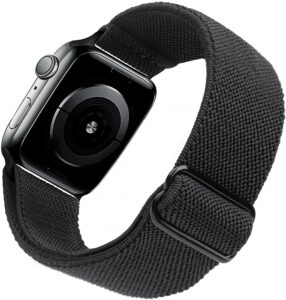 This nylon band is an excellent choice if you like to wear your watch throughout the whole day. It is compatible with 38, 40, 41, 42, 44, and 45 Apple Watch sizes, and you can choose one of 5 different colors to match your outfit.
The material is breathable, great for sensitive skin, and does not itch. Lightweight and durability properties make it a great choice for sport and outdoor activities.
The elastic band is 6.5 inches long and can stretch up to 8.66 inches making it easily adjustable for wrists of different sizes. The installation is quite simple, and all you need to do is slide it in or out, which takes a small amount of time.
Maintenance is also straightforward, and the band can be washed with mild soap. It is a great and strong product that holds its stretch well. It will stay put and add a lot of flexibility to your wrist movement.
8. OULUCCI Compatible Apple Watch Band
Coming from the OULUCCI store, this band is an excellent replacement for the official Apple strap version. It is compatible with all sizes and the iWatch series and comes in over 50 different colors you can choose from.
It will fit seamlessly on any wrist between 5.5 and 8.0 inches. It is made out of 100% genuine cowhide leather and feels good and comfortable on sensitive types of skin. It is great for sports and outdoor activities since it has sweat-absorbent properties.
This band will clean quite easily with a damp cloth or leather cleaner. The decorative buckle provides you with a fresh and unique look, and the band can fit just about any clothing combination you want to go for.
9. SICCIDEN Slim Stretchy Apple Watch Bands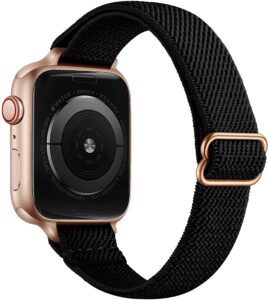 This stretchy band from the SICCIDEN store comes in over 30 colors and seamlessly fits with any clothing combination you want to wear. It is compatible with watches SE, 1, 2, 3, 4, 5, 6, and 7 of all sizes.
The band is elastic, adjustable, and will fit wrists between 5.31 and 8.38 inches. The stretchy nylon material makes this particular band extremely comfortable.
The colors are rich and strong, making the band great for everyday use and special occasions. Although narrow, it is pretty substantial. The weave is solid enough to make the watch stand in its place throughout various activities.
It is a great solution for sensitive skin types and a suitable replacement for the generic silicone band that comes with the watch.
Buying Guide
Regardless of the skin problem you have, the best course of action is to remove the official Apple Watch band and replace it with a comfortable solution for your skill.
In order to help you find the best product for your delicate skin, we have put together a buying guide that will make your money's worth.
Size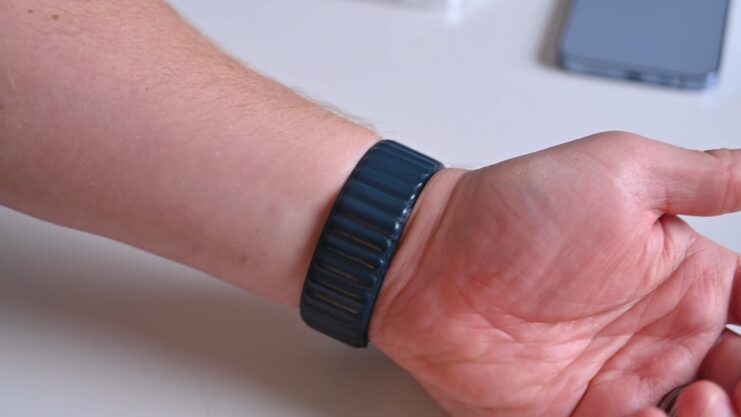 Purchasing a product that has the appropriate size is crucial. You do not want the watch to hang from on your wrist or to be squeezed too tight, as it can cause different skin irritations and itches.
Make sure to read the product description and the manufacturer's recommendations in order to get the size right.
Material
The material is another vital thing to consider when purchasing the band for sensitive skin types. Make sure to choose a material that will not irritate your skin. You can opt for sport, leather, synthetic, or metal bands.
Hypoallergenic properties
If you have allergy issues with common silicone bands, the best option is to choose a material with hypoallergenic properties. Currently, the best solution for it on nowadays market is stainless steel.
Compatibility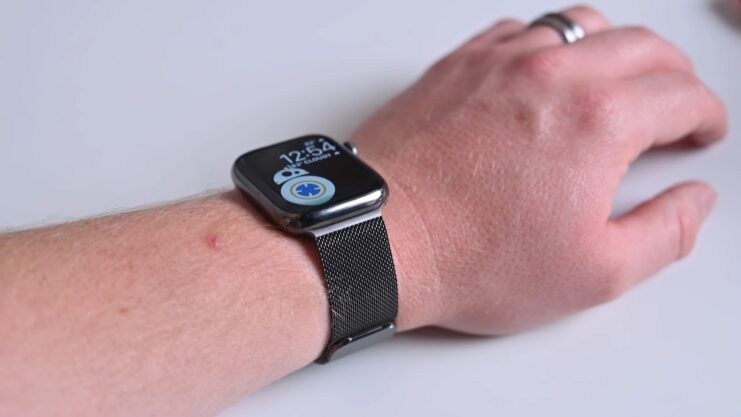 You do not want to find yourself in a situation where the product gets shipped, and once you unpack it, you figure that it cannot fit on your iWatch.
All products come with the manufacturer's manual with a compatibility section that informs you on which watches fit with the band.
Maintenance
Make sure to check instructions on maintaining the band. Cleaning is essential to prolong the band's lifespan as much as it is important to keep sensitive skin clean and free from irritations.
Typically these bands are cleaned with mild soaps, detergents, or damp cloths. To preserve the integrity of the material, read the instruction manual, which will fill you in on how to clean the product.
FAQs
Can Apple Watch bands cause allergic reactions?
Yes, some Apple Watch bands can cause allergic reactions in some people. The Apple Watch bands are made with a variety of materials, including leather, nylon, stainless steel, and silicone. Some people may be allergic to certain materials, such as nickel or latex, which can be present in some of the watch bands.
Apple recommends that users with sensitive skin or allergies to certain materials choose a band made with hypoallergenic material, such as the Sport Band or Solo Loop, which are made with silicone. The Sport Loop, which is made with nylon, is also a good option for those with sensitive skin.
What type of watch band is best for exercise?
When it comes to choosing a watch band for exercise, there are a few factors to consider. Here are some of the best options:
Sport Band: The Apple Watch Sport Band is a popular option for exercise as it is made with soft, flexible silicone that is comfortable to wear and easy to clean. The material is also sweat and water-resistant, making it ideal for workouts.
Sport Loop: The Apple Watch Sport Loop is made with a soft, breathable fabric that is comfortable to wear during exercise. It is also adjustable and easy to fasten, making it a good option for those who need to quickly adjust their watch during a workout.
Nylon Band: A nylon band is a durable and comfortable option for exercise. It is lightweight and breathable, making it ideal for workouts where you may sweat.
Leather Band: A leather band may not be the first choice for exercise, but there are some options that are sweat-resistant and designed for active wear. They provide a more stylish look while still being practical for exercise.
Metal Band: A metal band, such as a stainless steel band, can be a good option for exercise as it is durable and sweat-resistant. However, it may not be as comfortable to wear during intense workouts.
Which watch band is the softest?
The Apple Watch Sport Loop is considered one of the softest watch bands available. The band is made with a soft, breathable fabric that is comfortable to wear and is designed to be both sweat and water-resistant.
The material is also lightweight and flexible, which makes it a great option for exercising or other activities where you may be moving around a lot. Additionally, the Sport Loop band is adjustable and easy to fasten, making it a good choice for people who want a secure fit without the discomfort of a traditional buckle or clasp.
How to choose the appropriate size of watch band?
Choosing the appropriate size of watch band is important to ensure a comfortable and secure fit. Here are some steps to help you choose the right size:
Measure your wrist: Use a tape measure or a piece of string to measure the circumference of your wrist. Make sure to measure at the widest point of your wrist, which is typically just below the wrist bone.
Check the band size chart: Most watch bands come in different sizes, and the band size chart can help you determine which size is appropriate for your wrist measurement. Be sure to check the band size chart for the specific band you are interested in purchasing, as sizes can vary between different brands and models.
Consider the band type: Some types of watch bands, such as metal bands, can be adjusted by removing links. Other types, such as leather or silicone bands, may have different hole options to adjust the fit. Consider the adjustability of the band when choosing the appropriate size.
Try on the band: If possible, try on the watch band before purchasing it. This can help you determine if the band is the appropriate size and if it feels comfortable on your wrist.
Leave some room: When choosing a watch band, it is important to leave some room for movement and comfort. A band that is too tight can be uncomfortable and restrict blood flow to your wrist.
Is the leather watch band better than the nylon one?
It depends on what you are after. Although both solutions are great for sensitive skin, the leather type might be more elegant and suited for special occasions, while nylon can have a more casual appearance and can be better for everyday use.
Final Words
To avoid rashes and other skin problems while wearing your favorite iWatch make sure to purchase the band that will not irritate your skin. Official Apple Watch bands often cause troubles with delicate skin and, in some situations, can cause allergic reactions.
After extensive research, we have made the list of the best solutions, which we hope will aid you in finding the appropriate product. Every item on the list is top-notch in quality, and you will find the watchband that will suit your needs beyond any doubt.