These days your smartphone is much more than just a communication device. It is also your navigation device. You will not get lost anywhere if you have an internet-enabled smartphone with you.
Gone are the days when you had to carry a separate GPS device for finding your way to the destination. Smartphones operating with all platforms can use a GPS app to navigate.
So much information is available on the web that you can even get details on traffic and roadblocks on the GPS application. Taking your eyes off the road while using the smartphone can have serious ramifications.
The car mounts eradicate the hassle to place the phone and use it while driving (When I say using phone while driving I meant to use GPS for navigation).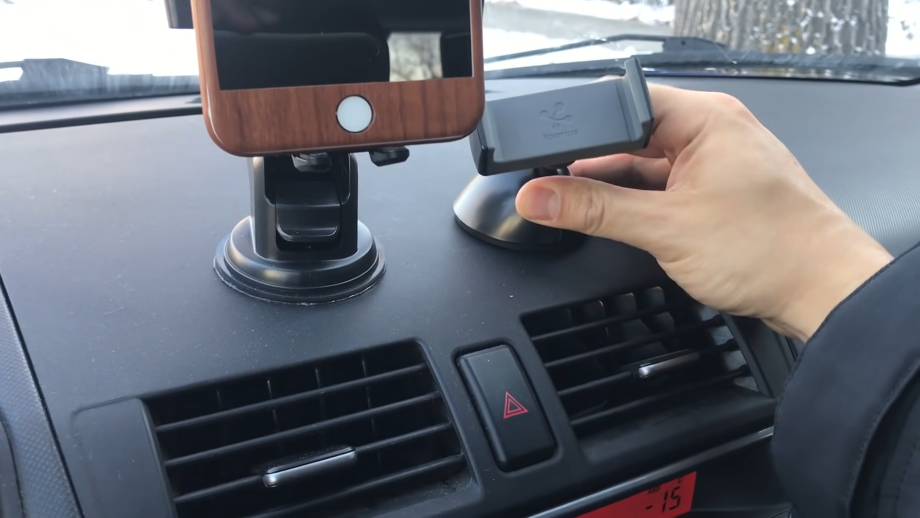 Here we are presenting you with the top 7 cell phone car mount in the market.
Our Top Picks of 2023
1. WizGear Magnetic Car Mount – Editor's Pick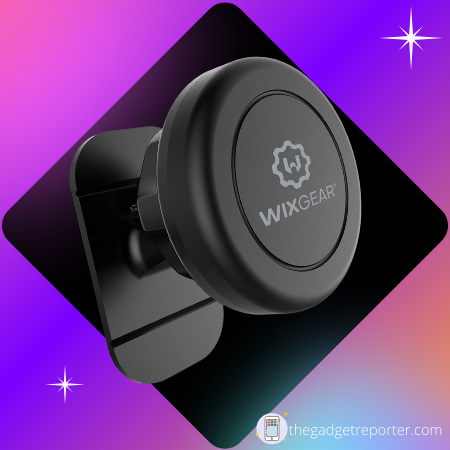 This car mount manufactured by WizGear is equipped with a reinforced magnet holder for Smartphones and Mini Tablets. This magnetic car mount can be fitted into the air vent of your car. Its magnetic holder has a powerful force of attraction enabling the cell phone car mount to hold any smartphone or mini-tablet.
You can rotate or swivel your phone as much as you wish; your smartphone will always remain in your preferred position. If your phone is secured in one place, it becomes easier to navigate using GPS maps.
The dimensions are 6x2x1 inches and the weight is just 60 grams; which means that it is very slim and lightweight.
It is very easy to fix your phone to the cell phone car mount. First fix the magnetic car mount to your car's air vent. Keep the rectangle-shaped thin metal in between your phone and phone case or stick round-shaped metal on your GPS or phone.
That's all just place your phone on the car mount; you are ready to go!
2. iOttie Easy One Touch 2 Car Mount – Best for Windshield Mount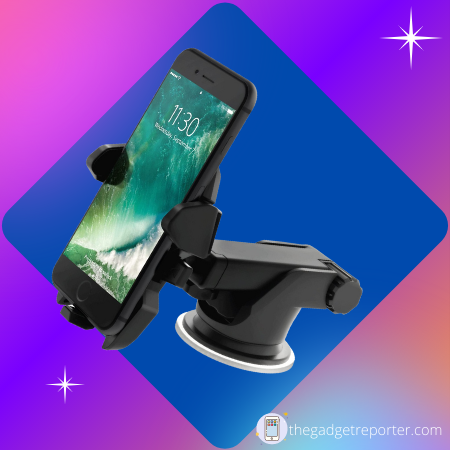 The iOttie Easy One Touch 2 car mount is a highly functional, safe and versatile mounting solution for your smartphones. This can be used as the holder for iPhone 6s+, 6s, 5s, 5c, Samsung Galaxy S7 Edge, S6, S5, Note 5 and 4. The super sticky pad of gel sticks to most of the surfaces, be it windshield or dashboard.
The mount opens up to 3.2 inches making it possible for you to mount the iPhone 6 Plus. The telescopic arm is 2 inches allowing a closer view of your device. There are two locking positions for the cell phone car mount.
The first position is for smooth and flat surfaces and the second locking position is for curved textured surfaces.
To fix your iOttie Easy One Touch2 car mount fist you have to decide to what type of surface you are going to stick the mount.
According to that lock the base on to the surface and place your smartphone to your car mount; it grips securely to your device.
3. iTD GEAR Magnetic Car Mount – Best Air Vent Phone Mount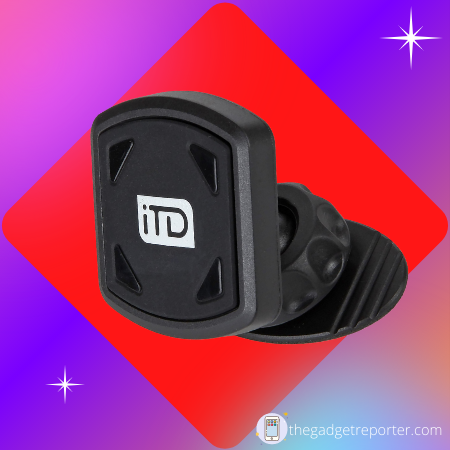 iTD GEAR magnetic holder is compatible with iPhone 6, 6s, 6+, HTC, LG smartphones, etc., This air vent car mount has a strong powered magnet to ensure that your smartphone is secure. This cradle-less design is developed by keeping drivers in mind.
To use this compact and ergonomic Magnetic cell phone Car Mount, just fix the magnetic clip to your car's air vent. After that place the thin metal plate inside your phone's case and attach your smartphone to the magnetic clip.
When we tried this car mount, we were scared that the smartphone would fall off. But that was not the case. Though this car mount is very compact, it holds the smartphone tightly. It offers you everything that a regular car mount would give you but occupies less space, increasing your viewing area.
4. TechMatte MagGrip – Best Magnetic Car Mount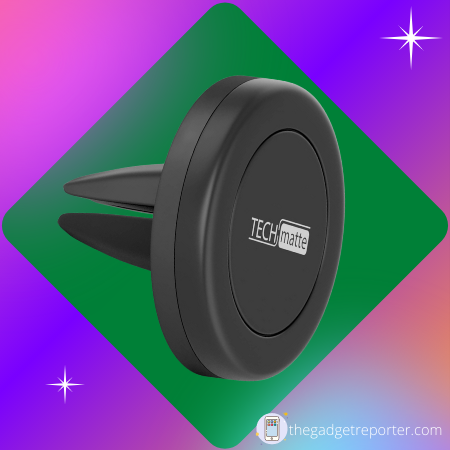 TechMatte MagGrip magnetic car mount is a cradle-less and sturdy smartphone holding system. This Air Vent car Mount for Smartphones is compatible with iPhone 3, iPhone 4, 4s, iPhone 5,5c, 5s, iPhone 6s, 6, Galaxy S7 Edge Plus, S7 Edge, S7, S6 Edge and Note 3 and 4.
Since this is a cradle-less design size of the device does not create any trouble in using this simple Magnetic Car Mount. You can rotate your phone to place it at any angle favorable to you.
This is very helpful when you are driving and need the help of GPS navigation.
Installing the TechMatte Mag Grip Magnetic cell phone car mount is quite easy. Place the thin rectangle-shaped metal piece in between your phone and the case. Fix the rubber prong onto your car's vent and your TechMatte MagGrip car mount is ready to use. You will love its cradle-less deigning and ease of use.
5. Spigen Car Mounts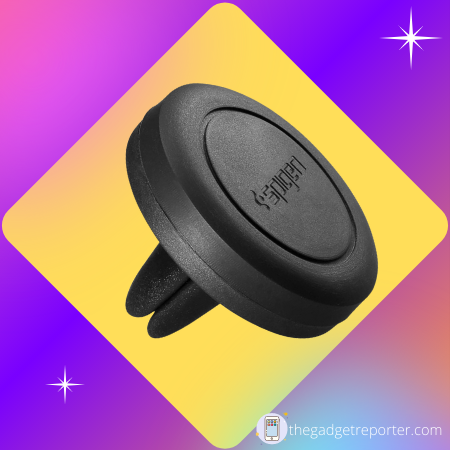 This air vent magnetic Car Mount can be used as a smartphone holder to get residue-free stability. This means that the cell phone Car Mount's magnetic clip is made of rubberized material to keep your air vent clean and scratch-free. This is compatible with all smartphones and comes with two metal plates (One in circle and one in rectangle shape). You can place your smartphone in any orientation according to your need, horizontal or vertical. Its four built-in magnets help the car mount to keep your smartphone in place while the car is in motion. You can also use the magnetic clip as a kickstand on flat surfaces.
The Spigen Air Vent Magnetic Car Mount is easy to use. Place the metal plate on the phone case or on the phone. Fix the slip-on rubberized prong onto your car's vent and your Spigen Car Mount is ready to use.
6. iOttie Easy One Touch 5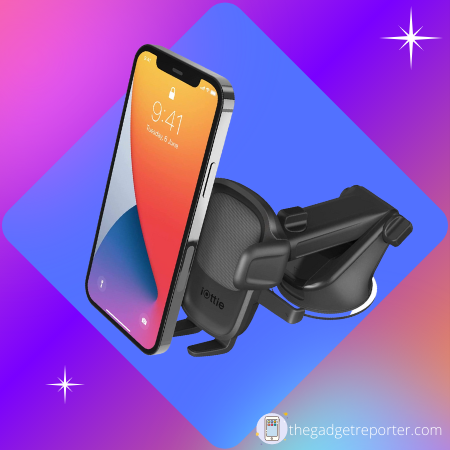 The iOttie Easy one-touch 5 phone mounting solution looks quite distinct from the rest available in the market. The manufacturers claim that it only requires the push of a finger to lock or release the device from the holder in this system. It uses the sticky gel pad to secure itself to the surface.
There is a separate dashboard pad included in the box to attach this gadget to different surfaces. The phone holder comes with a telescopic arm that gives it 1-inch forward motion flexibility. Besides this, the arm extends to a further 5 inches to give you a better view and a wide range of angles to look at.
The bottom foot of the mount is adjustable to move it towards the left-right as well as up-down directions.  You can easily mount it to the windshield or the dashboard. The holder can be widened to devices with widths ranging from 2.3 inches to 3.5 inches. This universal Phone Holder can accommodate iPhone 6s Plus, iPhone 6s, iPhone SE, Samsung Galaxy S7, Galaxy S7 Edge, Galaxy S6 Edge, Galaxy Note 5, Galaxy Note 4 and many more devices.
We found this gadget to be built to last. Its material and the finish looked like it would blend well with the dashboard. It doesn't look to be quite flexible. However, we were surprised by the different viewing angles and the extension possessed by this compact car mount.
7. TaoTronics cell phone Car Mount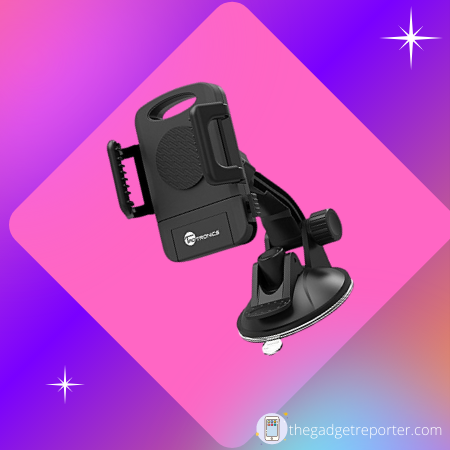 This Car Windshield/Dashboard Universal smartphone Mount Holder, Car Cradle for iPhone / Android works on the suction mechanism. It has an extra-strong suction cup containing a sticky gel that would attach itself to the dashboard or windshield strongly. Armed with a 360-degree rotation, the TaoTronics car mount offers a perfect viewing angle. The case holder that holds the smartphone can accommodate devices with a width of 1.97 inches to 3.94 inches. This cell phone car mount is easy to install, and it is quite simple to place and remove your smartphone.
When we tried this gadget we found that the case that holds the phone is heavily padded and has easily adjustable levers preventing any scratches on the smartphone. The arm that sticks to the surface is adjustable to about 180 degrees giving the equipment added flexibility. We found this car mount to be solidly built and the suction unit quite sturdy.
The 7 cell phone car mounts that we reviewed were extremely useful and built to make the driver's ride easy and the navigation a hassle-free experience. If you have the habit of wandering with just the GPS to guide you, you should definitely get one of these. I am sure you would find yourself focusing more on the road and it would surely ease that stiffness you were accustomed to after long rides.
FAQ
Why do I need a cell phone car mount?
Using your phone while driving can be dangerous and distracting. A cell phone car mount can help you keep your hands on the wheel and your eyes on the road, while still being able to access your phone for things like GPS directions, music, or hands-free calls.
What are the different types of cell phone car mounts?
There are several types of cell phone car mounts, including magnetic mounts, suction cup mounts, air vent mounts, and CD slot mounts. Each type has its own advantages and disadvantages, and the best one for you will depend on your personal preferences and the design of your car.
What features should I look for in a cell phone car mount?
Some important features to consider when choosing a cell phone car mount include the strength of the mount, the adjustability of the holder, the ease of installation, and the compatibility with your phone.
What is the best cell phone car mount for 2023?
The best cell phone car mount for 2023 will depend on your specific needs and preferences. Some popular options include the iOttie Easy One Touch 5, the WizGear Universal Air Vent Magnetic Phone Car Mount, and the Mpow Car Phone Mount. It's a good idea to read reviews and compare features to find the one that's right for you.
Can I use a cell phone car mount with any type of phone?
Most cell phone car mounts are designed to be compatible with a wide range of smartphones, including iPhone and Android devices. However, it's important to check the product specifications to ensure that the mount will fit your phone properly.
Are there any safety concerns with using a cell phone car mount?
While a cell phone car mount can help reduce distractions while driving, it's important to always prioritize safety on the road. Be sure to mount your phone in a location that doesn't obstruct your view or impede your ability to operate the vehicle safely.
Can I use a cell phone car mount with a phone case?
Many cell phone car mounts are designed to work with phones that have cases on them. However, it's important to check the product specifications to ensure that the mount is compatible with your specific phone case.
Check out some other picks from Amazon also: