Driving and texting is not safe. Still, there are moments when we need to do this. Fortunately, we have mobile phone car mounts to help us making this safer. It's a challenge many drivers face daily. I've experimented with a plethora of cell phone car mounts, looking for that perfect blend of functionality, durability, and design.
I've realized how pivotal a reliable car mount can be. Not only does it offer convenience, but it also ensures our safety and the safety of others on the road. Now, I will be sharing my insights on the best cell phone car mounts, drawing from my extensive experience with these invaluable devices.
1. iOttie Easy One Touch 5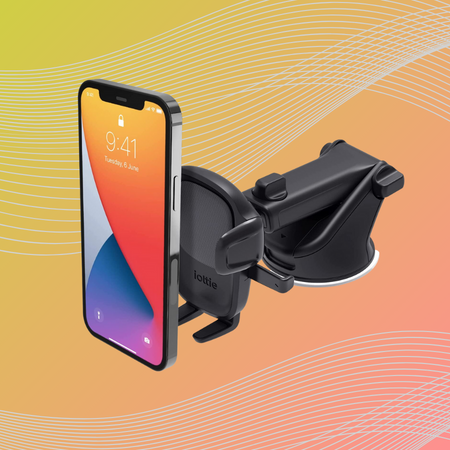 Check on Amazon
Check on BestBuy
Check on Walmart
iOttie Easy One Touch 5 is one-touch mechanism was genuinely easy to use, allowing me to mount or remove my phone in mere seconds.
The universal cradle was a standout feature, accommodating my smartphone even with its case on. The magnetic cord organizer was a neat touch, ensuring my charging cables stayed organized. The telescopic arm's extension and pivot capabilities offered a range of viewing angles, which I found particularly useful during longer drives.
Lastly, the adjustable bottom foot was a thoughtful addition, ensuring a snug fit for my device.
| Feature | Specification |
| --- | --- |
| One Touch Mechanism | Quick one-handed motion for easy mount and removal |
| Compatibility | Universal cradle for smartphones of any size |
| Cord Organizer | Magnetic tab for organizing charging cables |
| Telescopic Arm | Extends from 5 inches to 8 inches, pivots 260 degrees |
| Adjustable Foot | Secure adjustment with spring button |
| Mounting Type | Dashboard |
Pros
Universal phone compatibility
Neat cord organizer
Numerous viewing angles
Secure phone fit
Cons
Slightly bulky design
Takes time to adjust initially
2. Belkin MagSafe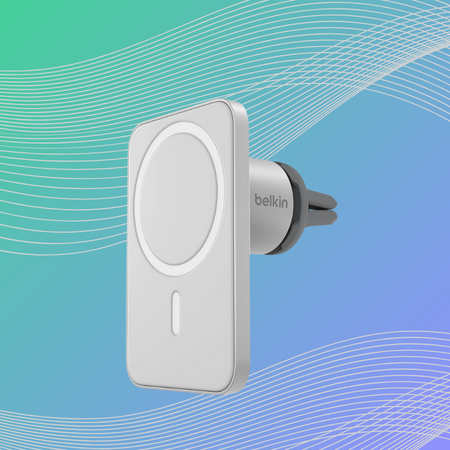 Check on Amazon
Check on BestBuy
Check on Belkin
I must say, Belkin MagSafe didn't win me over.
The design is really good, fitting seamlessly into the interior aesthetics of most vehicles. The magnetic attachment is strong, ensuring your device stays in place even during bumpy rides.
I found the positioning a bit limiting, especially when trying to access other controls in my vehicle. The rotation feature is a nice touch, allowing for both portrait and landscape orientations. But, the overall experience left me wanting a bit more flexibility.
| Feature | Specification |
| --- | --- |
| Design | Sleek and modern |
| Attachment | Strong magnetic |
| Positioning | Fixed |
| Rotation | Portrait and Landscape |
| Compatibility | iPhone 12 and newer |
| Material | High-quality plastic |
Pros
Secure MagSafe technology
Flexible viewing angles
Cons
Setup can be cumbersome
Could be more intuitive
3. WizGear Magnetic Mount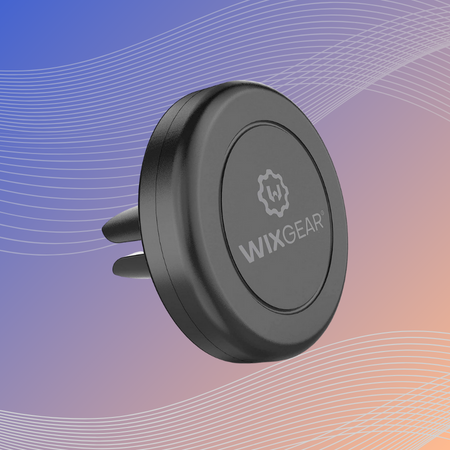 Check on Amazon
Check on Walmart
Check on eBay
Ever since I tried out the WizGear Magnetic Mount, it has become my number one choice for holding my phone in place while driving. The strength and stability it offers, even on bumpy roads, is unmatched.
The adjustable display feature allows me to rotate my smartphone to the best viewing angle without any hassle. And the best part?
It's universally compatible, fitting the back of any smartphone model. Plus, I've noticed no interference with signal strength or battery life when my phone is attached to it.
| Feature | Specification |
| --- | --- |
| Magnet Strength | Strong |
| Stability | Stable even on bumpy roads |
| Adjustable Display | Rotatable smartphone view |
| Interference | None (Signal & Battery) |
| Mounting Type | Vent |
Pros
Universal compatibility
Stable on bumpy roads
Adjustable display
4. TechMatte MagGrip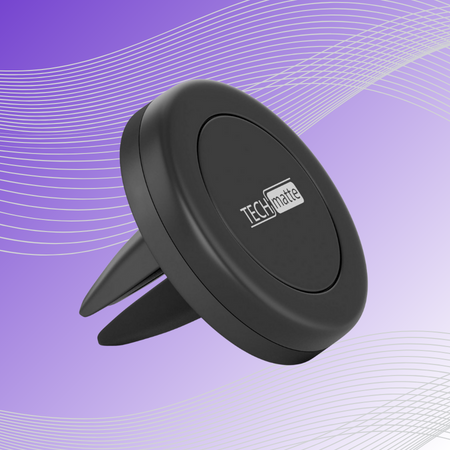 Check on Amazon
Check on Kiky
Check on Walmart
Before I switched to my current device holder, I had the pleasure of using the TechMatte MagGrip. I must say, I'm genuinely glad I did.
This isn't just another product on the market; it's a device that genuinely made a difference in my driving experience. The strong neodymium magnets were a standout feature, ensuring my smartphone stayed in place, even during those bumpy rides.
The rubber construction was perfect for my vehicle's air vent, ensuring a firm grip without any wobble. What I particularly loved was the freedom to rotate and swivel my phone's display as I pleased. The design was minimalistic, which meant I didn't have to deal with any bulky attachments or clamps.
Simply placing the metal plate on the back of my smartphone was all it took. Using the MagGrip was a breeze, thanks to its simple design, sturdy rubber base, and powerful magnetic head.
| Feature | Specification |
| --- | --- |
| Magnetic Strength | Strong neodymium magnets |
| Compatibility | Most smartphones including Samsung Galaxy S10 |
| Construction Material | High-quality rubber |
| Mounting Type | Air vent |
| Rotation & Swivel | Flexible display positioning |
| Design | Minimalistic with metal plate for smartphones |
Pros
Strong magnetic grip
Easy to install and use
Minimalistic design
Cons
Requires phone case for metal plate
Blocks one air vent
5. Spigen Car Mounts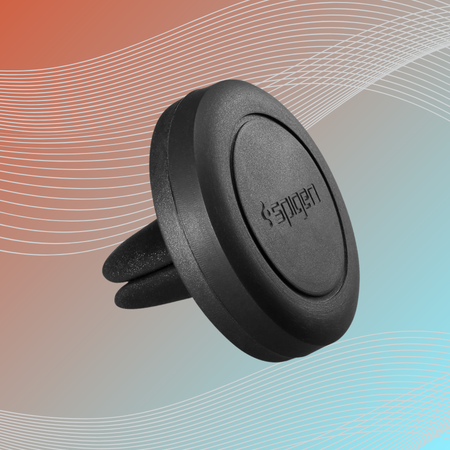 Check on Amazon
Check on Spigen
I've always been on the lookout for a reliable solution to keep my phone within reach while driving. After recently testing the Spigen Quad Air Vent Magnetic Car Mount, I was a solid experience.
A slight downside is that the metal plates might interfere with wireless charging capabilities. But considering the convenience it offers, I think it's a small price to pay.
The design is sleek, and the matte finish gives it a premium feel. The best part? No more fumbling around with clamps or holders. Just a simple magnetic attachment that holds my phone securely.
| Feature | Specification |
| --- | --- |
| Brand | Spigen |
| Color | Black |
| Compatible Devices | Smartphones |
| Mounting Type | Vent |
| Orientation | Horizontal or Vertical |
| Wireless Charging | May be hindered by metal plates |
Pros
Sleek design
Strong magnetic hold
Easy to install
Positioning
Fits most air vents
Cons
Might hinder wireless charging
Metal plate placement needs care
6. Humixx Phone Mount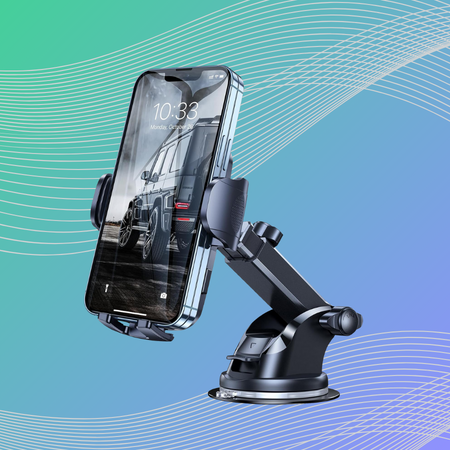 Check on Amazon
Check on eBay
Check on Humixx
I had the chance to test the Humixx Phone Holder. While it might not be entirely my style, I must admit its performance was impressive.
It's not every day you come across a product that manages to strike a balance between functionality and aesthetics.
The design was sleek, and it held up well during my drives. If you're in the market for a reliable phone holder, this one is worth considering.
| Feature | Specification |
| --- | --- |
| Material | Aluminum |
| Compatibility | 4.7-7 inch phones |
| Adjustability | 360-degree rotation |
| Attachment | Dashboard & Windshield |
| Design | Sleek and modern |
| Functionality | One-hand operation |
Pros
Sturdy build
Adjustability
Fits various phone sizes
Cons
Not my personal style
Limited to certain surfaces
Buyer's Guide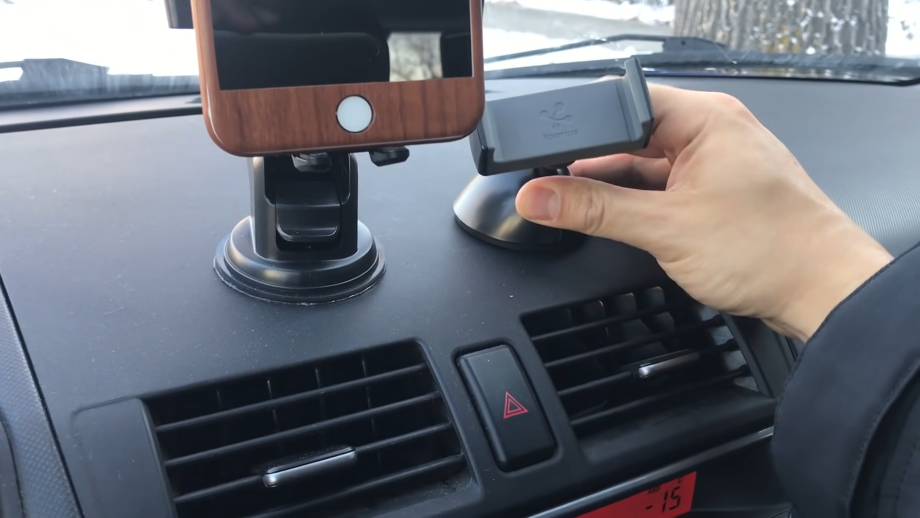 Now, let us take a look at factors you should consider before you purchase one of these.
Know Your Needs
Are you looking for something that provides easy access while navigating? Or perhaps you want a holder that doesn't obstruct your view of the road. By pinpointing your needs, you can narrow down your choices and find a product that truly serves its purpose.
Consider how often you'll be using the holder. If you're someone who frequently relies on navigation apps, you might want to invest in a more robust and durable option. On the other hand, occasional users might be content with a simpler design.
Types of Attachments
There are various ways a phone holder can be attached inside a vehicle. Some use the air vents, while others might adhere to the dashboard using suction cups. It's essential to choose a type that not only fits your vehicle's interior but also ensures your phone remains stable during drives.
Another factor to consider is the ease of installation and removal. Some holders can be easily moved between vehicles, making them ideal for those who often switch cars. Others might require a more permanent setup, which could be a drawback for some users.
Compatibility and Adjustability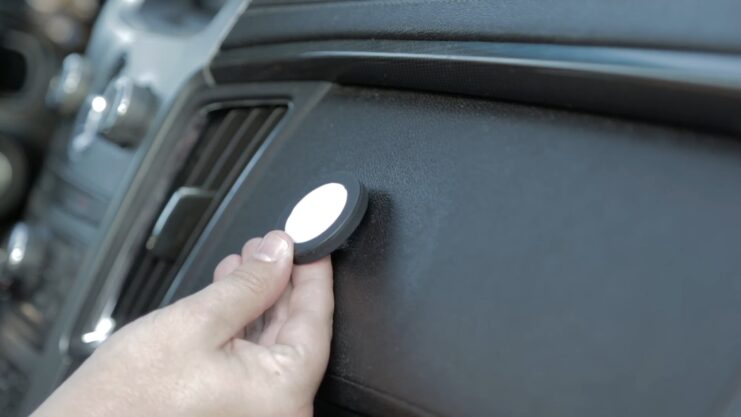 Not all phone holders are created equal. Some are designed specifically for certain phone models, while others offer a more universal fit. It's essential to ensure the holder you choose can accommodate your device, especially if you have a larger phone or often switch between different devices.
Adjustability is another critical factor. A good holder should allow you to rotate and tilt your phone to achieve the best viewing angle. This feature becomes particularly important when the sun's glare affects visibility or when sharing the screen with a passenger.
Material and Build Quality
The material of the holder plays a significant role in its durability and overall performance. High-quality materials not only ensure longevity but also provide a secure grip on your device. It's advisable to avoid cheap plastic options that might break easily or lose their grip over time.
Consider the aesthetics of the holder. A well-designed holder should complement your vehicle's interior without looking out of place. It's always a good idea to check customer reviews to get an idea of the product's build quality and durability.
Safety and Accessibility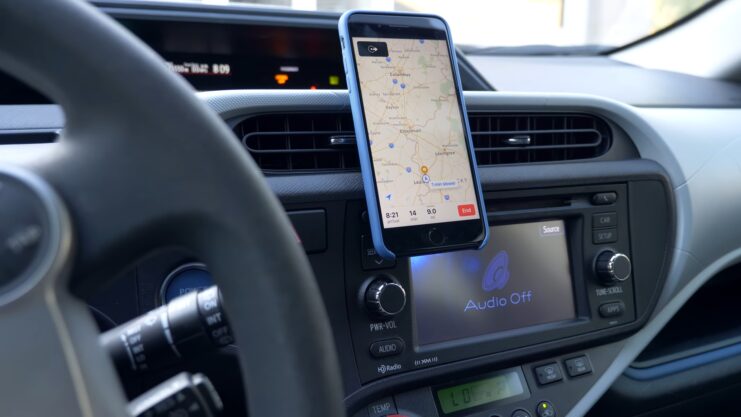 Safety should always be a top priority. Ensure that the holder doesn't obstruct your view of the road or interfere with the vehicle's controls. It's also essential that the holder allows easy access to your phone's ports and buttons, especially if you need to charge your device or use wired headphones while driving.
FAQ
Why do I need a cell phone car mount?
Using your phone while driving can be dangerous and distracting. A cell phone car mount can help you keep your hands on the wheel and your eyes on the road, while still being able to access your phone for things like GPS directions, music, or hands-free calls.
What are the different types of cell phone car mounts?
There are several types of cell phone car mounts, including magnetic mounts, suction cup mounts, air vent mounts, and CD slot mounts. Each type has its own advantages and disadvantages, and the best one for you will depend on your personal preferences and the design of your car.
What features should I look for in a cell phone car mount?
Some important features to consider when choosing a cell phone car mount include the strength of the mount, the adjustability of the holder, the ease of installation, and the compatibility with your phone.
What is the best cell phone car mount for 2023?
The best cell phone car mount for 2023 will depend on your specific needs and preferences. Some popular options include the iOttie Easy One Touch 5, the WizGear Universal Air Vent Magnetic Phone Car Mount, and the Mpow Car Phone Mount. It's a good idea to read reviews and compare features to find the one that's right for you.
Can I use a cell phone car mount with any type of phone?
Most cell phone car mounts are designed to be compatible with a wide range of smartphones, including iPhone and Android devices. It's important to check the product specifications to ensure that the mount will fit your phone properly.
Are there any safety concerns with using a cell phone car mount?
While a cell phone car mount can help reduce distractions while driving, it's important to always prioritize safety on the road. Be sure to mount your phone in a location that doesn't obstruct your view or impede your ability to operate the vehicle safely.
Can I use a cell phone car mount with a phone case?
Many cell phone car mounts are designed to work with phones that have cases on them. However, it's important to check the product specifications to ensure that the mount is compatible with your specific phone case.
Wrapping Up
A good car mount is not just an accessory; it's a driving companion, ensuring your safety, the safety of others, and providing a seamless experience between you and your device.
After going through numerous products of this sort, I can attest that investing in the best cell phone car mount is a decision you won't regret. Here, you can find my two cents on what are the best products on the market.
Safe driving and happy navigating!