The Dell Inspiron i5559 7081slv is the latest model from the Inspiron series from dell. This is a touchscreen laptop that comes with a 15.6-inch screen in Dell model i5559.
A lot of people still prefer bigger laptops like these even after the advent of ultra books.
In this Dell Inspiron i5559-7081SLV review, we are going to take a good, long look at this new laptop and see what it brings to the table.
If you are a heavy user, then we can say that this laptop might be targeted at you. So stick with us and see if this new notebook is worth your time and money.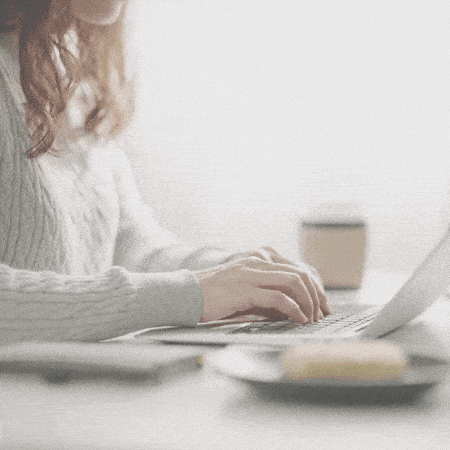 The Dell Inspiron i7 6500u comes in a gray shade which makes it look pretty impressive. The looks are premium and can definitely attract some eyeballs. With dimensions of 10.3 x 14.9 x 1 inches, this is bigger than your compact laptops.
It also weighs around 5.4 pounds which make it a bit heavy but still very usable concerning portability.
The design of this laptop is standard in every way. You can see the ports on the sides along with the outlet for ventilation. There is an HD webcam above the display that is good for video calling.
The keyboard in this model is a full one meaning there are dedicated keys for numbers. The trackpad is also the usual one you'll find on Dell laptops.
Dell Inspiron 15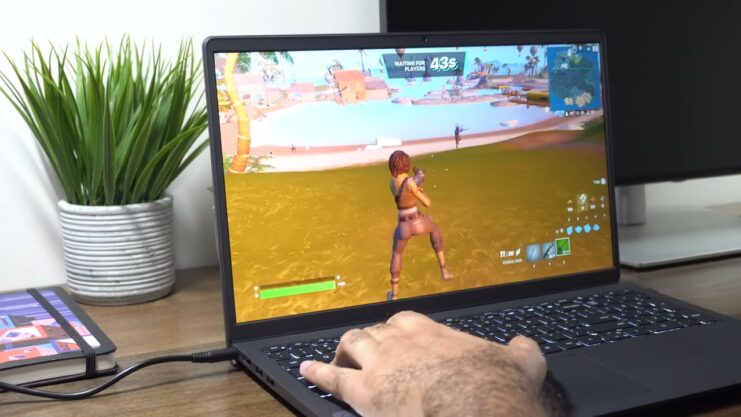 Specs
The Dell Inspiron 15 i5559 7081slv laptop processing power of this laptop is taken care of by the Intel Core i7 6500U processor.
The processor clocks at 2.5GHz and can be clocked up to 3.1GHz. The processor also has a 4MB cache that is good to an extent. This is a dual-core processor that belongs to the Skylake generation of Intel Chips.
With a CPUMark score of 4349, the processor places itself comfortably in the upper mid-range processors category.
You can throw pretty much anything on this piece of silicon, and it will come out successfully. The processor is given good support by the 8GB dual channel DDR3L RAM.
It comes with a speed of 1600MHz and is a decent amount of memory.
There are two 4GB sticks in the slots, and the good news is, you can upgrade the memory in Dell model i5559 to a maximum of 16GB in the future.
If you are a multitasker, then this memory will serve you well. You can run multiple apps at the same time, do more stuff efficiently, thanks to this memory.
Display
The 15.6-inch screen of i5559-7081slv doubles up as a touchscreen as well. The multimedia experience on Dell Inspiron 15 i5559-7081slv laptop is pretty neat, thanks to this full-HD display.
The 1080p will give you a good immersive experience in Inspiron i5559 when it comes to watching movies, TV shows, games, and other media as well.
The stereo speaker along with Maxx Audio have worked well for Dell in the past. We can say that is is true here as well. You can also use Bluetooth to connect to some external speakers if this is not enough for you.

Storage
The storage of Dell Inspiron 15 i5559 7081slv signature edition laptop we have here is a 1TB hard drive that comes with a speed of 5400RPM. This is a spacious drive, no doubt. But it is not the fastest drive on the market right now.
Dell should have included a solid-state drive for the sake of speed. The hard drive in Dell Inspiron i5559 i7 has Windows 10 installed on it.
This latest operating system comes with new features that will make your computing experience a lot better.
GPU & Gaming
There is no discrete GPU in this Dell Inspiron i5559-7081SLV laptop. But Skylake processors come with a good improvement in the integrated drivers.
As a result, you will be able to do some gaming on Dell i5559-7081slv. Playing AAA titles in high settings may not be that possible, but if you are willing to compromise on the settings,
Inspiron 15 i5559 graphics card upgrade you can play them. If you into games like DOTA and League of Legends, you can play them without any problems in Dell Inspiron 15 i5559 i7.
Additional Information:
The Dell Inspiron i5559-7081SLV comes with a variety of ports and connectivity options. It includes an HDMI port, USB 3.0 ports, and USB 2.0 ports for connecting various peripherals.
Additionally, it has an SD card reader, headphone/microphone combo jack, and an Ethernet port for wired internet connectivity.
The laptop also supports Wi-Fi and Bluetooth for wireless connections.
Battery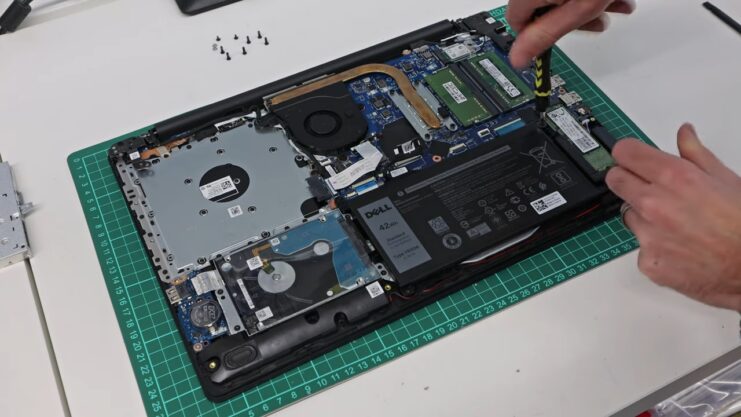 There is a 40WHr, 4-cell battery that is removable.
This is a decent battery spec in Dell Inspiron 15 6500u and will be enough for a few hours of light users.
If you are a light user, then you will get around 3 to 5 hours of battery life. If you are a power user, expect lesser life.
Pros
Solid Processor
Overall Good Buy
Verdict
We've reached the climax of this Dell Inspiron i5559-7081SLV review, and it is time for the verdict.
Dell Inspiron i5559 5347slv laptop is an excellent upper mid-range device. It comes with a sound processor, enough memory, and a spacious hard drive. However if you want to play some more demanding games, purchasing a better gaming laptop is a better option.
If you are someone who needs a powerful daily driver without having to spend a lot, this is a smart choice.
FAQS
Can I upgrade the storage on the Dell Inspiron i5559-7081SLV to an SSD?
Yes, you can upgrade the storage to an SSD. This will significantly improve the performance and speed of the laptop. However, you will need to purchase the SSD separately and perform the upgrade yourself or have a professional do it for you.
Does the Dell Inspiron i5559-7081SLV come with a backlit keyboard?
No, this model does not come with a backlit keyboard. If you require a backlit keyboard for working in low-light conditions, you may need to consider a different laptop model or purchase an external backlit keyboard.
Is the Dell Inspiron i5559-7081SLV suitable for video editing and graphic design tasks?
While the laptop is equipped with a powerful processor and sufficient RAM, the absence of a dedicated GPU may limit its performance when it comes to heavy video editing or graphic design tasks. It is suitable for basic to moderate video editing and graphic design work, but professionals may want to consider a laptop with a dedicated GPU for optimal performance.
How do I optimize the battery life of my Dell Inspiron i5559-7081SLV?
To optimize the battery life of your laptop, you can adjust the power settings, reduce screen brightness, close unnecessary applications, and disconnect unused peripherals. Additionally, ensure your laptop's software and drivers are up to date, as outdated software can impact battery performance.
Can I connect an external monitor to the Dell Inspiron i5559-7081SLV for a dual-screen setup?
Yes, you can connect an external monitor to the laptop using the HDMI port, allowing you to have a dual-screen setup for increased productivity or an enhanced entertainment experience.
Is the Dell Inspiron i5559-7081SLV suitable for running virtual machines?
The laptop's Intel Core i7 processor and 8GB of RAM make it capable of running virtual machines for testing or development purposes. However, if you plan to run multiple virtual machines simultaneously or require more powerful performance, you may want to consider upgrading the RAM to 16GB.
How do I perform a factory reset on the Dell Inspiron i5559-7081SLV?
To perform a factory reset on the laptop, you can follow these steps:
Back up any important data, as the reset will erase all personal files and settings.
Click on the Start button and navigate to the Settings app.
Select "Update & Security" and then choose "Recovery" from the left-hand menu.
Under "Reset this PC," click the "Get started" button.
Choose whether you want to keep or remove your personal files, and then select "Reset" to start the factory reset process.