Gonna make a purchase for printer? Wait wait wait! Let me ask a question. What are your needs and usage?
Here is a tip! Before making a buying decision for the printer, ask yourself about the usage and needs, and then choose the right one.
Consider the checklist below:
Whether you prefer a Laserjet or an InkJet printer?
Need only printouts, scan documents/fax, or copier?
Prefer a Monochrome or color printer?
Peripheral or portable?
Want savings on running costs?
Maximum Job size at a time?
Devices you want to connect to?
Budget?
For the best printer on a low budget, I would recommend the HP printers.  It was the COVID-19 lockdown that made me look for a printer for occasional use.
I was in search of a printer that fits with my system's small table and meets my occasional usage for
home office
. I was looking for an intuitive, best AIO wireless printer for home at a reasonable price.
After too much surfing in HP Officejet, Laserjet, and InkJet printers, I found the one compact HP Deskjet 3755 all in one multifunction printer.
DeskJEt 3775 – HP's Claim For Wireless All-in-One Compact Printer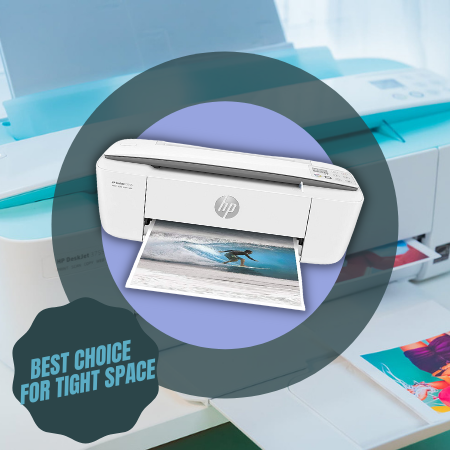 "World's Smallest All-in-one" printer. What does it mean? Any guesses?

HP DeskJet 3755 multipurpose printer is the best choice for tight space. It packs the copier, scanner, and printer in compact packaging at a reasonable price.
Specs
Thanks to the lighter weight (5.1 pounds) and small size, the printer can be moved effortlessly from one place to another.
On the measurement side, it is 5.6″(height) by 15.9″(width) by 7″(depth) when closed and 10.4 by 15.9 by 17.8″ with an open input tray.
Get 3-in-1, i.e., printer, scanner, copier.
Icon LCD for operational assistance.
The 60 sheets input and 25 sheets output tray makes it a perfect match for occasional use.
The printing speed is 8 ppm for black and 5.5 ppm for color print.
Sheetfed scan with 600 dpi resolution.
With the HP Smart app, enjoy the power of a printer in your palm.
Ink is delivered to home.
Wireless connectivity and easier setup.
The smallest AIO printer is Compatible with Windows and Mac, iOS, and Android Operating systems.
24 hrs, 7 days of week Web Support with a one-year hardware warranty.
Supported paper sizes are 3×5 to 8.5×14, letter, legal, 4×6 in, 5×7 in, 8×10 in & No 10 envelopes.
After review, I am going to share a secret benefit of the printer. Interested? If yes, then stay connected!
Review
HP Deskjet 3755 Review is presented to you.
Printer's Rainbow
DeskJet 3755 wireless printer is styled with elegant colors.


HP 3755 printer is available in Vibrant Blue, Stone, Sea Grass, Sporty Purple, Poppy Pink, Dragonfly Blue, and Cardinal Red colors combined with white in a two-tone mix.
I am in love with the HP Deskjet 3755 wireless all-in-one instant ink-ready printer-Stone.
Sophisticated Design

The printer easily fits the tight space and perfectly blends with room/home decor due to its elegant and refined built. The flatbed scanner beam on the top makes it more classy and easy to handle.

The control unit houses the right-hand end of the beam, with a small LCD and control buttons. Control buttons enable/disable Wi-Fi or Wi-Fi Direct,
Enable connection with HP Web Service, cancel/resume commands, launch monochrome or color scanning.
Connectivity & Compatibility

HP DeskJet 3755 connects to the system via a Wi-Fi connection or USB cable. The compact multifunction printer is compatible with Mac and Windows OS.

There is support for printing via a mobile device from Apple Airprint and Google Cloud Print with HP smart app. Thanks to iOS and Android support, I can print photos from my iPhone 11 and Xiaomi Note 9S.

With this HP 3755, you can't directly print from a USB or SD card due to the absence of storage devices ports.
Wireless setup & Warranty
HP provides a 1-year hardware warranty with 24/7 days of web support service.
Technical assistance is provided through a variety of channels such as e-mail, phone calls, chat on site, customer forums, and social media.
Setting up the printer isn't a big deal. In the box, you will find a disc for setup or directly download the latest driver from HP Customer Support.
A Self-Serving Printer
The printer comes with an HP 65 ink and HP 65XL ink cartridge. The thing I most love about this printer is that I never have to be worried about running low on ink.

The HP wireless 3755 printer itself orders ink due to an instant ink program subscription, and the cartridge is delivered to the home. With Instant Ink Subscription Program, there is an opportunity for saving 50% on ink expenditures.

The program offers three levels: Occasional (50ppm), Moderate (100ppm), and Frequent (300ppm) printing.
Performance
For HP DeskJet 3755 Review on the performance end, I would say it's a value for money. The quality of the printed text is good. The printed text is usually transparent and vivid making it a nice choice for personal/professional usage. HP deskjet 3755 photo quality is at the high-end compared to its competitor Epson expression home.
Photo prints resolution is impressive for a printer of this range. It packs a secret scanner. The scanner beam lies on the top in a stylish way that you never realize is a scanner at first sight.
 There isn't an automatic document feeder in the printer. For scanning, You have to feed one page on the scanner at a time. Copy quality is fine but limited to only nine copies at a time.

Although the speed is slow for many people, it's pretty good for occasional use. If there is a concern for the speed or any other thing, re-consider the checklist. For the creative professionals in photography or designing, we present a family guide for Designjet Printing.
Recommended For
I would recommend this HP Deskjet 3755 inkjet multifunction printer for students and a small home-based office. The HP 3755 is best suited for occasional use and tight space.

Now, It's time to reveal the secret! Here I am to fulfill the promise by sharing the secret personal benefit of the smallest but sophisticated printer.
Inkjet-printer 3755 can save our space, money, and help us adapt COVID-19. Students living in a dorm can share the printer and save their money, and space.
There is an opportunity to save 50% on running costs with HP Instant Ink Subscription Program. Best choice for students or small home-based office.
Everything from ink cartridges to technical support is provided at your doorstep. In a pandemic, work from home and stay safe.
FAQ
What is duplex printing, and does HP Deskjet 3755 support it?
Duplex printing is the ability to print on both sides of a sheet of paper automatically, without the need for manual intervention. This can help save paper and reduce printing costs, as well as make printing more efficient and convenient.
The HP Deskjet 3755 is a compact all-in-one printer that supports duplex printing. However, duplex printing is not a default setting on this printer, and you will need to manually enable it in the printer settings.
To enable duplex printing on the HP Deskjet 3755, follow these steps:
Open the print dialog box in your application.
Click on the "Properties" or "Preferences" button to open the printer settings.
Look for an option called "Two-sided (Duplex) printing" or "Print on both sides" and select it.
Click "OK" or "Print" to print your document.
Once duplex printing is enabled, the printer will automatically print on both sides of the paper, helping you save paper and reduce printing costs.
How do I set up my HP Deskjet 3755?
Setting up this printer is very simple. All you need to do is connect power cords and install an ink cartridge inside the printer. Afterward, you need to load papers into a tray and install the printer's software from provided disc.
How do I set the wireless network on my HP Deskjet 3755?
To set up wireless networking on your HP Deskjet 3755, follow these steps:
Make sure your printer is turned on and in range of your wireless network.
Press the Wireless button on the printer control panel.
Press and hold the WPS button on your wireless router until the wireless light starts to flash.
Wait for the printer to establish a connection with the wireless network.
Alternatively, you can also set up wireless networking using the HP Smart app:
Download and install the HP Smart app on your mobile device or computer.
Open the app and follow the on-screen instructions to set up your printer.
When prompted, enter your wireless network name and password.
Follow the remaining on-screen instructions to complete the setup process.
Once your HP Deskjet 3755 is connected to your wireless network, you can print wirelessly from your computer or mobile device. You can also use the HP Smart app to print, scan, and manage your printer from anywhere.
How to replace ink on HP Deskjet 3755?
Replacing ink on this printer is fairly simple, and it can be done in several steps. First, you need to turn on the printer, then open the ink access door, carefully remove the used cartridge and place the new one in the slot. Afterward, just close the access door, and you are all set.
Can I scan from HP Deskjet 3755 to my laptop or PC?
Yes, you can. Do this by opening the control panel of your printer and clicking on the scan icon. You can scan via USB cable, a wired, or a wireless connection. Once you choose the system, you want to scan to, click OK and initiate the process.
Can I connect the printer from my phone without using a WiFi network?
You can do so by using WiFi Direct. It allows you to directly connect to a printer from a mobile device or computer without the need for internet access. You can access it the same way you are accessing any wireless network via the printer's wireless direct signal, and the device will have a unique name.
How many pages can I print with colored ink on HP Deskjet 3755?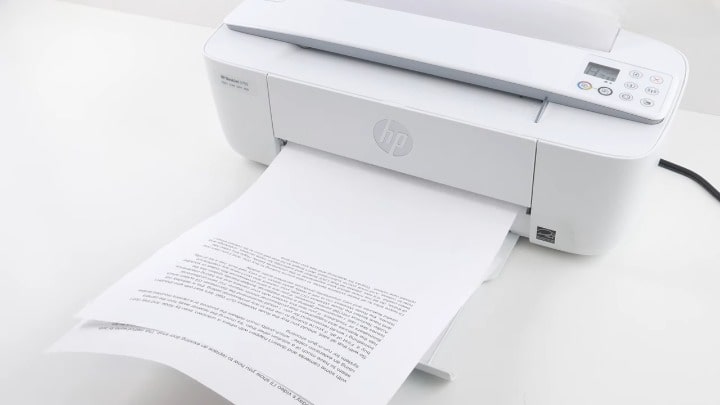 The number of pages you can print with colored ink on the HP Deskjet 3755 will depend on various factors, including the type of documents you are printing, the print settings you are using, and the amount of ink coverage on each page.
The HP Deskjet 3755 uses two ink cartridges, one black and one tri-color (cyan, magenta, yellow), which are available in standard and high-yield capacities. The standard tri-color cartridge can print up to 100 pages, while the high-yield tri-color cartridge can print up to 300 pages.
However, it's important to note that the actual number of pages you can print may vary depending on your usage patterns and print settings. For example, printing high-quality photos or graphics with a lot of ink coverage will use more ink and result in fewer pages printed.
How many years should a HP printer last?
The lifespan of an HP printer can vary depending on various factors, such as the model, usage patterns, and maintenance. However, in general, you can expect an HP printer to last for several years with proper care and maintenance.
Most HP printers are designed to last for at least 3-5 years or more, and some high-end models can last for up to 10 years or more with regular maintenance and repairs. The key to maximizing the lifespan of your HP printer is to use it properly and take good care of it.
To extend the life of your HP printer, it's important to follow the manufacturer's instructions for installation, use, and maintenance. This may include regular cleaning, proper storage, and the use of high-quality ink and paper. It's also a good idea to keep your printer up to date with the latest software and firmware updates, as these can help improve performance and prevent issues.
Final Thought
HP Deskjet 3755 all-in-one multifunction printer is elegantly styled to mix with home decor. Best for small space at a reasonable price. What do we expect from a printer at $82? For me, It's doing very well. Now it's your turn. Do shop at HP Deskjet 3755 best price and share views in the comments section and don't hesitate to give any kind of suggestions.