U.S. Army Human Resources Command public Affair s Office
The morning was filled with celebration as Brig. Gen. Richard Mustion was promoted to major general  before taking command of Fort Knox's U.S. Army Human Resources Command from Maj. Gen. Gina Farrisee.
In her last act as HRC's first female commanding general, Farrisee passed the flag during a change of command ceremony in the quad of the Lt. Gen. Timothy J. Maude Complex Friday, and incoming HRC commander Maj. Gen. Richard Mustion assumed command.
The passing of the flag from the command sergeant major to the outgoing commander to the vice chief of staff of the Army, to the incoming commander and, lastly, to the command sergeant major is a circuit that signifies the relinquishment of command, acceptance of command and confidence placed in the noncommissioned officer corps.
Farrisee's official retirement ceremony followed where she was presented with the Distinguished Service Medal, a Certificate of Appreciation from the president of the United States and a Certificate of Retirement after 34 years of service.
Mustion returns to Fort Knox from the Pentagon where he served as the director of Military Personnel Management under the deputy chief of staff, G-1/personnel. He spent two years at Fort Knox from 2009 to 2011 when he served as the 64th Adjutant General of the Army, U.S. Army Human Resources Command.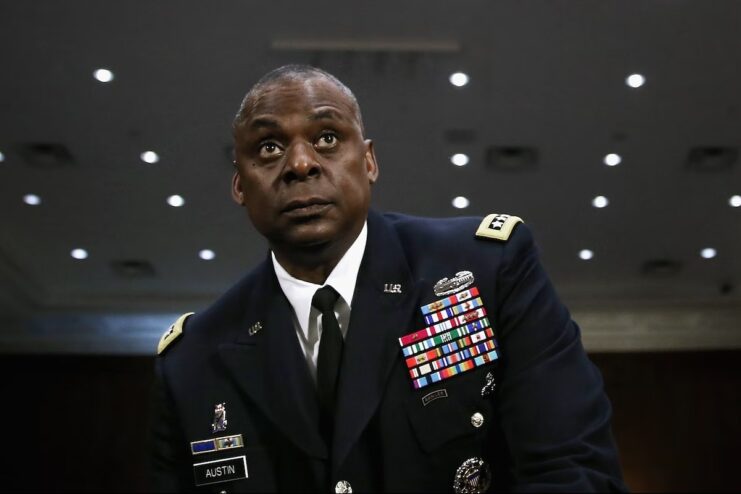 Among the honored guests were Gen. Lloyd Austin, III, vice chief of staff of the Army; Harry Berry, judge-executive of Hardin County; Gerry Lynn, judge-executive of Meade County; Elizabethtown Mayor Tim Walker; Thomas Lamont, assistant secretary of the Army for manpower and Reserve affairs; Lt. Gen. Howard Bromberg; retired Lt. Gens. William Harrison; David Ohle; Joseph Cosumano Jr.; and Michael Rochelle.
At one point in the ceremony, the commanders' spouses were given gifts to show how highly they were prized for the way they supported their Soldier-spouses and helped them complete the mission.
Farrisee's husband, retired Col. David Farrisee, was given a gift on behalf of the Soldiers and civilians of HRC and a Certificate of Appreciation for his service.
Mustion's wife, Kelley, was given yellow roses and their daughters Lindsey and Sarah, flowers in recognition of their support to the Army and to welcome them to the command.
Austin shared statements of high praise for Farrisee from many of her contemporaries, stating that such praise is very well-deserved.
"No one—no one—cares more about Soldiers and Family members than Gina Farrisee," Austin said. "Our Army is better and more capable because of (her leadership)."
Austin then spoke about Mustion's abilities as a leader saying no challenge is too big for him and highlighted the enthusiasm and compassion he brings to everything he does.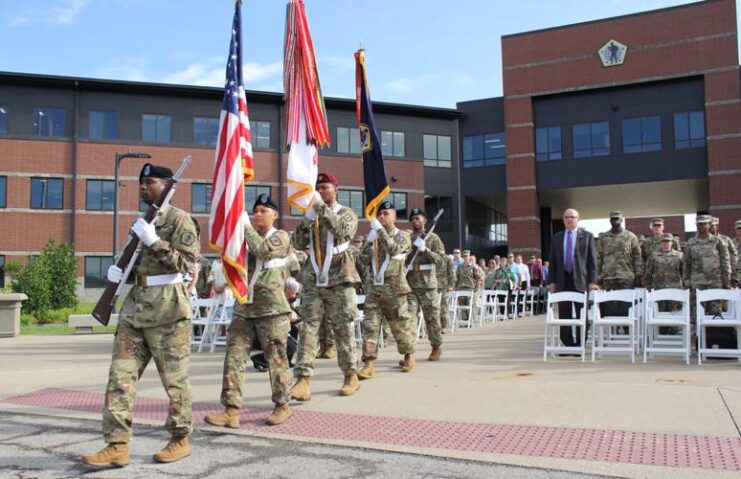 "I look forward to working with you in the future," Austin said.
The outgoing HRC commander took her turn at the podium and addressed the Fort Knox community with her usual opening.
"What a great day to be a Soldier at Fort Knox, Kentucky! Hooah!" Farrisee said.
She thanked the HRC work force for all it has accomplished over the past two years.
"There is no doubt this HRC team makes a difference every day in the lives of Soldiers and their Families," she said. You support and feel a true sense of responsibility to our Army's most precious asset, our Soldiers. Every single day, you touch thousands of lives in numerous ways."
"On behalf of those in the Pentagon who listened to me brief your ideas, I thank you for your competence and candid assessment of personnel issues. The entire HRC team is made up of professionals whose priority it is to take care of Soldiers, Families and veterans every day."
Farrisee joined the Army 34 years ago with the intention of serving one tour. Over the years, you ask yourself the rhetorical question of why you stayed, she said.
"The answer is simple," she said. "It's the people."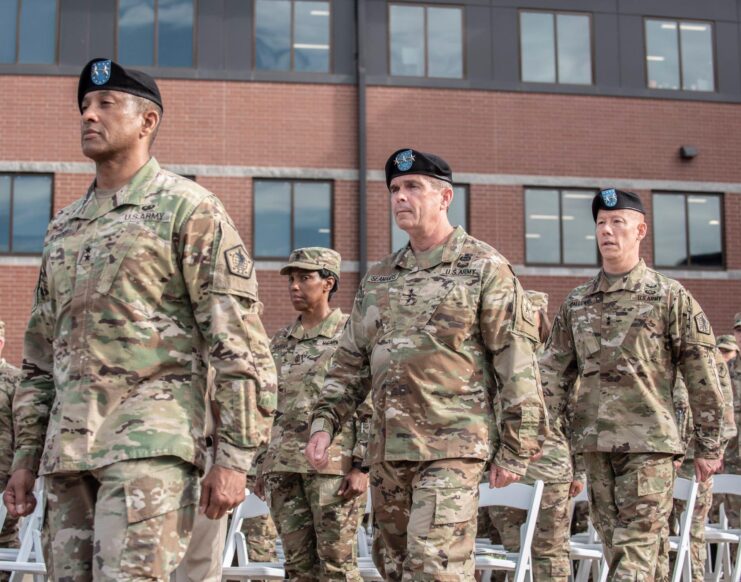 Everyone gave Farrisee a standing ovation as she took her place among them to listen to the new HRC commander.
"I am honored and humbled to assume command of the Army's only Human Resources Command, an incredibly critical and vital command to our Army," Mustion said.
He thanked Farrisee for her distinguished service to the nation and her leadership, friendship and counsel.
"As commander of this great unit, it is my objective to build upon the command's exceptional performance and legacy as our Army transitions into the future. We will keep a laser focus on the readiness of our Army and the centerpiece of our Army, which are truly our Soldiers. We'll remain centered on the profession of arms, continue to adhere to Army standards, further increase the agility and flexibility of our operations to build better readiness for our Army and also maintain a key focus on Army's campaign to improve the health of the force," Mustion said.
Many colleagues of Mustion attended the service, including retired Col. Jim Jandreau who served as the 1st Infantry Division and Fort Riley, Kan., adjutant general from June 1983 to June 1985. Mustion served under him as a personnel management officer and readiness officer as a young first lieutenant.
Jandreau said he recognized early on that Mustion had many capabilities the Army that needed.
"I in turn gave him, always, the most challenging jobs that I had, and he would execute those jobs in outstanding ways—both for the personnel system and also for the Soldiers who were part of the 1st Infantry Division. He worked very well with little direction," Jandreau said.
He had the utmost confidence in Mustion, who used to brief their commanding general on the division personnel status at monthly readiness briefings.
It is now Mustion's turn to receive those briefings.