A few years back when someone talks about wireless mouse people used to call you mad, but today the market is flooded with a range of wireless mice. Technologically advanced and super comfortable, you can never get tired of a wireless e-sports mouse.
The brand Steel Series is a brand worth mentioning for its impeccable collection of the mouse. Numerous players consider it as their reliable pick for the stunning collection the brand features.
This article is dedicated to the spellbinding Steel Series Sensei wireless gaming mouse. Since the previous articles by the brands were quite a hit; therefore, people have quite high hopes regarding this one. So let's take a look if this is able to match the high hopes of consumers or not.
Wireless Mice for Gaming – SteelSeries Sensei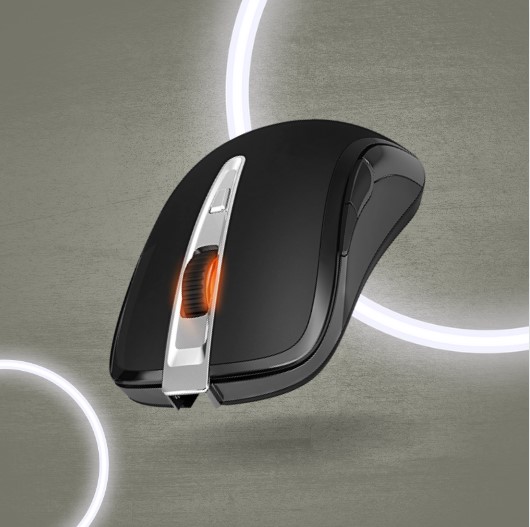 Now, we all are quite aware of the fact that the first impression is the last impression, and the design is the first thing that makes us like or hates a product. Firstly, the glossy metallic coat welcomes you along with a bunch of features catering to the needs of an e-sports addict.
The ever-famous ambidextrous design is a major plus that focuses on the comfort of both lefties and right-hand users. Moreover, it has 8 Programmable buttons for a professional gaming experience.
If you're in the market for an affordable but capable mouse to enhance your gaming experience, check out this article featuring a selection of the best options under $20.
Specifications
Time to have a look at the specification for you to make sure it matches your requirements
Approximately £60.00 in price
Powerful sensor up to 11,400 CPI
Ambidextrous design
32-bit ARM CPU
Fully programmable
LCD screen
Pros
Premium design and materials
Excellent performance and customization options
Wireless connectivity with minimal latency and no dropout
Ambidextrous shape and comfortable grip
Customizable RGB lighting
Cons
Expensive compared to other gaming mice
No left-handed version available
Software can be difficult to navigate and buggy at times
Scroll wheel can be too sensitive for some users
Battery life may not be long enough for extended gaming sessions
FeaturesSoftwareVerdict
The SteelSeries Sensei Wireless gaming mouse comes with a range of features that make it an ideal choice for gamers. It has a high-precision sensor that delivers accurate movement tracking, even at high speeds. The mouse also features a comfortable, ergonomic design that allows for long gaming sessions without causing hand fatigue.
It has a long battery life, with up to 20 hours of use on a single charge. It also has customizable RGB lighting, allowing users to personalize the look of their mouse. The mouse can be customized using SteelSeries Engine software, which allows for the remapping of buttons, adjustment of sensitivity settings, and creation of macros.
The Sensei Wireless is equipped with both Bluetooth and 2.4GHz wireless connectivity options, giving users the flexibility to connect to their computer or laptop in whichever way suits them best. The mouse also features a charging dock that doubles as a wireless receiver, making it easy to keep the mouse charged and ready for use.
So call out your pals, bring some snacks and let the gaming night begin with the ultra-comfortable mouse which is wireless so that you can enjoy is almost every posture you feel like, cool Huh!
The SteelSeries Sensei Wireless gaming mouse comes with intuitive and user-friendly software that allows you to customize and personalize your mouse settings according to your preferences.
The SteelSeries Engine 3 software is a powerful tool that enables you to program buttons, adjust DPI, and polling rate, and configure RGB lighting. With this software, you can create multiple profiles, each with its own unique settings, and easily switch between them depending on your needs.
The software also features SteelSeries' GameSense technology, which allows your mouse to communicate with your game and provide real-time updates on in-game events. You can set up custom lighting effects that change color based on the actions happening in your game.
In addition, the SteelSeries Engine 3 software allows you to calibrate your mouse to your preferred surface for optimal tracking accuracy and precision. You can also adjust the lift-off distance and angle snapping settings.
The SteelSeries Sensei Wireless Gaming Mouse is a great option for gamers who prioritize flexibility and customization in their gaming peripherals. It's sleek design and comfortable grip, coupled with its advanced software customization options, make it a versatile and adaptable mouse that can cater to a wide range of gaming preferences.
With up to 10 hours of battery life and a fast charging feature, the Sensei Wireless is a convenient and reliable choice for gamers who need a mouse that can keep up with their extended gaming sessions. Its ambidextrous design also makes it accessible to left-handed gamers, providing an inclusive option that is not often found in other gaming mice.
However, it's important to note that the Sensei Wireless is not without its drawbacks. Its high price point may not be accessible for all gamers, and some users may experience connectivity issues when using the wireless feature. Additionally, while the software customization options are extensive, they may be overwhelming or confusing for less tech-savvy users.
FAQ
How long does the battery last? 
The battery life on the SteelSeries Sensei Wireless mouse can last up to 20 hours with continuous use. However, if you're using the mouse with the RGB lighting on, the battery life will be shorter. The mouse also comes with a USB cable that allows you to charge it while using it, so you don't have to worry about running out of battery in the middle of a game.
Does the SteelSeries Sensei Wireless have onboard memory for saving settings? 
Yes, the SteelSeries Sensei Wireless mouse has onboard memory for saving settings. This means that you can customize the mouse to your liking and save those settings to the mouse itself. This is especially useful if you're someone who uses multiple computers or wants to take your settings with you on the go.
Can I use the SteelSeries Sensei Wireless mouse for left-handed gaming? 
Unfortunately, no. The SteelSeries Sensei Wireless mouse is designed specifically for right-handed gamers. However, SteelSeries does offer left-handed versions of some of their other mice, so if you're a left-handed gamer, you may want to check out those options instead.
How many buttons does the mouse have? 
The SteelSeries Sensei Wireless mouse has eight buttons: the left and right mouse buttons, two side buttons on each side of the mouse, a DPI button, and a scroll wheel that can be clicked left or right. All of these buttons are fully programmable through the SteelSeries Engine software, so you can customize them to your liking.
Is the SteelSeries Sensei Wireless mouse good for FPS gaming? 
Yes, the SteelSeries Sensei Wireless mouse is a great option for FPS gaming. It has a high DPI range, adjustable polling rate, and customizable buttons, all of which can help you improve your performance in FPS games. Additionally, the mouse has a comfortable shape that can be used for long gaming sessions without causing hand fatigue.
Does this mouse work with Macs? 
Yes, the SteelSeries Sensei Wireless mouse works with both Windows and Mac computers. The mouse comes with the SteelSeries Engine software, which is available for both Windows and Mac OS. The software allows you to customize the mouse's settings and features to your liking, regardless of which operating system you're using.
How does the SteelSeries Sensei Wireless mouse connect to my computer? 
The SteelSeries Sensei Wireless mouse can connect to your computer through two methods: a USB dongle or Bluetooth. The USB dongle provides a more stable and reliable connection, while Bluetooth allows you to use the mouse with multiple devices and without the need for a dongle.