Fort Knox's 113th Army Band, the "Dragoons," is the Army's second oldest active duty band, and has been a fixture on the installation since 1956. But, the band's tenure on the post will end when it inactivates Oct. 1.
For Chief Warrant Officer 4 David Downer, the band's commander, inactivation will be a bitter pill to swallow because he's enjoyed being an integral part of the community.
"My Family and I have been ingrained in the community—we love it here," explained Downer. "(It's) sad to see any Army band close. I know a lot of (people in) the community, and I know they enjoy having (an) Army band in here."
Although the band will continue to perform for Fort Knox and the surrounding communities, the Christmas performance was most likely the last one with a full band.
Downer said that once he took the stage at the event he was amazed by the number of people who came out to support the band during its final performance at the Hardin County Schools Performing Arts Center.
"The PAC was full," he said. "It was incredible and a very good feeling. It was like the audience wanted us to keep going."
Staff Sgt. Daniel Clem, the band's drum major, said the Christmas concert was intense and he was surprised to see wall-to-wall people in front of the band.
"The support and feedback from the audience was very heartfelt," said Clem. "I've been here for 2 ½ years and it was emotional."
Even though the Christmas concert was a celebration, Clem said it was a sad moment because he was saying goodbye to community members he's had an opportunity to interact with as the band's operational noncommissioned officer. Clem has also enjoyed his time at Knox and performing for the close-knit community.
"I know all my neighbors," Clem said. "When I moved into my house I had three neighbors introduce themselves. You don't always get that. There is a lot of support here."
Clem added that the most difficult part of inactivation is not being able to fully support the community because Soldiers will leave the band through expiration term of service, retirement or permanent change of station. When that happens the band will have to turn down requests to perform.
"We want to support as many events as we can before we leave here," explained Clem.
Downer also said it will sadden him when the band begins to turn down requests to perform.
He pointed out that they are already feeling the effects as the band loses Soldiers who are the only musicians playing a certain instrument and they won't be replaced.
Downer added that as the band moves equipment he tries not to think about the organization not being a permanent fixture on Fort Knox.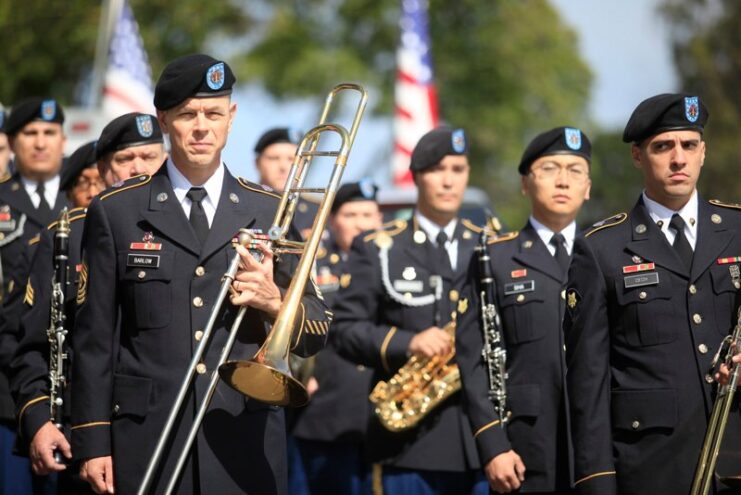 "In the back of my mind reality hasn't set in," Downer said. "I think it's going to be a lot of shock (once we leave)."
For Clem, a Jasper, Indiana, native, leaving Fort Knox is more than leaving another Army installation—it's like leaving home.
"I have a lot of time left in the Army and in the back of my mind I won't be able to come here (as a Soldier)," Clem said. "I know I won't be able to come back here and be close to my family. It was a great assignment and (I will) miss (being at Knox)."
The 113th's history dates back to its formation on July 8, 1840 as the Band, First Regiment of Dragoons, earning the organization's official nickname Dragoons, according to the band's website. The band has been awarded
25 campaign participation credits, ranging from the Indian Wars in 1885 to the end of World War II. A historical moment for the band was a performance in President Lincoln's second inaugural parade on March 4, 1865.
It was reorganized and designated as the Band, First Armored Regiment in 1940. In 1943, the Dragoons were disbanded to only be reactivated 13 years later in 1956 and then designated as the 113th Army Band.