The world of Azeroth beckons, and every hero, be it a seasoned raider or a humble quester, knows that victory doesn't just lie in skill alone – it's also about the tools you bring to the battlefield. Having spent countless hours battling my way through the most formidable dungeons and facing off against players in intense arenas, I've learned one immutable truth: the right gaming mouse can make or break your World of Warcraft experience.
It's that crucial bridge between intent and action, ensuring that every spell is cast at the right moment and every movement is executed with precision.
But with so many options out there, how does one choose? I took upon the epic quest of finding the 10 best gaming mice specifically tailored for WoW this year. This wasn't a simple "plug-and-play" endeavor.
Each mouse was rigorously tested through its paces – from navigating the tricky terrain of the Maw to orchestrating massive 40-player raids. Button responsiveness, customization, ergonomics, and even aesthetics – I analyzed every aspect, ensuring each recommendation is battle-ready.
Importance of Having a Good Mouse for WoW
Let's be real – mastering a game as expansive as World of Warcraft isn't just about quick reflexes and strategy. You see, every time I engage in an epic boss fight or tactically position myself during a PVP skirmish, I'm reminded of one undeniable fact: the gear I use directly impacts my in-game performance.
A mouse, often overlooked, is the silent general of our gaming arsenal. It's that piece of equipment responsible for every intricate movement, every crucial skill cast, and, at times, that life-saving split-second reaction. With a subpar mouse, you might as well be wielding a rusty dagger against a legendary sword.
How to get the best gaming mouse for Wow?
Choosing the perfect gaming mouse for WoW is a bit like choosing your in-game class: it's highly personal and needs to match your playstyle. I remember the early days of my gaming journey, where any ol' mouse would do. Oh, how naive I was!
The market is flooded with options, each claiming to be the ultimate choice. But here's the rub: You've got to look beyond the flashy RGB lights and marketing hype. Ask yourself:
Do you need additional buttons for your spell rotations?
How about weight adjustability for those prolonged gaming sessions?
And let's not forget the importance of grip style and sensor accuracy.
Much like selecting the perfect talent tree, you've got to weigh these features and find what truly suits your needs.
How we selected our top picks?
Now, on to the heart of the matter. When it came to curating this legendary list of gaming mice, I wasn't about to rely on mere specs or flashy advertising. No, this task demanded the rigor and dedication worthy of a true champion.
Each mouse was taken into the battlefield – from the rugged terrains of Draenor to the mysterious depths of the Shadowlands. They were tested not just for the basics like responsiveness and ergonomics, but for the unique demands WoW places on a player: think quick targeting, complex rotations, and of course, those marathon gaming sessions that test both player and equipment alike.
The mice that made the cut? They're the ones that stood tall through every challenge, proving their worth as true allies in the vast world of Azeroth.
Top Picks for World of Warcraft Compatible Gaming Mice
The results are in, and I must say, some of these devices are true game-changers. They've not only elevated my gameplay but also added an extra layer of immersion that I didn't think was possible. So, fellow champions of Azeroth, brace yourselves for a journey through the realms of top-tier gaming mice, where performance meets passion.
1. PICTEK Gaming Wired Mouse – Best Wired Mouse for Wow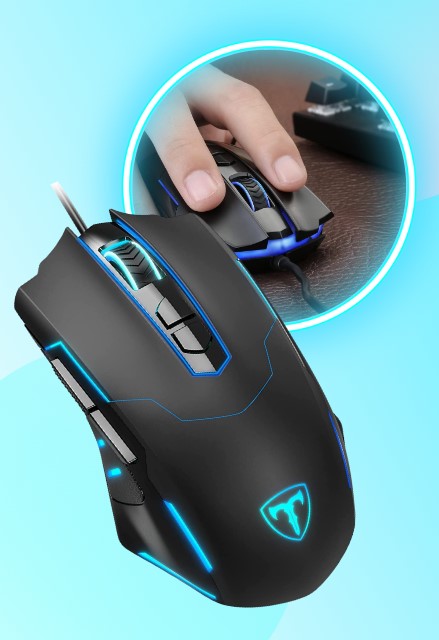 Check on Amazon
Check on DvaSata
Specification
Brand: PICTEK
Color: Black
Connectivity Technology: USB
Hand orientation: Right
Movement Detection Technology: Optical
Hardware Platform: PC, Mac, SMSG
Material: Plastic
Operating System: Linux, Windows XP, Windows 7, Windows 10.
Batteries Required: No
Product Dimensions: 15 × 12 × 5 centimeters.
Product Weight: 272 grams
Polling Rate: 1000 Hz
DPI: 24000 DPI
Plug and Play: Yes
Customer Reviews: 4.7 out of 5 stars.
Description
Every WoW player, novice or veteran, knows the significance of a good gaming mouse. If you're on the hunt for top-tier performance without burning a hole in your pocket, the PICTEK Gaming Mouse might just be your perfect in-game ally. Renowned for its versatility and budget-friendly stance, it comes packed with features that promise an edge in your gameplay.
Features
Ergonomic Mastery: The PICTEK mouse prioritizes comfort, sporting a design that nestles perfectly in your hand. Its emphasis on a neutral grip ensures that long raids and intense battleground sessions remain pain-free.
Ultra-Smooth Gameplay: Boasting an impressive 24K DPI sensor, this mouse promises precision and smoothness in every move, critical for those decisive moments in WoW.
Plug, Play, Conquer: Say goodbye to the hassle of constant pairing. This wired mouse eliminates the unpredictability of wireless connections. Just plug it in and you're ready to tackle the challenges of Azeroth.
Aesthetic Brilliance: Enhance your gaming ambiance with the Chroma RGB Blaze, offering dynamic and vivid RGB effects. Plus, with eight robust buttons at your disposal, victory is just a click away.
Community Feedback
Many gamers approached the PICTEK mouse with initial skepticism, only to be pleasantly surprised by its stellar performance. While a majority have nothing but praises, a few users pointed out a slight inconsistency with the scroll wheel. But the overarching sentiment? This mouse is a delightful surprise in its price bracket.
Final Thoughts
All in all, the PICTEK Gaming Wired Mouse isn't just about aesthetics and affordability. It's a robust tool, designed to amplify your WoW experience, ensuring every session is a potential win.
Our Rating: ★★★★☆ 4.7/5
2. Redragon M901 Wired Gaming Mouse – Best Gaming Mouse for World of Warcraft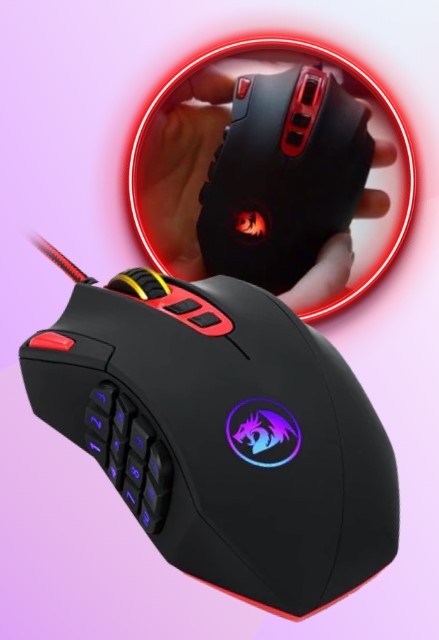 Check on Amazon
Check on Redragon
Specification
Brand: Redragon
Color: M901
Connectivity Technology: USB
Hand Orientation: Right
Movement Detection Technology:: Laser
Hardware Platform: Windows.
Product Dimensions: 11.8 × 7.5 × 3.9 inches.
Product Weight: 150 grams.
Batteries Required: No
Number of Buttons: 19
Customer Reviews: 4.4 out of 5 stars.
Description
Stepping into the world of Azeroth requires not only skill but also the right gear. The Redragon M901, hailed by many of its users as the quintessential gaming mouse for WoW, might just be the companion you've been searching for to elevate your gameplay.
Features
Ergonomics at its Best: The M901 is meticulously designed to offer paramount comfort, ensuring prolonged gaming doesn't lead to hand and shoulder strain. Its weight-balancing mechanism is a testament to thoughtful craftsmanship, keeping cramps and discomfort at bay.
All Controls at Your Fingertips: Sporting 19 programmable buttons strategically placed for optimal accessibility, this mouse offers unparalleled command over in-game actions. Whether it's casting a spell or navigating your inventory, every function is just a click away.
Exceptional Responsiveness: A stellar 1000 Hz polling rate ensures that the M901 keeps pace with even the most frenetic gameplay moments. You're guaranteed a seamless and lag-free experience, crucial for those high-stakes encounters.
Additional Noteworthy Features: With a whopping 16K DPI, five onboard memory profiles, and an in-depth user manual, the M901 is ready to adapt to both your gaming preferences and skill level.
Community Feedback
The consensus among gamers? The Redragon M901 shines not just in WoW but across a variety of titles. Enthusiasts of 3D gaming, in particular, laud its precision and professional-grade features. Many users rave about its value-for-money proposition, while others highlight its swift delivery. However, a small segment of users noted that it might not be the best fit for those with smaller hands.
Final Thoughts
The Redragon M901 isn't just another gaming mouse; it's a robust tool tailored for champions seeking customization, comfort, and peak performance in their WoW adventures.
Our Rating: ★★★★☆ 4.5/5
3. Razer Naga Chroma Mouse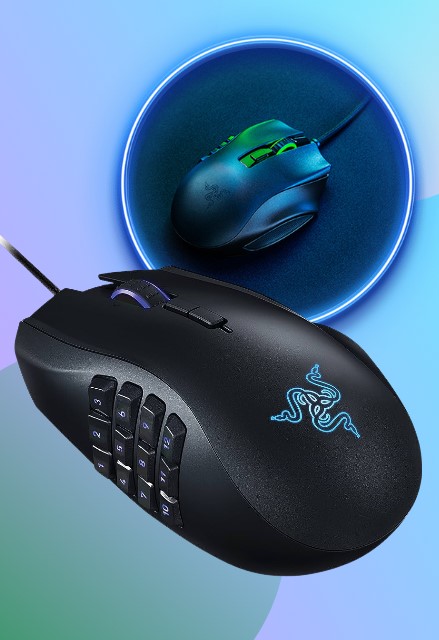 Check on Amazon
Check on Kiky
Specification
Brand: Razer
Color: Black
Hand Orientation: Ambidextrous
Connectivity system: Wired
DPI: 16000
Number of buttons: 19
Product weight: 136 grams
Product Dimensions: 7.48 × 4.29 × 12.38 centimeter
Batteries Required: 1 Lithium Polymer Battery Required
Form Factor: Gaming
Batteries included: No
Battery energy content: 4.9 Watt-hours.
Hardware Platform: PC, MAC
Customer Reviews: 4.2 out of 5 stars
Description
The world of WoW often requires swift actions and impeccable timing, and for many, the keyboard alone doesn't cut it. Enter the Razer Naga Chroma Mouse—a beast of a device tailor-made for the ambitious champions of Azeroth.
Features
A Titan in Mouse Manufacturing: When you think high-end gaming mice, Razer Naga frequently tops the list. This particular model stands tall, specifically catering to the nuanced needs of World of Warcraft aficionados.
Buttons Galore: Boasting 19 strategically placed buttons, the Naga ensures each action in-game is a mere effortless click away. The design philosophy here emphasizes reduced strain and maximum efficiency during those intense raid encounters or PVP duels.
Precision at Its Peak: With its advanced DPI laser sensor, this mouse promises not just speed but an unmatched level of accuracy. This could very well be the tool that swings those close battles in your favor.
Award-Winning Ergonomics: Beyond functionality, the Naga Chroma is a masterclass in comfort. Celebrated as a benchmark in ergonomic design, it ensures your hand remains cramp-free even during those marathon gaming sessions.
Community Feedback
It's not just us singing praises; the gaming community is smitten too. Many players attribute their in-game victories and prolonged gaming hours to this mouse's intuitive design and efficiency. However, a few pointed out a shorter-than-expected battery life, but the consensus is clear: it's a worthy upgrade from less responsive alternatives.
Final Thoughts
Lag and inconsistency have no place in a game as demanding as WoW. The Razer Naga Chroma Mouse isn't just an accessory; it's a statement. A declaration that you're here to dominate the World of Warcraft.
Our Rating: ★★★★☆ 4.5/5
4. Utech Smart Venus Gaming RGB Wired Mouse – Best for Classic WoW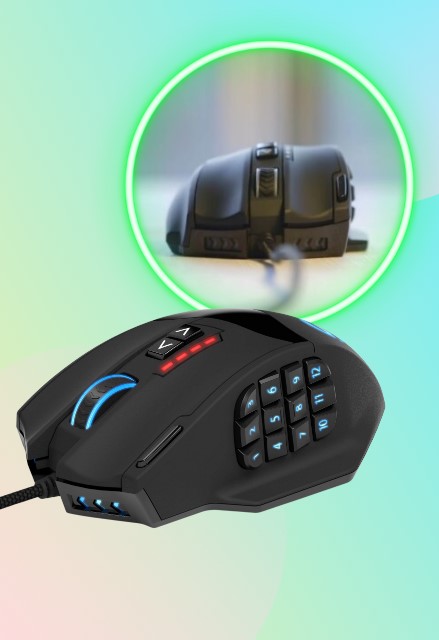 Check on Amazon
Check on eBay
Specification
Brand: UtechSmart
Color: Black
Hand orientation: Right
Connectivity Technology: USB
Movement Detection Technology: Laser.
Hardware Platform: PC, Mac
Number of Buttons: 19
Batteries Required: No
Product weight: 7.8 ounces
Product Dimensions: 11.7 × 7.6 × 3.8 cm
Batteries included: Yes.
Hardware Platform: PC, Mac
Customer Reviews: 4.5 out of 5 stars.
Description
When it comes to excelling in WoW, the mouse you choose is far from a trivial matter—it's a battle implement, a magical wand, a tool of precision. UtechSmart's Venus Gaming RGB Wired Mouse hits all the sweet spots, wrapping functionality and aesthetic flair into one formidable package.
Features
A Symphony of Colors: The Venus mouse comes outfitted with an enthralling RGB color profile, offering multiple speed and brightness settings to match your gaming mood or rig aesthetics.
A Weighty Matter: Adjustable weight options are included in the package, allowing you to tailor the mouse to your individual comfort and control preferences.
Highly Customizable: Advanced DPI buttons and a silky smooth scroll wheel set this mouse apart. It's not just a pointing device; it's an extension of your in-game persona, making customization and quick adjustments second nature.
MMO-Focused Design: With a design leaning heavily toward MMO gaming, this mouse promises a level of performance that can elevate your WoW experiences from ordinary to extraordinary.
Community Feedback
The acclaim for the UtechSmart Venus is virtually universal. From reviews we've gathered, there's a unanimous agreement on its quality and utility. Players aren't just satisfied; they're elated, touting its comprehensive features as money well spent. For once, it appears we've found a product with virtually no downsides in the eyes of its users.
Final Thoughts
With a blend of style and substance, the UtechSmart Venus Gaming RGB Wired Mouse seems to be capturing the hearts of WoW players everywhere. If you're looking for the "chosen one" among gaming mice, this could very well be it.
Our Rating: ★★★★☆ 4.6/5
5. Logitech G600 MMO Gaming Mouse – Best Ergonomic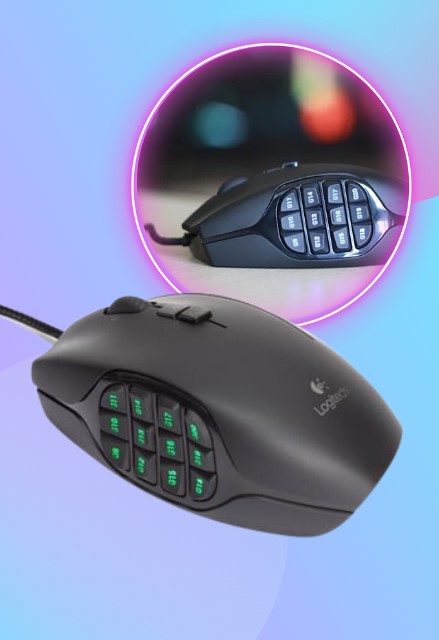 Check on Amazon
Check on PlanetsHoup
Specification
Brand: Logitech
Color: Black
Connectivity Technology: USB
Movement Detection Technology: Laser
Hardware Platform: Game
Hand Orientation: Right
Power Source: Battery.
Number of batteries: 1
Battery Type: C type
Product Weight: 229 grams
Product Dimensions: 41 × 74 × 117 mm
Number of Buttons: 20
Operating System: Windows Vista, Windows 8
Customer Reviews: 4.5 out of 5 stars.
Description
Logitech, a titan in the world of peripherals, often dazzles us with an array of devices. Yet, amidst their vast lineup, only a select few stand out as absolute titans for WoW enthusiasts. Among these elite choices, the Logitech G600 MMO Gaming Mouse reigns supreme, according to our exhaustive research.
Features
Effortless Customization: The G600 doesn't merely adapt to your gaming style—it beckons you to mold it. The more you seek to customize, the more it yields, promising a tailored gaming experience.
MMO Mastery: Featuring 20 MMO-optimized buttons, the G600 is your reliable lieutenant, reducing your keyboard dependency and elevating your in-game prowess.
Comfort First: Designed with ergonomics at its core, the G600's sculpted form ensures your hand remains cradle-like, free from fatigue during those intense WoW marathons.
Vivid RGB Brilliance: Illuminating your gaming sessions, its dynamic RGB palette breathes life into your setup, offering a visual feast of colors and lighting effects.
All-In-One Gaming Experience: More than just a mouse, the G600 promises to amplify every facet of your gaming adventure.
Community Feedback
The G600 has captivated its users, collecting accolades and rave reviews. The consensus is overwhelming: if WoW is your battleground, the G600 is your weapon of choice. Described by many as the definitive mouse for World of Warcraft, its reputation precedes itself.
Final Thoughts
While the vast sea of gaming mice may seem daunting, the Logitech G600 emerges as a beacon for those questing in Azeroth. If you're considering a new gaming companion, the G600 isn't just an option—it's a recommendation.
Our Rating: ★★★★☆ 4.7/5
6. Glorious Model O Gaming Mouse – Ideal Choice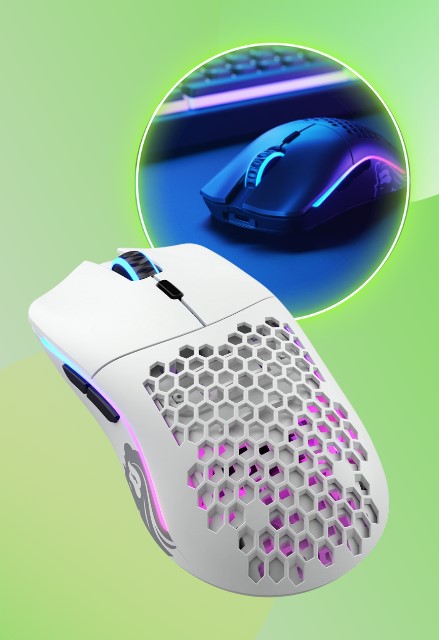 Check on DvaSata
Check on GloriousGaming
Specification
Brand: Glorious PC Gaming Race
Color: Matte White
Hand Orientation: Ambidextrous.
Connectivity Technology: USB
Movement Detection Technology: Optical
Product Weight: 2.36 ounces
Product Dimensions: 5.04 × 2.6 × 1.48 cm
Customer Reviews: 4.7 out of 5 stars
Description
For WoW enthusiasts seeking a singular mouse that excels not just in Azeroth but in every computing task, your quest might just be over. Enter the Glorious Model O, a versatile marvel crafted with gamers and general users in mind.
Features
Unparalleled Response: Especially tailored for World of Warcraft, the Model O offers a responsiveness that will make every click, every movement, feel like an extension of yourself.
Ergonomic Excellence: Beyond just functionality, the Model O places paramount importance on user health. Its comfortable design works to alleviate wrist strain, ensuring that marathon gaming sessions don't take a toll on you.
Flexibility Redefined: Equipped with a long, malleable cable, this mouse provides the freedom to maneuver as you see fit. Its flexible nature simplifies both usage and storage.
Advanced Mechanics: Stellar scroll and polling rates aside, the mouse comes armed with 6 macro-supportive buttons, making in-game commands a breeze.
Community Feedback
Across the board, the community sings praises for the Model O. Some testimonials:
"A game-changer. I only wish I'd discovered it sooner."
"The Model O is nothing short of astounding. It's my top pick for WoW gaming."
"Superior to its counterparts in so many ways."
It's worth noting, however, that a handful of users reported less than ideal experiences with customer support.
Final Thoughts
When industry experts and seasoned gamers vouch for a product, it's seldom without reason. The Glorious Model O stands out as a testament to this, establishing itself as an undoubted favorite in the gaming community.
Our Rating: ★★★★☆ 4.7/5
7.  Razer Viper Ultralight Ambidextrous Gaming Mouse – Best in 2023
Check on Amazon
Check on Razer
Specification
Brand: Razer
Color: Classic Black
Hand orientation: Ambidextrous
Connectivity System: Drag-free cord
Chroma RGB Color Profile: Yes.
Number of Buttons: 8
Optical Sensor: 16K DPI
Hardware Platform: PC
Product Dimensions: 4.99 × 2.61 × 1.49 cm
Product Weight: 3.52 ounces
Customer Reviews: 4.7 out of 5 stars
Description
In the world of gaming peripherals, ambidexterity is a rare gem. The Razer Viper Ultralight caters perfectly to this niche, offering a dynamic experience for both righties and lefties, all while packing a host of advanced features.
Features
Featherweight Yet Robust: True to its name, the Viper Ultralight weighs almost nothing, making it a breeze to transport. Despite this, its construction is solid, promising longevity even with heavy use.
Ergonomic Excellence: Marrying a modern design with the timeless allure of black, the Viper provides a comfortable grip, ensuring prolonged gaming doesn't strain the hand.
Snappy Responses: Its high DPI sensor ensures that every move, every click, translates immediately on screen. A gamer's dream.
Swift Switches: The Viper's mechanical switches are crafted to react thrice as fast as typical ones. This speed can mean the difference between victory and defeat.
A Riot of Colors: Its Chroma RGB profile is nothing short of mesmerizing, boasting an impressive palette of 16.8 million colors. Your gaming setup has never looked better.
Community Feedback
"For uninterrupted gameplay, the Razer Viper Ultralight is a no-brainer."
"I was taken aback by how light it is. It's a relief not having to lug around a heavy mouse."
"Hands down, the best for WoW."
"It's a bit on the pricier side, but given its features, I'd say it's worth every penny."
Final Thoughts
The Razer Viper Ultralight isn't just a mouse – it's a statement. With its exceptional features, unmatched ambidexterity, and the credibility of the Razer brand, it firmly establishes itself as a top-tier choice for WoW aficionados.
Our Rating: ★★★★☆ 4.7/5
8. Corsair Scimitar Mouse for Gaming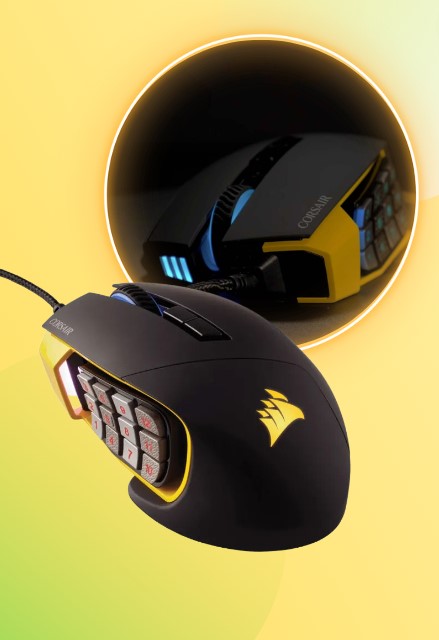 Check on Amazon
Check on Walmart
Specifications
Brand: Corsair
Color: Black
Connectivity Technology: USB
Movement Detection Technology: Optical
Hand orientation: Right
Batteries Required: No
Product Dimensions: 11.9 × 7.7 × 4.9 cm
Product weight: 247 grams
Optical Sensor: 12000 DPI
Response time: 1 ms
Customer Reviews: 3.5 out of 5 stars
Description
Seeking a smooth and immersive WoW gaming experience? Look no further. Corsair's Scimitar gaming mouse promises to elevate your gaming sessions, making them more engaging and fun-filled.
Features
Designed for Comfort: Topping the list is its ergonomic design that ensures users enjoy a comfortable grip even during extended gaming sessions.
Programmable Precision: With over ten programmable buttons, this mouse ensures your gaming actions are always a click away, streamlining your in-game controls.
Swift Scrolling: Its hyper-fast scroll wheel allows users to swiftly navigate through lengthy pages or game maps with ease.
High-Performance Sensor: The high DPI sensor ensures precise tracking, making every move count in your gaming sessions.
RGB & Control: With its vibrant RGB profile and comprehensive CUE control, the Scimitar not only looks good but provides a personalized gaming experienc
Community Feedback
"For the price, this is one of the best gaming mice for WoW."
"I can game all day without discomfort. Love it!"
"It's decent but there are better mice out there for the dedicated gamer."
Final Thoughts
The Corsair Scimitar offers a great blend of functionality and aesthetics at an attractive price point. While it might not be the ultimate choice for hardcore gamers, it certainly stands out as a reliable, budget-friendly option for WoW enthusiasts.
Our Rating: ★★★★☆ 3,5/5
Frequently Asked Questions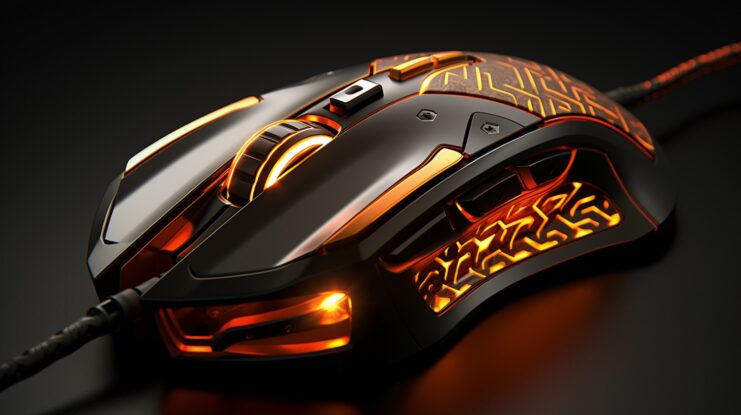 Which is the Best Gaming Mouse for Wow?
Out of the numerous options we've discussed, our top recommendation for WoW gaming is the UtechSmart Venus Gaming mouse. What sets it apart is its comprehensive list of features, unparalleled ergonomics, responsiveness, durability, and a robust grip. If you trust our judgment, this is a worthy investment for a dedicated WoW player.
Which Factors Should you Consider Before Buying a Gaming Mouse for Wow?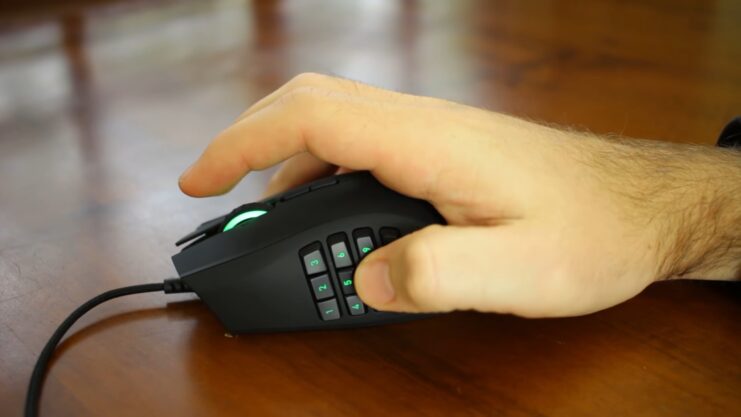 Venturing into the expansive market of gaming mice for WoW can be daunting. Here are the key factors you should prioritize in your search:
Design and Grip: An ergonomic design is non-negotiable. Gaming sessions can extend for hours, and a well-designed mouse can alleviate potential hand and wrist strain.
DPI Resolution: Contrary to popular belief, higher DPI doesn't always translate to better performance. What's more valuable is a mouse that offers customizable DPI settings. This way, you can tailor the mouse's sensitivity to your preferences, ensuring a balance between precision and speed.
Button Layout: For games like WoW, responsiveness is vital. Opt for a mouse that doesn't just have multiple buttons, but also ensures adequate spacing between them. This helps in preventing accidental clicks and enhances in-game efficiency.
Polling Rates: The polling rate represents the mouse's communication speed with the computer. A higher rate translates to a faster response time, which can give you a competitive edge in intense gaming moments.
How Important is Mouse Weight for WoW Gaming?
Mouse weight can significantly impact gaming, especially in MMORPGs like WoW, where precision and comfort during extended sessions are crucial. Some gamers prefer a heavier mouse as it feels more substantial and steady, while others lean towards lightweight mice for faster movements and less hand fatigue.
Many gaming mice now offer adjustable weights, letting users customize the mouse's heft to their liking. If unsure about your preference, consider opting for such customizable models to find the perfect balance for your gaming sessions.
Final Verdict
Gaming, especially in a complex and immersive MMORPG like World of Warcraft, requires not just skill but also the right equipment to enhance the experience. A mouse, often an understated component of the gaming rig, plays a pivotal role in determining the success and comfort of countless hours spent in Azeroth.
The options we've presented offer a range of features tailored to WoW gamers, ensuring precision, responsiveness, and ergonomic design, so every quest and raid is tackled with utmost efficiency.
The market is teeming with numerous choices, but selecting the ideal gaming mouse boils down to understanding one's gaming habits, hand comfort, and specific requirements. From customizable buttons to DPI settings, every feature can significantly impact gameplay. By considering the key factors highlighted, you can make an informed decision that will not only enhance your gaming prowess but also ensure you remain comfortable during those long gaming marathons.
Lastly, it's essential to remember that while a gaming mouse can significantly improve one's gameplay, it's just one piece of the puzzle. As with any game, practice, strategy, and continuous learning are vital. But with the right mouse in hand, every challenge in World of Warcraft becomes a tad bit more manageable, making your adventures in the gaming world even more memorable.