My urge for finding a perfect wireless e-sports mouse at a reasonable price made me try out a number of peripheral. Some were costly, while a few had fewer features to match up the demand. Finally, I came across the amazing E-Blue Mazer 2.
The brand is not new to the world of e-sports and gadgets. The label has some of the elite peripherals that are a major cause of the growing number of a loyal customer. However; let us get back to the topic, and talk about this beauty. The wireless mouse is a flawless blend of utility within the means.
E-Blue Mazer 2 Wireless Gaming Mouse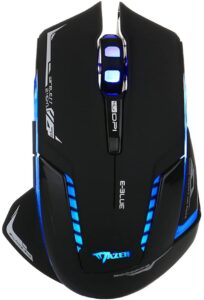 The alluring packaging and design give you the first impression of WOW!  Even though each product by the brand is the finest piece of art, but these ones cater to all the e-sports freak who is struggling with a reasonable budget.
The first impression is the last impression; therefore, the design of this one is love at first sight. Following the air wind theme; moreover, ergonomic design is primarily for right-hand users with varying grip style such as palm grip.
Rubber scrolling wheel and glossy plastic bottom add to the grace of this one. Furthermore, bid farewell to braided wires or USB as it is wholly wireless, and the illuminating LED renders a pleasant look.
Specifications
Size: 125 x 85 x 40 mm 
Weight: 140g 
Optical type: Red wave 
Adjustable DPI: 500/1000/1800/2500 
Polling rate: 250Hz 
Buttons: 6 
Maximum Acceleration: 20G 
Frame Rate: 3000 Frame / sec 
Wireless type: 2.4G 
Compatible system: XP/Windows Vista/Wins 7/Wins 8/Mac OS and other OS with CD-ROM 
Pros and Cons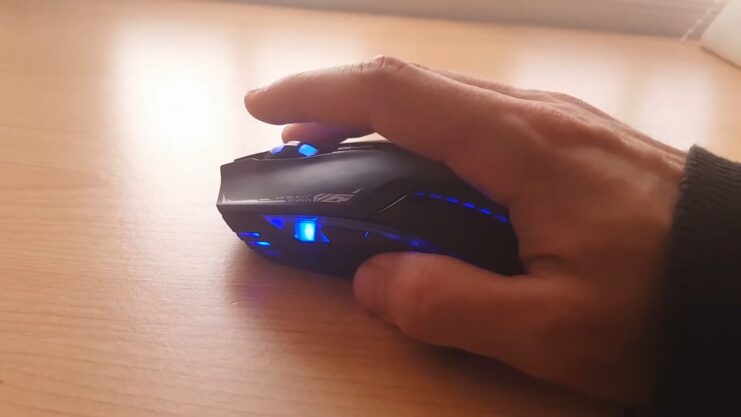 Honestly,  things can be close to perfection but every product in this world has some pros and cons. After a few days of usage, I came up with the following pros and cons
Features
Software
Performance
Verdict
First and foremost, let us talk about the keys. It has 6 buttons in total, out of which 5 Programmable buttons and 1 button is dedicated to DPI adjustment. Moreover, the 2.4 GHz wireless transmission offers stable wireless connectivity free from any operational discrepancies. The mouse has a 250 Hz polling rate and 20 g acceleration for the non-stop firing to combat the opponent. Another gaming changer feature of this mouse is its super long battery life giving up to 250 hours of performance without fail, and completely wireless mouse makes this one a state of the art e-sports peripheral. Besides, the mouse features 5 million clicks so let the competition begin without any fear.
Now, it's time for the main part, which is the software. Regardless of the fact that a mouse is fully loaded with features and excellent in terms of design, but a software failure can be a big turn off for a product. So the product features Avago 5080 high-performance optical chipset for impeccable performance. Moreover, the supreme sensor renders 259 to 2500 DPI according to your need. It's banging on the tracking system renders out of the world performance on any surface.
Now, before I jump to the performance make sure you take off the Teflon skate layers for better performance. There are no two ways about the fact that the effort of E-Blue is admirable for rendering a product which is useful and affordable at the same time. This one is a super comfortable mouse with good performance and click rate for the gaming freaks. Be it any type of game this peripheral would not let you down. Its powerful AA battery renders long playing hours without stress of charging.
To put an end to the entire discussion, I would certainly recommend this one to all the e-sports addict who is seeking for a good quality gaming mouse but without a dent in his pocket. This mouse is worth every penny you invest for the purchase.
Design and Ergonomics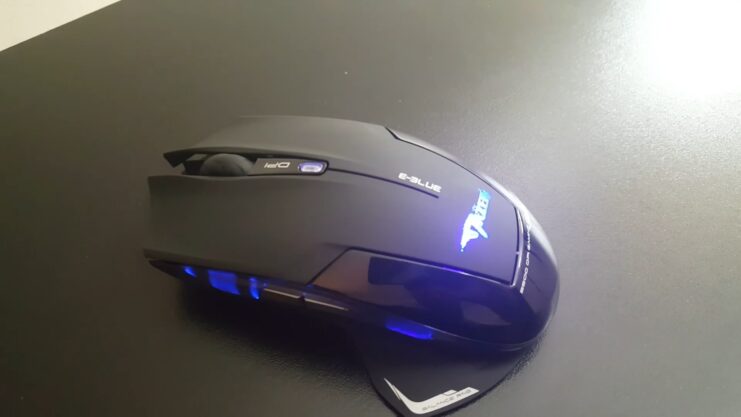 The E-Blue Mazer 2 Wireless Gaming Mouse is designed to offer both style and comfort to gamers. Its sleek and modern design adds a touch of sophistication to any gaming setup, while its ergonomic shape ensures a comfortable grip even during long gaming sessions. Here are the key aspects of its design and ergonomics:
Sleek and Modern Design: The Mazer 2 features a streamlined and futuristic design that catches the eye. Its smooth contours and clean lines give it a modern and high-tech appearance. It is available in various color options, allowing gamers to choose the one that suits their gaming setup or personal style.
Comfortable Grip: The mouse's ergonomic shape is designed to fit naturally in the hand, providing a comfortable grip. It is contoured to support the palm and fingers, reducing strain and fatigue during extended gaming sessions. The textured surface enhances grip and prevents slippage, ensuring precise control and accuracy.
Button Placement: The placement of buttons on the Mazer 2 is strategically designed for easy access and intuitive control. The primary buttons, along with additional programmable buttons, are positioned within reach of the fingers, enabling quick and effortless clicks. The scroll wheel is conveniently located, offering smooth scrolling and accurate weapon switching in games.
Gaming Features and Customization
The E-Blue Mazer 2 Wireless Gaming Mouse offers a range of gaming features and customization options to enhance the gaming experience and cater to individual preferences. These features and customization capabilities allow gamers to optimize their gameplay and tailor the mouse to their specific needs. Here are the key aspects of its gaming features and customization:
High DPI Sensitivity: The Mazer 2 is equipped with a high DPI (dots per inch) sensor, allowing for precise and responsive cursor movement. With adjustable DPI settings, gamers can customize the sensitivity of the mouse to match their preferred gameplay style. Higher DPI settings provide faster cursor movement, ideal for fast-paced gaming, while lower DPI settings offer more precise control for tasks that require accuracy.
Programmable Buttons: The mouse features programmable buttons that can be customized to perform specific functions or macros. This allows gamers to assign frequently used commands or complex sequences to these buttons, providing quick access to in-game actions or shortcuts. The customization of buttons adds convenience and efficiency to gameplay, enabling gamers to execute commands with a single click.
Performance and Precision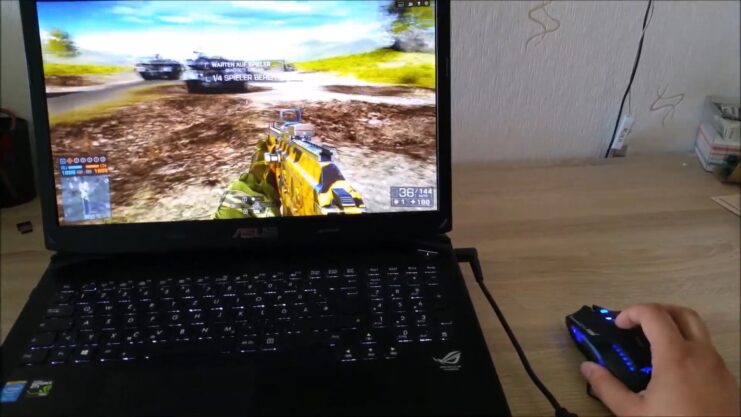 The E-Blue Mazer 2 Wireless Gaming Mouse delivers excellent performance and precision to meet the demands of gamers. With its advanced technology and precise tracking capabilities, it offers a smooth and accurate gaming experience. Here are the key aspects of its performance and precision:
Wireless Connectivity: The Mazer 2 utilizes wireless connectivity, providing freedom of movement and eliminating the hassle of tangled wires. The wireless connection ensures a lag-free and uninterrupted gaming experience, allowing gamers to focus on their gameplay without any restrictions.
Advanced Optical Sensor: The mouse is equipped with an advanced optical sensor that offers high-precision tracking. This sensor provides accurate and responsive cursor movement, allowing gamers to navigate smoothly and precisely on the screen. Whether you're making precise shots in FPS games or executing precise movements in strategy games, the Mazer 2's optical sensor ensures optimal performance.
Fast Response Time: The Mazer 2 boasts a fast response time, reducing input lag and ensuring instant response to your movements. This fast response time is crucial in competitive gaming, where split-second reactions can make a significant difference. With the Mazer 2, you can rely on its quick response to stay ahead in the game.
FAQ
How does the wireless connectivity of the E-Blue Mazer 2 work?
The Mazer 2 utilizes 2.4 GHz wireless connectivity, providing stable wireless transmission and freedom of movement. The wireless connection ensures a lag-free gaming experience, allowing you to play without any restrictions or interference caused by tangled wires.
What is the battery life?
The mouse is designed to offer a long battery life, allowing for extended gaming sessions without the need for frequent charging. The specific battery life may vary depending on usage, but it can provide up to several days or even weeks of performance before requiring a recharge.
Is the E-Blue Mazer 2 compatible with different operating systems?
Yes, the mouse is compatible with various operating systems, including XP, Windows Vista, Windows 7, Windows 8, Mac OS, and other OS with CD-ROM support. This makes it versatile and suitable for use with different gaming setups and devices.
Does it have an ergonomic design?
Yes, the mouse is designed with ergonomics in mind. It features an ergonomic shape that provides a comfortable grip and reduces fatigue during long gaming sessions. The textured surface enhances grip and prevents slippage, allowing for precise control and accuracy.
Does the E-Blue Mazer 2 offer smooth and precise tracking?
Yes, the mouse is equipped with an advanced optical sensor that ensures smooth and precise tracking. This sensor allows for accurate cursor control, enabling you to navigate smoothly and precisely on the screen. Whether you're making precise shots or executing precise movements, the Mazer 2's optical sensor ensures optimal performance.
Can I use for purposes other than gaming?
Yes, while the mouse is specifically designed for gaming, its features and performance make it suitable for various tasks beyond gaming. Its adjustable DPI settings, programmable buttons, and ergonomic design can enhance productivity and efficiency in tasks that require precise cursor control and customized shortcuts.
Is the E-Blue Mazer 2 Wireless Gaming Mouse budget-friendly?
Yes, the E-Blue Mazer 2 offers a balance between features and affordability. It provides excellent performance and customization options at a reasonable price point, making it a cost-effective choice for gamers who want a wireless gaming mouse without breaking the bank.