The invention of smartphones has taken photography to the next level. If you have a smartphone with you, you are also carrying a good camera with you. Earlier, you needed someone's help to take your photo, something that couldn't happen instantly. But with the introduction of front-facing cameras, smartphone manufacturers found solutions for that too. Now you do not need somebody's help to take your photo.
You can get your favorite face captured instantly. Still, there was a concern that you cannot focus it as you could with the rear camera; and if you are taking a group photo, your hands were not long enough to capture everybody in the frame. The remedy for this was the invention of selfie sticks.
Ever since the first selfie stick was released in the market, it has gained remarkable popularity. Being priced significantly lower, they've taken the market by storm. Young and old alike have learned to use the selfie stick with elan. If you have not got one already, it's time you did. To make matters easy, we bring you reviews of 7 awesome selfie sticks that you can choose from. We hope this tiny endeavor of ours will help you make the right choice.
1. Perfectday Bluetooth Selfie Sticks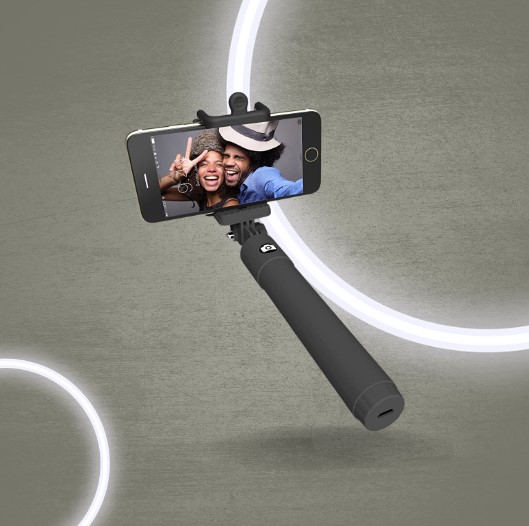 The Perfectday Bluetooth Selfie stick is a wireless foldable selfie stick that works using Bluetooth technology. The built-in Bluetooth remote control allows you to click photos with a wider range. This amazing Selfie stick comes with a 270-degree adjustable head and the mount connecting the head has a 180 degrees arc. Both these features coupled together give you greater degrees of freedom enabling you to click photos from different angles and ranges using the built-in remote shutter.
This device works fine with iPhone 6s, 6, 6 Plus, 5, 5s, 5c as well as many Android smartphones. The battery once fully charged can stay 3 days on standby and on use, it should last good 3 hours. There is a charging cable included in the box that can be used to charge the battery.
We tried our hands on this and upon constant use, the battery lasted a little over 2 hours and 40 minutes. Its small size ensures that it fits well within your pocket. It is lightweight as well, so carrying it around would not be a problem. You would be amazed by the compact nature of this device, and still, you can expand it to use it whenever the need arises. From being a modest 7.1 inch when folded this gadget gets as long as 32 inches when expanded. The absence of wires makes it shackle-free and easily portable.
Just place your phone on the holder, sync it with the selfie stick and press the button on the stick! The mobile holder is wide enough to even accommodate a Galaxy Note 3 (over 3.2 inches). I mean it works fine with Phablets as well. The grip of the selfie stick is good and spares you the jitters of dropping it. This would be a practical choice if you are looking for a compact, Bluetooth-enabled monopod selfie stick.
2. Spigen Wired Selfie Stick (SGP11799) [Battery Free]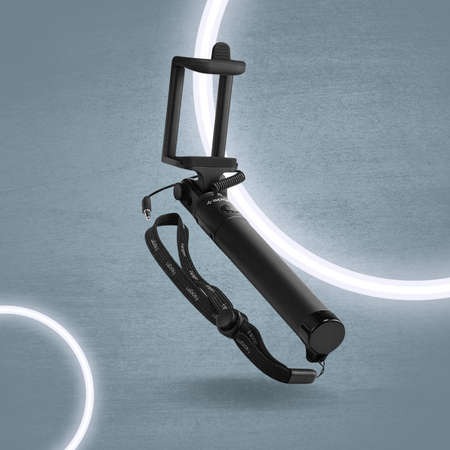 Spigen Wired Selfie stick is listed to be compatible with iPhone 6S, iPhone 6S Plus, iPhone 6 Plus, iPhone 6, Samsung Galaxy S7, Samsung S7 Edge, Google Nexus 6P, LG G5 and many other android smartphone models. It has an extendable handheld stick and an adjustable holder, while being ultra-compact as well. It fits well with smartphones that are 3.26 inch wide.
The advantage with the wired Selfie stick is that you do not have to bother to recharge the batteries. It also spares you the risk of missing out on capturing a crucial moment, due to low power or signal fluctuation. The flip side is that you have to take care of the cables. The grip on the handle is rubberized which gives it a solid feel. Clicking a pic using this selfie stick was less complicated. All you had to do was connect the cable to the audio jack of your smartphone, pose and shoot. The best feature of this selfie stick is its compact and lightweight nature. There is no excess baggage (battery charger) that you would have to carry otherwise.
3. Fugetek FT-568 Selfie Sticks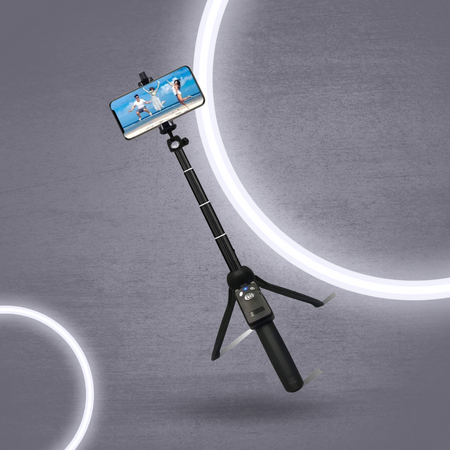 Fugetek FT-568 is a Professional High-End Selfie stick For Apple phones, Android smartphones, Gopro actions cameras, and DSLR Cameras. It works on the Wireless Bluetooth Remote connectivity. It sports an all-aluminum body and comes with two interchangeable phone mounts. One mount comes with a lock and is extendable to 4.2 inches, the other features a mirror for your rear HD camera.
This is a premium product that comes with a detachable Bluetooth remote. The handle is extendable till almost 49 inches. The rechargeable battery takes just 1 hour to get fully charged while delivering a standby time of about 300 hours. The manufacturer claims that the device is compatible with Android versions 4.3 and later.
When we tried using this selfie stick we were impressed by the length of the stick. The pictures clicked would not look like a selfie. It would almost look as it was taken from a long-range. The grip is very well done and there is no hint of any slippage while using it. Of the two mounts one comes with a spring and the other with a screw to secure the phone. Here is a selfie stick that can hold even a DSLR camera.
Such is the sturdiness of this selfie stick. Add to that a mirror to ensure that the DSLR captures the right frame. The remote control with the switches is detachable and the buttons on it can be used to zoom in and out while using an android smartphone. What's more, it can be attached to a mini-tripod. Well, this one would be the ultimate selfie stick for all those selfie freaks who do not mind carrying that extra bit to ensure that they get the best out of every snap they take.
4. Anker Bluetooth Monopod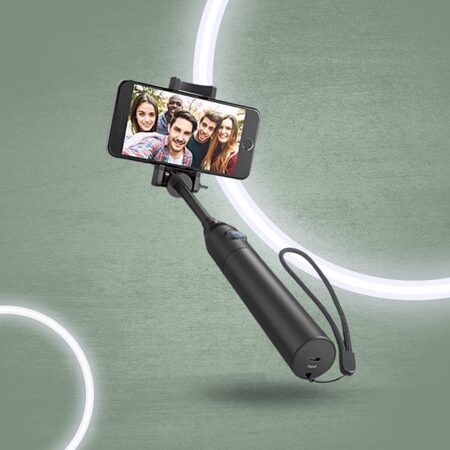 Anker Bluetooth Monopod is an Extendable selfie stick with Built-in Remote Shutter for your smartphones. This comes with a silicone-rubber handle and an extendable metal (stainless steel) selfie stick. The manufacturer claims that this device has a 20-hour battery life and the extendable arm can be as long as 31 inches. The device works well with any iPhone and Android (4.0 and later) smartphone that has a width between 2.2 inches and 3.3 inches. There is a 270-degree angle to maneuver the head for capturing that perfect picture.
We found this selfie stick to be quite well designed. It felt quite sturdy to hold while being light at the same time. The stainless steel extender arm looked strong enough to hold even heavy phones without the slightest bend. The Bluetooth remote was quite user-friendly with indicators for various states. A steady blue color indicates that it is connected to a device. If the blue light blinks, the device is in pairing mode; if it flashes every 3 seconds – low battery. Charging mode is indicated by a steady red light that goes off when fully charged.
5. Amya Wired Selfie Stick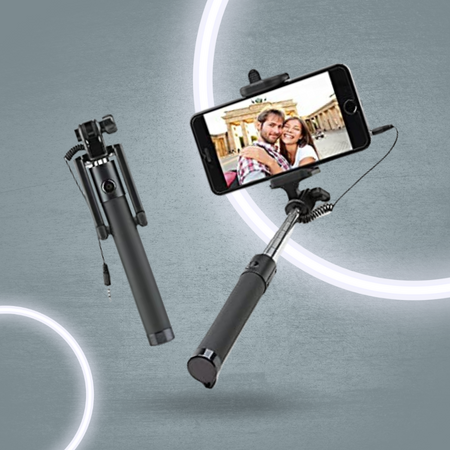 The Amya Wired Selfie Stick is a battery-free, wired device that is compatible with iPhone SE/6S/6S Plus/6/6 Plus/5S/ GalaxyS7/ Galaxy S7 Edge/ Nexus 6p/ LG G5 and many other android devices. It is a typical plug-and-play design wherein all you have to do is fix the smartphone in the holder, connect the cord to the audio jack and start clicking! This is super compact weighing just 125 grams and can be folded as well. Its length can be adjusted from 7.1 inches to 30 inches while the holder's head has a free play of 270 degrees.
The battery free selfie sticks are quite simple, but effective and this one is no exception. You can continue taking countless clicks as along as your smartphone permits without any worry about the charge of your selfie stick running out. We tried this on a Samsung Galaxy S6 Edge and it worked perfectly. The phone sat well in the holder and there was no scare of it falling off. The extender worked pretty well too. You need to be careful with the wire though!
6. GIYA Wired Selfie Stick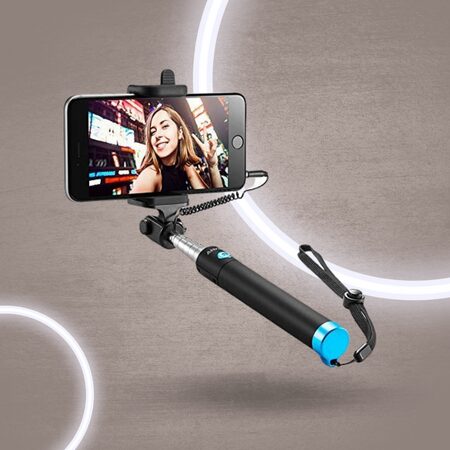 The GIYA Wired Selfie Stick has a Battery Free operation and is compatible with iPhone SE/6S/6S Plus/6/6 Plus/5S/ GalaxyS7/ Galaxy S7 Edge/ Nexus 6p/ LG G5, Moto X and other Android smartphones. The holder can accommodate devices as wide as 3 inches. The extender arm enables you to click from a distance of 7.5 inches to 22 inches.  There is an anti-slip foam coating that prevents the smartphones from falling off while ensuring that there are no scratches on it. The rotating switch can be used to swivel the head up to an angle of 270 degrees to get that perfect shot that you are looking for.
We tried this selfie stick with our iPhone 6S Plus and found it to be quite sturdy. There was never a moment where we feared that the phone would fall off. There were enough angles to use the selfie stick and the operation was quite simple.
7. KobraTech Tripod Stand – TriFlex Mini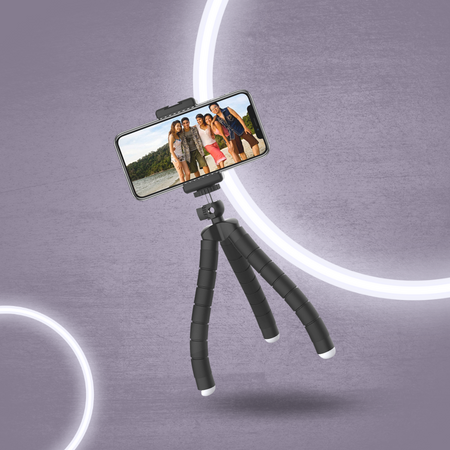 Here is a Tripod stand with a Bluetooth remote that can be easily carried anywhere. The tripod stand can be placed on any even surface. If you do not find an even surface to place it you can still tie it up to a lamp post or any other steady stand. The phone mount is claimed to be universally compatible with smartphones of any size – the iPhone 6, 6S+, 5, 4, Samsung Galaxy S6, S5, S4, Note 5 and many more. The phone holder can hold phones as wide as 3.74 inches.
This is an amazing gadget that can be used as a monopod selfie stick as well as a Tripod stand. It includes a Bluetooth remote as a separate unit. We first tried the tripod stand. The phone mount had a rotating ball joint that helped us take photos from different angles. The tripod legs can be bent almost 360 degrees for different angles and heights while keeping the unit totally stable. In fact, you can even install the tripod stand on the handrest of a chair! It does not get any better than this. If you are looking for a comprehensive selfie stick that can also act as a tripod stand, this is the best choice.
This sums up our review on the best selfie sticks. While some are wired, others are Bluetooth enabled; each carrying its own advantages. Now, it's your decision to make on owning one or more of these awesome gadgets.
What features should I be looking out for when deciding upon purchasing a selfie stick?
With a quick Internet search, you'll find that there are hundreds of selfie sticks available from sellers across the globe. Such an overwhelming amount of devices means that there are distinctive features that differentiate one selfie stick from another. What are the ones we recommend looking out for?
Build quality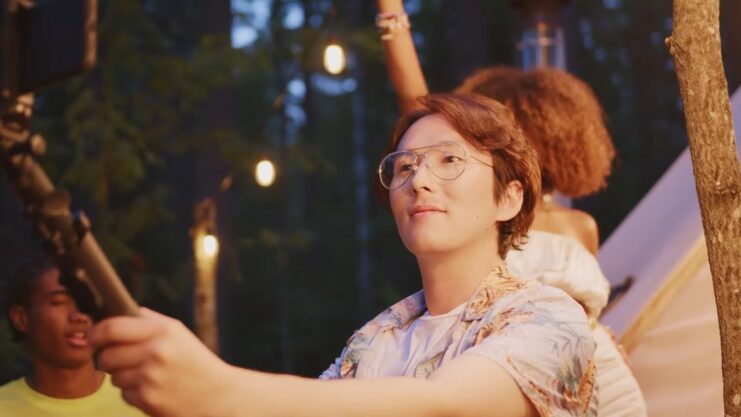 Perhaps one of the most crucial features the buyer has to make notes of is the materials the selfie stick is made from. They have to be sturdy and durable, as there is no point in purchasing a flimsy selfie stick that is going to break within a month or two. The good quality selfie sticks, as a rule, have a comfortable handle grip, are lightweight, and are built from qualitative materials.
Folded and extended length
Since the concept of selfie sticks implies that they are portable, you should get one that is going to easily fit in your backpack. While the vast majority of selfie sticks reach about 8 inches in length when folded, there is a small percentage of those that collapse to a shorter length that can be carried in your pocket. They are usually more expensive, but the price is justified. The other feature the user has to pay attention to is the length of the device when it is extended to the maximum. The middle ground lies within the range of 30 and 40 inches, but the decision is yours – you might be absolutely fine with a shorter stick.
Mount compatibility
99% of selfie sticks have a built-in mount that is designed to hold your smartphone, camera, or GoPro. The difference between them is their quality and adjustability. You will find these clamps to be made from rubber most of the time due to the material being non-slippery. Some of them are rotatable, while others are not. This feature helps to get a variety of angles when taking selfies. Regardless of which one you will choose, make sure you familiarize yourself with the tool's instructions and find out for yourself whether a particular mount is compatible with your device.
Connectivity and camera control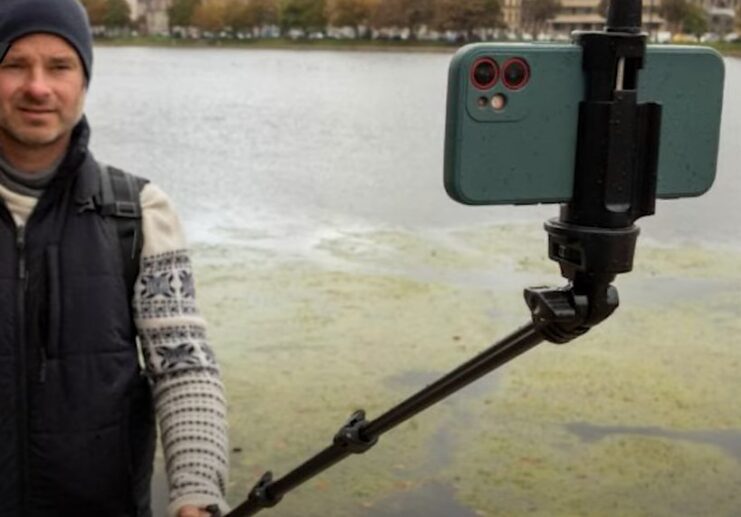 Acting as a remote control, a selfie stick features a button located on the handle to capture the picture with a simple click. For this to work in real life, the stick has to be connected to your device. There are two ways of doing it – either through a small cable with a 3.5mm jack or Bluetooth. The former is more common in cheaper models, while the latter is usually met in more high-end models.
The cable allows you to simply insert it into your device and start enjoying taking selfies right away. This, however, comes at a price of not having the sound recorded if that is needed. The Bluetooth option, in contrast, does not require you to manually connect the two, but rather do it automatically. The downside of this feature lies in the fact that its battery life is not always high, which means that you have to charge it more often.
Additional accessories
If feeling fancy, you can look for selfie sticks that feature wrist bands, mirrors, belt clips, or flip-lock extensions. Some of their handles even have an option to zoom in and out. When shopping for a selfie stick for a specific occasion, look out for those that are designed specifically for skiing, for instance, or for ziplining, as they will have all the necessary features you would appreciate having.
FAQ
1. What is the concept behind selfie sticks?
The concept behind selfie sticks is to provide a simple and convenient way to take self-portraits or group photos with a mobile phone or camera. A selfie stick is essentially a telescopic pole that allows users to extend the reach of their device, so they can take photos from different angles and distances. The stick typically has a mount or holder on one end to secure the device, and a handle on the other end for the user to hold and control the position of the camera. The concept has become increasingly popular with the rise of social media and the desire for people to capture and share their experiences with friends and followers.
2. How do I know whether my phone/camera is compatible with a particular selfie stick?
To know if your phone or camera is compatible with a particular selfie stick, you need to check the specifications of both devices. Selfie sticks usually have adjustable phone/camera holders that can accommodate different sizes of phones and cameras. You need to make sure that your device's dimensions and weight are within the range that the selfie stick can handle. Additionally, some selfie sticks come with specific compatibility requirements, such as requiring a particular operating system version or specific camera app. It's important to check the manufacturer's website or user manual to ensure that your device meets these requirements before purchasing a selfie stick.
3. How reliable is the built-in battery?
The reliability of the built-in battery in a selfie stick can vary depending on the brand and model. Generally, high-quality selfie sticks from reputable brands tend to have reliable batteries that can last for several hours of use. However, cheaper and low-quality selfie sticks may have less reliable batteries that can drain quickly or fail after a few uses. It is important to research and read reviews before purchasing a selfie stick to ensure that the battery is reliable and meets your needs. Additionally, it is a good practice to follow the manufacturer's instructions for charging and storing the battery to ensure its longevity and reliability.
4. Will my selfie stick be allowed everywhere I go?
It ultimately depends on the rules and regulations of the specific location you plan on using your selfie stick. Some places, such as museums or concert venues, may have restrictions on the use of selfie sticks for safety or security reasons. Additionally, some countries or cities may have bans on the use of selfie sticks in certain public areas. It's always a good idea to check with the venue or location beforehand to see if selfie sticks are permitted.