As someone who has spent countless hours sketching, illustrating, and designing on a Chromebook using a drawing tablet, I can tell you that the experience is far more rewarding than most people would assume.
Gone are the days when Chromebooks were considered mere web-browsing devices—these compact machines are more versatile than ever, and yes, they can seamlessly work with a drawing tablet!
In this post, we are going to talk about the nitty-gritty of how to get your drawing tablet and Chromebook to play nice with each other. Whether you're a digital artist considering a shift towards a more minimalist setup or a Chromebook user contemplating dipping your toes into digital art, read on to discover the possibilities, limitations, and some tips and tricks I've gathered along the way.
Is a Drawing Tablet Compatible with Chromebook?
The problem is that most of the best drawing tablets don't offer compatibility with Chromebooks. Thus, if you have a drawing tablet, it won't work to its full potential unless you have installed a driver for compatibility.
Though you can easily use the drawing tablet by just plugging it into the USB slot of your Chromebook, you won't be able to draw with pressure sensitivity.
If you are a professional artist or graphics designer, then obviously, you won't be able to survive without pressure sensitivity drawing. Pressure sensitivity allows you to vary the width of the lines you draw. This is done by applying different amounts of pressure on the surface of the tablet.
When you apply a light stroke, a thin line will appear and vice versa. The more pressure sensitivity a drawing tablet is equipped with, the more you'll be able to vary the size of the lines you draw. If you want to get the best out of a drawing tablet, you must make sure that the software supports this feature.
There are some drawing tablets that work with Chromebooks, but not all of them. Also, if you need a pressure sensitivity drawing, then you'll need to install drivers. Keep on reading if you want to learn about a good solution to this issue.
Drivers for Drawing Tablets
The main function of a drawing tablet is that it allows natural drawing motion and pressure sensitivity. These features make sure that challenging and tough projects are handled easily. If you can't use this feature, then having a drawing tablet is useless.
The drawing tablet manufacturers have various types of drivers that you'll see when you visit the website and peek into the drivers section. However, when you'll go to the drivers section you'll find drivers for Mac and Windows only.
The problem is that, when a giant manufacturer doesn't support a particular platform, the upcoming brands and models also follow in its footsteps.
Most of the new brands, such as the Huion and X-Pen are compatible with Windows and Mac only. The main reason behind this is that the market isn't big enough, and that's why the manufacturers are not catering to it.
Should You Use a Drawing Tablet with A Chromebook?
When you plug a drawing tablet in the slot of a Chromebook, it will start working, but it won't work to its full potential. The drawing tablet will perform the function of a mouse only and won't function as a drawing tablet should. You shouldn't use a drawing tablet with a Chromebook because of the following reasons:
Limited RAM:
Chromebooks have a lightweight design, and they are affordable too. A Chromebook has an average RAM of around 4 GB, which is too little for handling graphics programs, especially Adobe Photoshop or Illustration. The limited RAM is the main reason why most of the programs won't work properly on the Chromebook. Thus, most of the drawing tablet manufacturers don't provide support for Chromebooks because of low RAM.
Pressure sensitivity:
As we told above, if you plug your drawing tablet into the Chromebook and start using it, it will work but without pressure sensitivity. So, if you need pressure sensitivity for drawing, then you must leave the option of Chromebook as it won't allow you.
Who Should Use the Drawing Tablets with Chromebooks?
If you already own a Chromebook and you want to draw using a drawing tablet, then you should check out our next section where we have discussed some Wacom tablets that are compatible with Chromebook.
However, if you haven't yet bought a Chromebook and you are willing to buy it to use it with your drawing tablet, then we don't recommend it. You have other good options to use with your drawing tablet, as Chromebook won't let you draw in peace.
Even a laptop would be go with a drawing tablet as you'll be able to do the complex graphics designing work on Adobe Illustrator and Adobe Photoshop.
What Are the Drawing Tablet Options for Chromebooks?
When you're in the market to buy a drawing tablet for a Chromebook, you have limited options. The Chromebooks offer native pen support depending on their model.
If your Chromebook has native pen support, even then, it will be limited, and you won't be able to use it with every brand of drawing tablet. Following are some Chromebook brands that provide native pen support:
1. Lenovo Chromebook C 330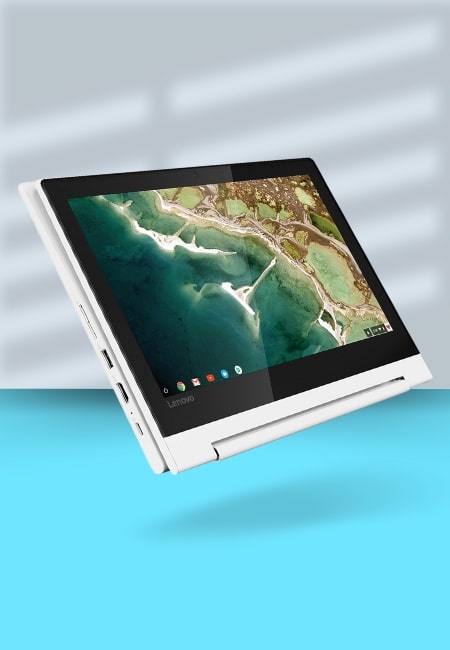 Check on Amazon
Check on Walmart
I have been using this Chromebook for months now, and I must admit, it really provides excellent value for your money's worth. It is a versatile 2-in-1 laptop that offers a range of features designed for both work and play.
With its 360-degree hinge, you can use it in various modes like a tent, tablet, laptop, or stand. It comes with a sleek and stylish Blizzard White design that adds a touch of elegance to your daily computing needs. The device runs on Chrome OS and is powered by a MediaTek MTK 8173C processor.
Important Features
Versatile Design: The 360-degree hinge allows for easy viewing in tent, tablet, stand, or laptop mode.
Display: It features an 11.6-inch HD IPS anti-glare touchscreen, offering crisp visuals.
Performance: Powered by a MediaTek MTK 8173C processor and 4GB LPDDR3 RAM, it is capable of handling daily computing tasks with ease.
Connectivity: Comes with a full suite of ports including USB-C, SD, and USB 3.1, along with powerful 2×2 AC Wi-Fi and Bluetooth 4.2 to ensure optimal connection for your PC.
Battery Life: Offers over 10 hours of battery life, making it ideal for day-to-day use.
Built-in Virus Protection: Chrome OS offers built-in virus protection, providing an extra layer of security.
Google Play Store Apps: The device is compatible with Google Play Store apps, allowing you to enjoy a range of applications for work and entertainment.
Pros
Lightweight and Portable
Affordable
User-Friendly
2. ASUS Chromebook C202SA-YS02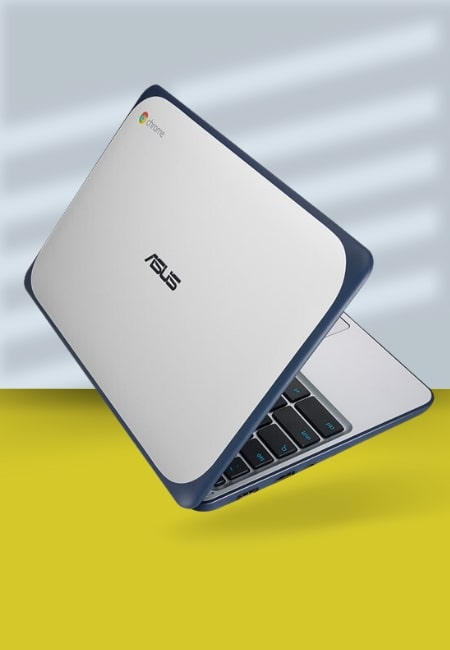 Check on ASUS
Check on eBay
Check on DvaSata
Several months ago, I had an opportunity to try out the ASUS Chromebook C202SA-YS02, and I have to admit, it's a solid choice for anyone on a budget, especially for school use. Its rugged design, spill-resistant keyboard, and long battery life make it a reliable companion for both kids and adults.
It is a budget-friendly, durable, and long-lasting device that's great for school use. However, its performance can lag when multitasking with multiple browser tabs. Overall, it's a good choice for those who prioritize durability and battery life over high-end performance.
Important Features
Rugged Design: The Chromebook is encased in a dark-blue rubberized molding that protects it from drops up to 3.9 feet.
Spill-Resistant Keyboard: Accidents happen, and this Chromebook is prepared for that with a keyboard that can withstand spills of up to 66cc of liquid.
Long Battery Life: The device lasted an impressive 12 hours in battery tests, making it ideal for a full school day and more.
Modular Build: One unique feature is its modular design. Components like the keyboard, motherboard, and battery can be easily dismantled, making it cost-effective for repairs.
Pros
Durable and rugged design suitable for kids and accident-prone adults.
Excellent battery life that lasts a whole school day.
Affordable pricing.
Modular design makes it easy for repairs or part replacements.
Cons
Lacks a touchscreen, which is becoming a standard feature in many Chromebooks.
Can be sluggish when running multiple browser tabs.
3. Acer Chromebook R11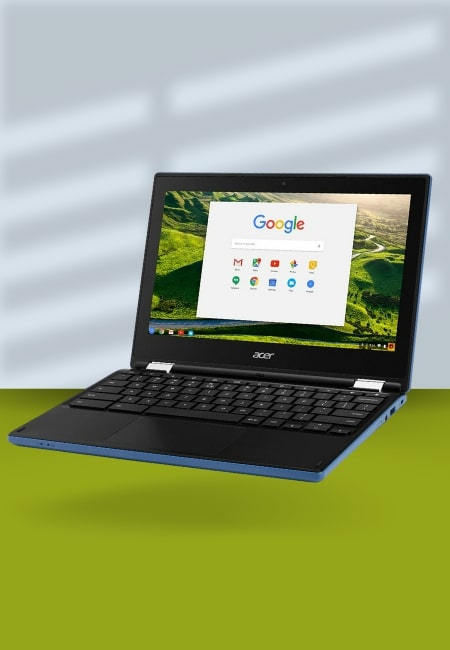 Check on Amazon
Check on Kiky
After spending some time with the Acer Chromebook R11, I've come to appreciate its unique blend of features and affordability. This Chromebook is a hybrid device, meaning it can function both as a laptop and a tablet, thanks to its 360-degree hinge.
It is a budget-friendly option (for the base model), and it's an attractive option for those who need a simple, lightweight device for basic tasks.
Important Features
360-Degree Hinge: The hinge allows the device to transition smoothly between laptop and tablet modes, making it versatile for different use cases.
Touchscreen Display: The 11.6-inch IPS display has a resolution of 1,366×768 pixels. While not the highest resolution, the touchscreen adds an extra layer of interactivity.
Performance: The device runs on an Intel N3150 processor with options for 2GB or 4GB of RAM. It's sufficient for basic tasks and web browsing.
Battery Life: The Chromebook R11 offers around 8 hours of battery life, which is quite good for a budget device.
Pros
Affordable
Versatile Design
Decent Battery Life
Good Keyboard and Trackpad
Cons
Limited OS
Limited App Ecosystem
Should I Buy a Chromebook Specifically for Drawing?
The answer is a clear no. Using drawing tablets with a Chromebook is not an easy thing. Though manufacturers and developers are working hard but you'll still face a lot of technical issues with this combination. An easier option is always to go with a Windows or Mac platform.
Even if you go for a Chromebook that has native pen support, it will have many restrictions, and there will be a lot of complications with the apps you want to use. You'll be able to draw with Chromebooks that have native pen support, but there'll be issues with the processing power, and you won't be able to do the professional stuff with them.
So, you shouldn't buy a Chromebook specifically for drawing, but if drawing is a secondary or even tertiary thing, you can go for a Chromebook. You can go for this option only if you want to practice some drawing skills or give it to your kids for drawing and fun.
OS Compatibility for Drawing Tablets
The drawing tablets offer support for Windows and Mac platforms and not for the Chrome OS. If you want to use Wacom tablets, the following are the OS systems that they support:
Windows: The newer tablets are compatible with Windows 7, 8, 9 and 10.
MAC: The newer tablets are compatible with MAC OS 10.11 to 10.14.
LINUX: Only available for old-generation tablets, which are Capture, Bamboo Create, Bamboo CTL, Bamboo CTH, Connect, Splash, One by Wacom)
The Wacom tablets also offer support for mostly Windows and Mac platforms. The Linux OS support was available for older generation Wacom tablets, but it isn't available for the newer ones.
These tablets are the ones that were designed before 2011, and thus no support is available for the newer tablets now. Most of the drawing tablet manufacturers are focusing only on Windows and Mac systems.
Conclusion
The Chrome OS is an operating system that was introduced by Google and has Google Chrome web browser as an interface. Thus, most of the Chrome OS devices support only web applications, and the drivers for drawing tablets, such as Wacom are unable to be installed.
Depending on the model of Chromebook you have, you can benefit from the limited pen support for drawing on some older Wacom tablets.
The older Wacom tablets will allow you to draw, but you won't still be able to use the pressure sensitivity, touch input, and tablet Expresskeys. After reading this post you are not aware that you can't use a drawing tablet with a Chromebook.
The Wacom manufacturers are working with Google for a solution in the future, but right now, there is no support available for the Chrome OS by the Wacom devices.