Quick, think fast! Can you name a candy that starts with the letter C? Maybe the festive Candy Canes came to mind, or perhaps the creamy and delicious Cadbury Dairy Milk? It's a fun little game, isn't it? But when put on the spot, it can be surprisingly challenging to come up with candy names that start with a specific letter, especially when that letter is C.
But don't worry, we've got you covered. Whether you're a candy connoisseur, a sweet-toothed savant, or just someone who enjoys the occasional sugary treat, we've compiled an extensive list of candies that start with the letter C. This list is sure to help you discover new favorites, recall nostalgic classics, and maybe even win a future round of candy-themed trivia.
From chocolates to chews, caramels to gummies, our list spans the full spectrum of candy types. So, whether you're a fan of the rich and indulgent or the sour and tangy, there's something here for everyone. So, sit back, relax, and prepare to embark on a sweet journey through the world of C-named candies. You might want to grab a snack, because this is going to be a mouthwatering ride!
List Of Candy That Starts With C
Here you will indeed find your favorite candy names and details that start with the letter C:
| | | |
| --- | --- | --- |
| Cuberdon | Cocon De Lyon | Coffee Crisp |
| Cachou Lajaunie | Coucougnette | Candy Raisins |
| Calisson | Churchkhela | Chancacas |
| Carambar | Curd Snack | Candel Astra |
| Chocolate Truffle | Crunchie | Chocolate Fish |
| Cadbury | Cadbury Caramilk | Cotton Candy |
| Candy Buttons | Caramac | Chupa Chups |
| Candy Canes |   |   |
Details About Candy That Starts with the Letter C
Are you waiting to know more about these candies? Then scroll down a little:
1. Cuberdon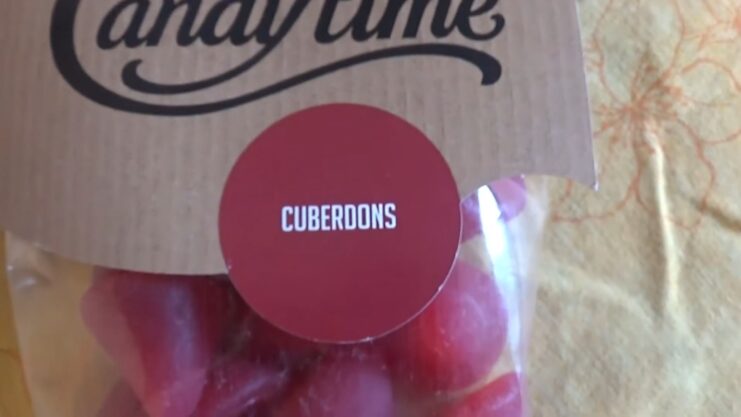 Cuberdon is a cone-shaped candy. People also know it as "nose," "Ghent nose," or "little nose," as it almost looks like a human nose. It is a soft candy with Arabic gum. The inside of this candy is filled with raspberry flavor. Though there is so much color of Cuberdon candy, purple color is most popular and available. 
The candy's weight is almost 10 to 18 grams, but the smaller size is also available. 
2. Cachou Lajaunie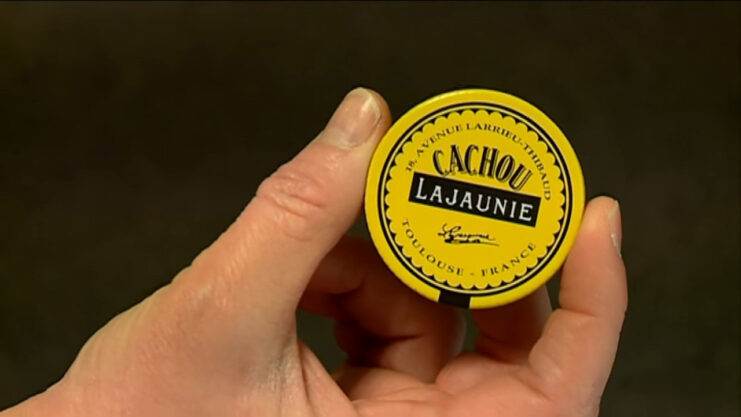 Cachou Lajaunie is a very small licorice-based candies. In 1890 pharmacist Leon Lajaunie invented this candy. Its main feature is that it is extraordinarily strong. Cachou Lajaunie candy also works as a breath freshener. But if anyone consumes this candy excessively, it can cause blood pressure. 
3. Calisson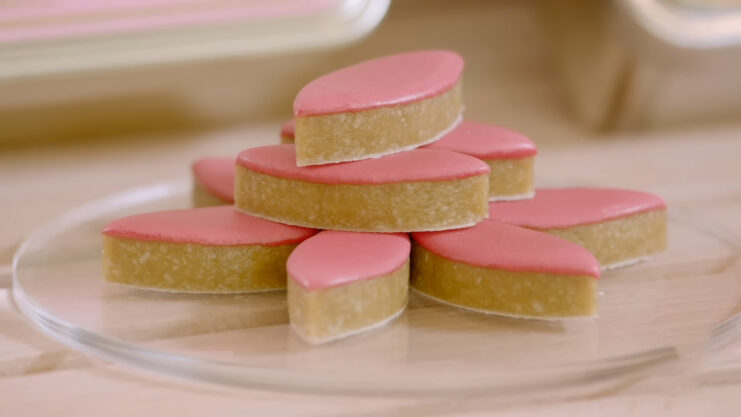 It is a traditional French candy. Calisson is a smooth candy that consists of the paste of melons and oranges. Its color is like pale yellow. On the top side, it contains ground almonds that are a royal icing's thin layer. 
Calisson possesses a melon-like flavor. Its shape is almost five centimeters in length that look like an almond shape. But previously, traditionally, this candy was known as the cake made with almonds and flour. 
4. Carambar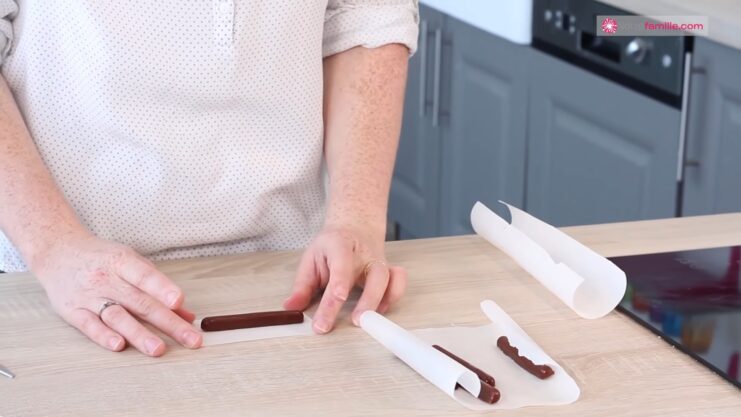 It is a type of chewy caramel candy. Various flavors are available in this Carambar candy-like Lemon, Strawberry, Orange, Raspberry, Peach, Cherry, Candy floss, Caramel, Caranougat, Lime, Passion fruit, etc. The new arrival flavor is Carambar Atomic that possesses sherbet on the inside. 
Interestingly, they are also known as Green Cactus. The Titeuf Carambars come in blue and yellow colors. 
5. Chocolate Truffle
Generally, it is a type of chocolate confectionery. There is chocolate ganache inside that covers with chocolate, cocoa powder, coconut, or chopped and toasted nuts coats. The spherical, curved shape or conical shape is most available of this candy. 
There are many varieties available of this candy-like Swiss truffle, French truffle, Spanish truffle, European truffle, American truffle. 
6. Cadbury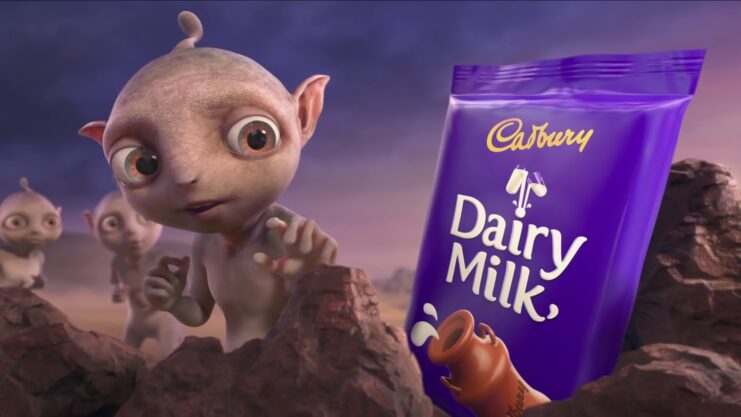 Cadbury is mainly known for its Dairy Milk chocolate, Creme Egg and Roses selection box, etc. In 1905, dairy milk was introduced that is the most proportioned of milk. 
7. Candy Buttons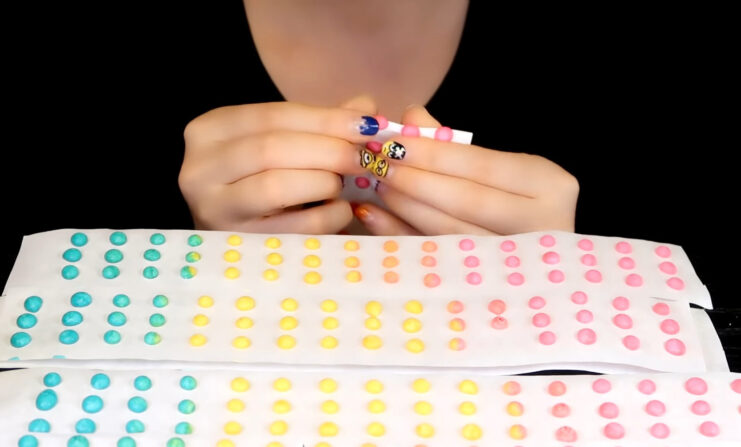 Candy Buttons is a tiny peg of candy. It is generally found with a strip of paper. In 1977, Cumberland Valley company and J Sudak and Son of Williamsburg introduced this original sweet candy. 
You will find three flavors in each strip of the candy. The flavors include cherry in pink color, lime in blue color, and lemon in yellow color.
There are two types of size of Candy Buttons that are long and short. The long size is about 22½ inches, whereas the short is about 11¼ inches. 
8. Coussin De Lyon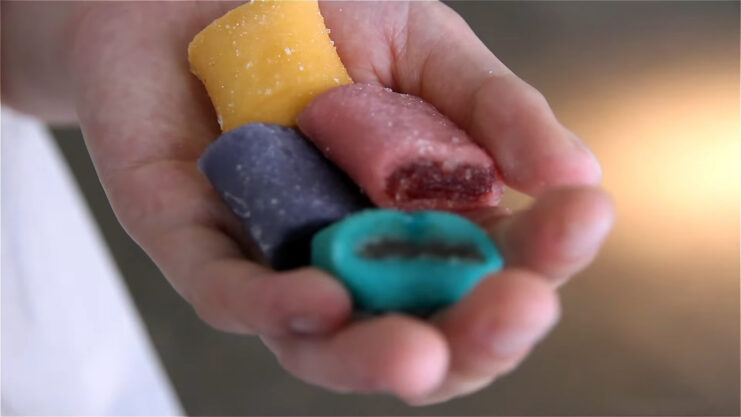 It is ultimately the pale green-colored marzipan that possesses a dark green stripe on it. The inside of this candy fills with chocolate ganache flavored. 
9. Coucougnette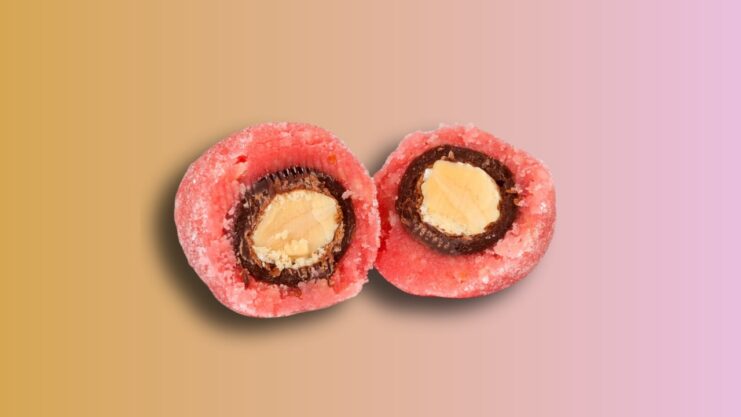 Coucougnette candy is a popular combination of almonds, marzipan, and chocolate. It consists of roasted almonds with dark chocolate coats. 
However, Coucougnette's outside contains a mix of crushed almonds, ginger brandy Armagnac, and cane sugar. Ultimately this candy holds pink color after dipping in the juice of raspberry. 
10. Churchkhela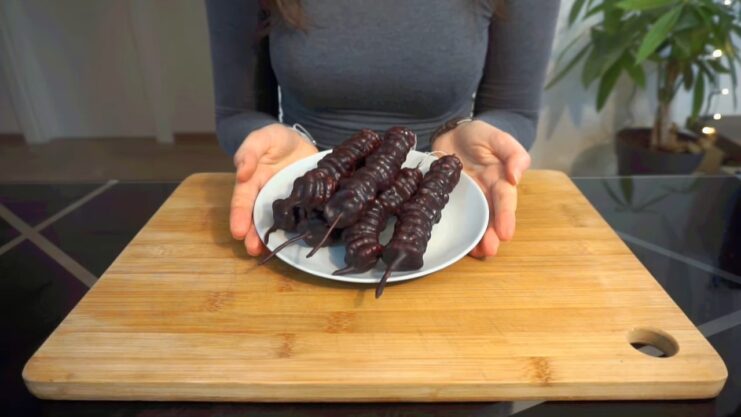 Churchkhela is a traditional candle-shaped candy. It consists of grape must, nuts, and flour. Generally, almonds, walnuts, hazelnuts are threaded onto a string with chocolate to make this candy. Then grape juice or fruit juices are used to dipped this mixer. 
However, grapes and nuts are the main ingredients of Churchkhela. 
11. Curd Snack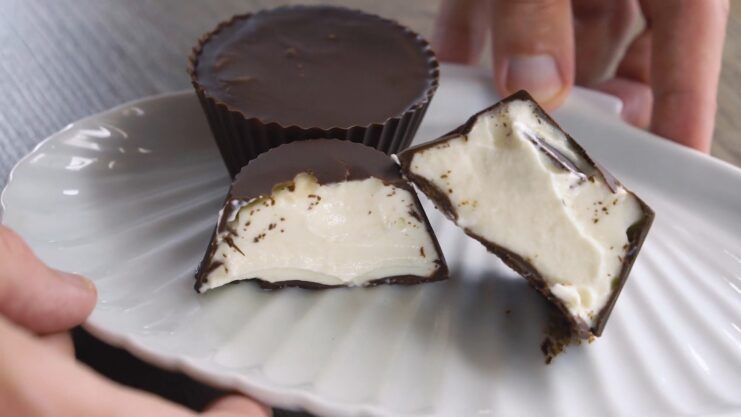 Curd cheese makes this sweet snack named Curd snack. Besides sugar or sweetener, milled and pressed curd to make this candy. However, this candy is also available with raisins, jam fillings. 
Sometimes this candy is also found with berry or fruit flavors. Again, the vanilla flavor is also available for Curd snack candy. But you will find all of them with the common chocolate coating. 
However, natural chocolate and vanilla mainly feature this sweet candy. 
12. Crunchie
Crunchie is mainly a chocolate bar often known as honeycomb toffee, sponge toffee, cinder toffee, etc. Cadbury has been making this candy since 1929. 
You will find Crunchie in various sizes like snack size, a small rectangle, and king size. The single-serve bar of Crunchie is about 1 inch wide and about 7 inches long.
This candy is available in so many flavors, like champagne flavor. Generally, Crunchie contains nuggets of the honeycomb. 
13. Cadbury Caramilk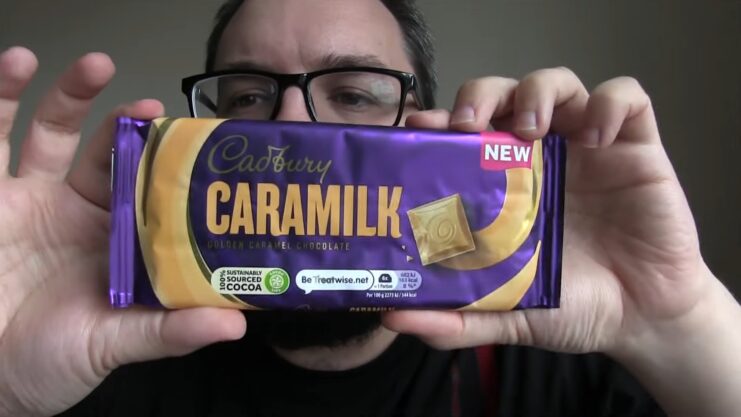 Cadbury makes Cadbury Caramilk chocolate bar candy. This candy bar was introduced in 1968. It is a white candy bar that is filled with caramel. 
Besides the limited edition, the Caramilk version is available in dark chocolate, maple-flavored, chocolate flavor. The Caramilk Thick, Caramilk Rolls version is also available now. 
14. Caramac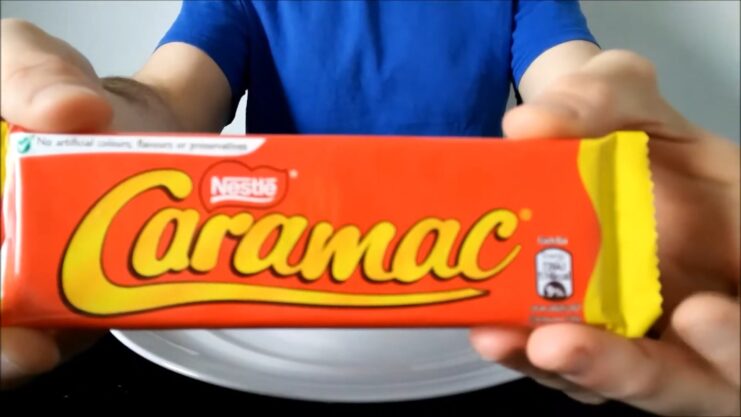 Mackintosh's created the Caramac candy of caramel flavor, but now Nestlé manufactures this light brown candy. Caramac Candy consists of the abbreviation form of Caramel and Mackintosh. 
However, the Caramac candy consists of condensed milk, butter, sugar and is available in various flavorings. You will get this sweetest candy wrapped in an orange-red and yellow wrapper.
15. Candy Cane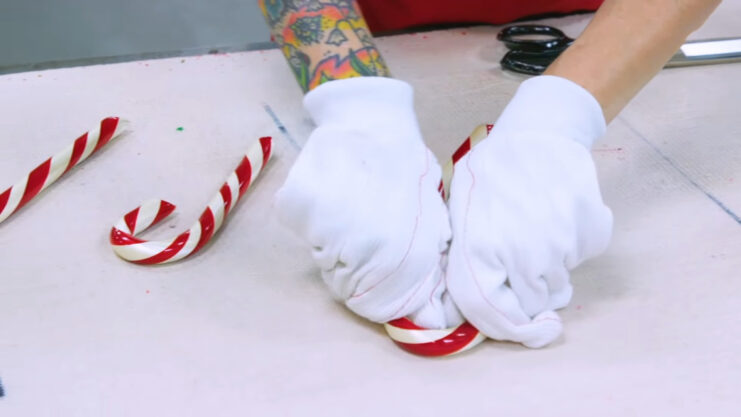 It is a cane-shaped stick candy. The candy cane is mainly colored in white with red stripes associated with Christmastide and Saint Nicholas Day. 
Though this sweet candy is available in various flavors, it is mostly available in peppermint flavor. 
16. Coffee Crisp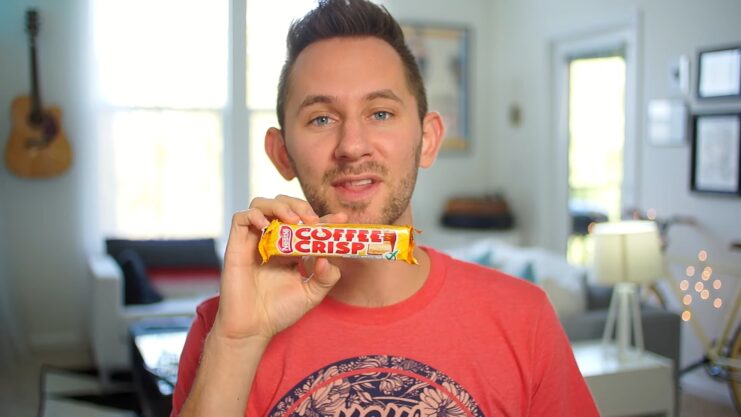 Coffee Crisp is mainly the wafer candy bars manufactured by Nestlé. Butterfinger Crisp, Baby Ruth Crisp, and Nestlé Crunch Crisp are the three most available coffee crisp chocolate bars. 
You will get two small bar candies in a wrapper or an individual candy in a single wrapper. 
17. Candy Raisins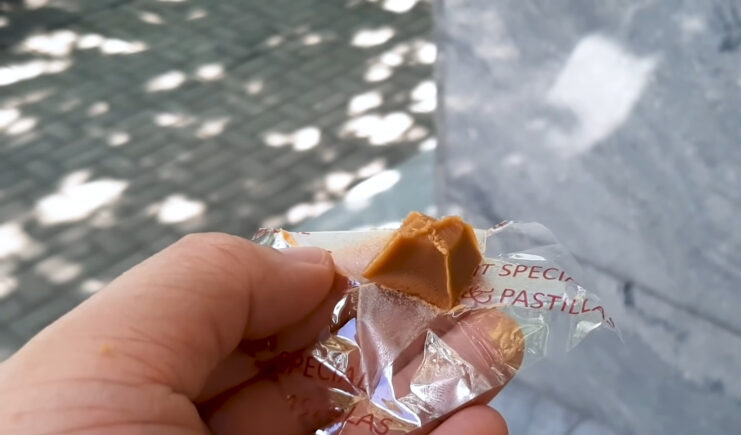 It is a popular soft jujube candy. Candy Raisins have been produced since 1930 and are most popular in the United States. 
However, the wrinkled top's view determined this candy's name as a raisin. Its flavor taste like honey, lilac, perfume, soap, ginger. 
18. Chancacas
Chancacas is a Colombian coconut candy. This candy is a combination of panela and coconut. Moreover, the shredded coconut forms Chancacas candy as chewy consistency. 
Zest of lime and cinnamon flavor is available for Chancacas candy.
19. Candel Astra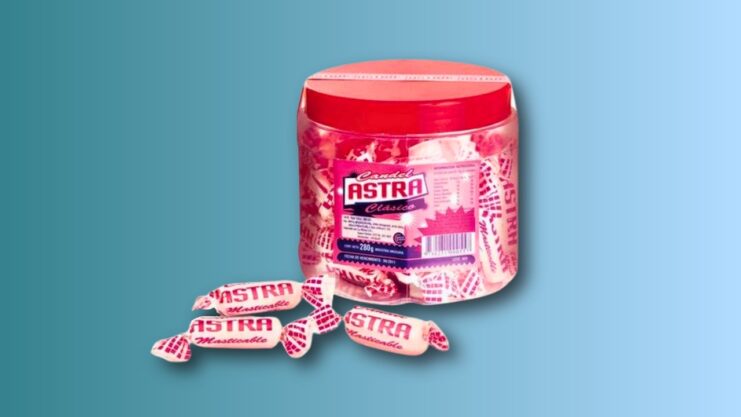 La Ronda and Penino & Corona make this hard taffy Candel Astra candy. Its color is pink. Interestingly, this candy is easily altered by moisture. This candy forms as soft and chewy when it comes in the touch of moist from hard and crunchy form. 
20. Chocolate Fish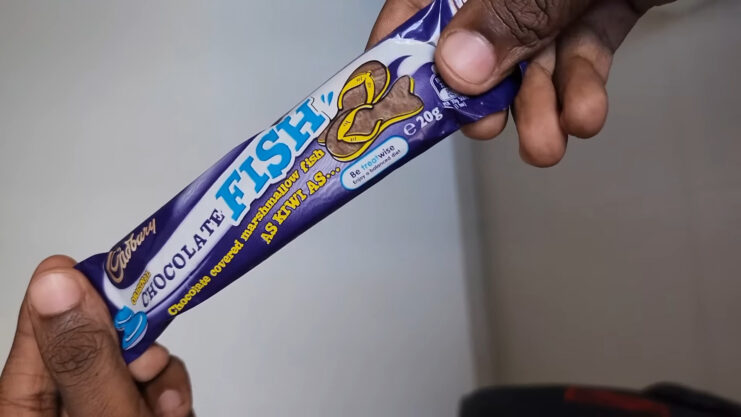 Chocolate fish is mainly used as the reward for a job done well in Kiwi culture. It is a fish-shaped chocolate bar with 5 to 8 centimeters in length. 
This candy consists of pink or white marshmallows covered in a layer of milk chocolate. The smaller or fun-sized Chocolate fish candy is available. 
21. Cotton Candy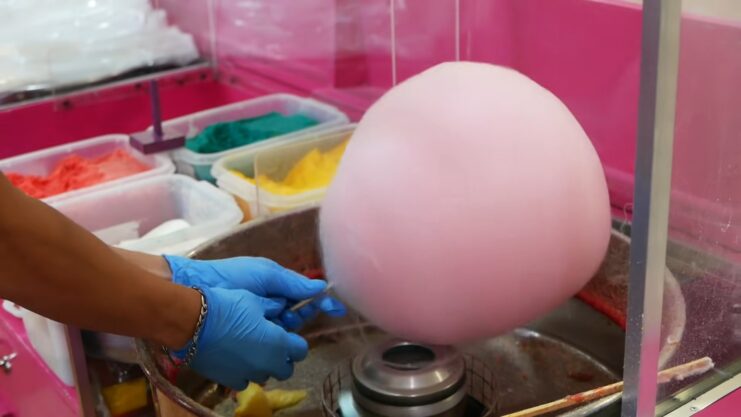 Cotton candy is also familiar with the name of fairy floss and candy floss. It looks like the cotton that is generated from spun sugar. There is also a slight amount of flavoring or food coloring present in this Cotton candy. 
However, the heating and liquefying sugar form this candy by rapid cooling into fine strands. Mostly it is seen in a plastic bag with a stick. 
22. Chupa Chups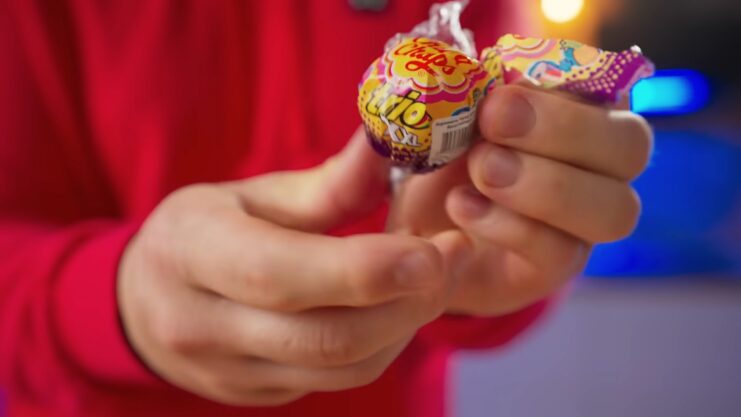 Melting sweets consist of the Chupa Chups lollipop. Initially, manufacturers made the lolly sticks with wood, but now it is available in plastic sticks. 
Interestingly Chupa Chups lollipops are wrapped into parodying cigarette pack designs to attract adult consumers and with a view to stopping smoking.
Related: Sweetest Candy That Starts With E
Final Words
Now you have got so many names of candy that starts with C, Isn't it? So, it will be no more a difficult task for you to guess a C-lettered candy name suddenly. 
However, you can choose your next favorite candy from the listing quickly. Hope your next gaming topic will be guessing the candy names with your friends. Don't forget to share this content with your friends.
You Might Also Like: